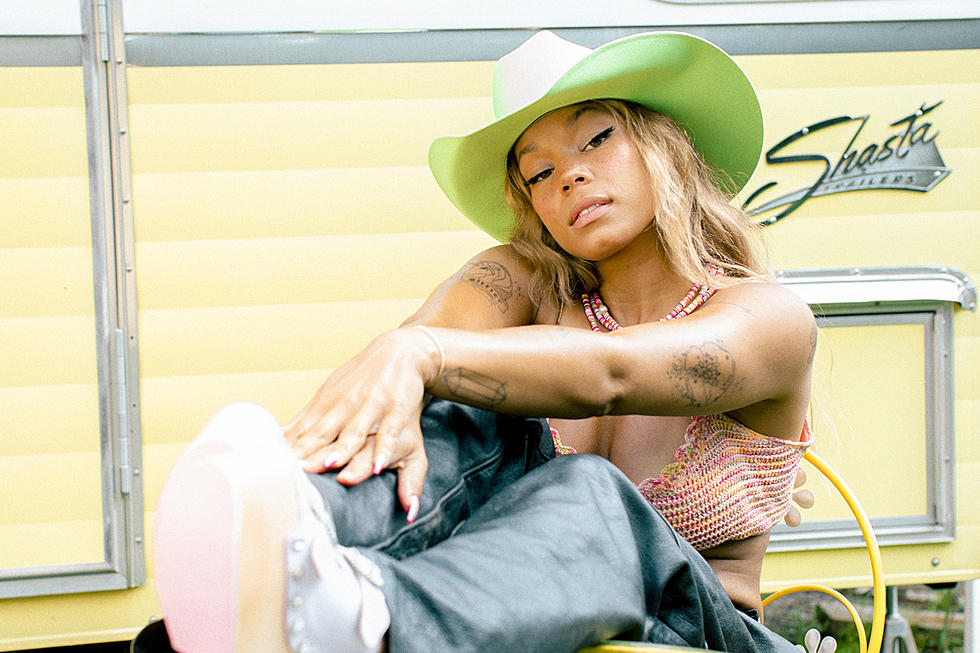 Who Is Tanner Adell? 'Buckle Bunny' Singer Shares Secret to Her Swagger [Interview]
Daniel Chaney
Tanner Adell likes to watch jaws drop. The "Buckle Bunny" singer likes it even more when, by the end of her set, she's converted the pearl-clutchers.
It happened most recently at Windy City Smokeout, a multi-artist festival in Chicago. Adell tells Taste of Country that was her favorite live show yet, in part because the crowd quickly got on board with her hip-hop and K-pop-inspired brand of country music.
"They go from, like, arms are crossed to ... moving a little bit and tapping their foot," she shares, "smiling, clapping along — I'm like, 'Gotcha!"
Who Is Tanner Adell?
The Kentucky-born, Manhattan Beach, Calif.-raised Tanner Adell was born with the same swagger you see on stage, but it was fragile. On one hand, becoming a performing artist was her first and only dream, and she chased it with abandon through her teenage years, to Utah Valley University and eventually Nashville.
On the other hand, she suffered from terrible stage fright. A commercial music class at college required a weekly performance that would cause so much anxiety she'd throw up. It's here you begin to get to the core of who she is.
"Tanner is an introvert," she admits. "I think Tanner Adell is an extrovert. That's who you see on stage."
At home, "Tanner" enjoys time to herself. She works on puzzles and roller-skates, and she more or less stays away from her diva-like alter-ego. The switch begins to flip days before a show or professional event. The vocal coach who helped her feel confident enough to keep her lunch before performing labeled this "show mode."
"I'm very (chops hands to signal a level of focus and discipline)," Adell says of "show mode." "I get to bed on time, I have a strict schedule … everything is very, very on schedule."
What Does Tanner Adell Sing?
The Buckle Bunny EP is Adell's official introduction, if not her best release to date. The eight songs are provocative without apology.
"Baby watch me bake it, bake it / Bet you wanna see me naked, naked, naked," she sings during "Bake It."
"Strawberry wonder / Strawberry lover / Bet she tastes like strawberries / Under the covers," she sings to open the chorus of "Strawberry Crush." Just to be clear, this isn't a jealously song a la Little Big Town's "Girl Crush."
Songwriter Sarah Jones wrote "Trailer Park Barbie" with Adell and Gabe Foust. Over a thick trap beat Adell blends the two genres with an ease that her male counterparts long for.
"Pull up with the lamb / Not the car / Miranda / Horses on my land / Sweet tea on my veranda," is how she closes her first verse. The chorus is a total mood:
"You laugh behind the scenes / But this look ain't cheap / And when you see me in the streets / You'll wish you country like me."
In an essay written for the Utah Valley University website, Adell shares that she chose this school for the commercial music program, but it's noteworthy that Utah has a mormon population of more than 2 million. She grew up a member of the Church of Jesus Christ of Latter-Day Saints, which is hardly a religion for the provocative. Some people were surprised by the sound she cultivated, to say the least.
"My parents," she says, laughing. "They haven't said anything, but I'm sure they're like, 'Whoa, OK?'"
So far, nobody has shunned her or treated her differently. Everyone — including her parents — have been supportive with conviction.
Still, Adell doesn't exactly send demos of songs like "Bake It" home to mom and dad to preview.
"They can figure it out," Tanner Adell — not just "Tanner" — says with a smile.
25 Modern Female Trailblazers Who Changed Country Music
Following in the footsteps of game-changing legends like
Dolly Parton
,
Reba McEntire
and
Loretta Lynn
, these 25 modern-day country acts continue to push boundaries and shape the country music landscape. Whether they're experimenting with musical style and sound, fighting for equality in the genre or broadening the path for the women coming to country music after them, these trailblazers are downright inspiring.