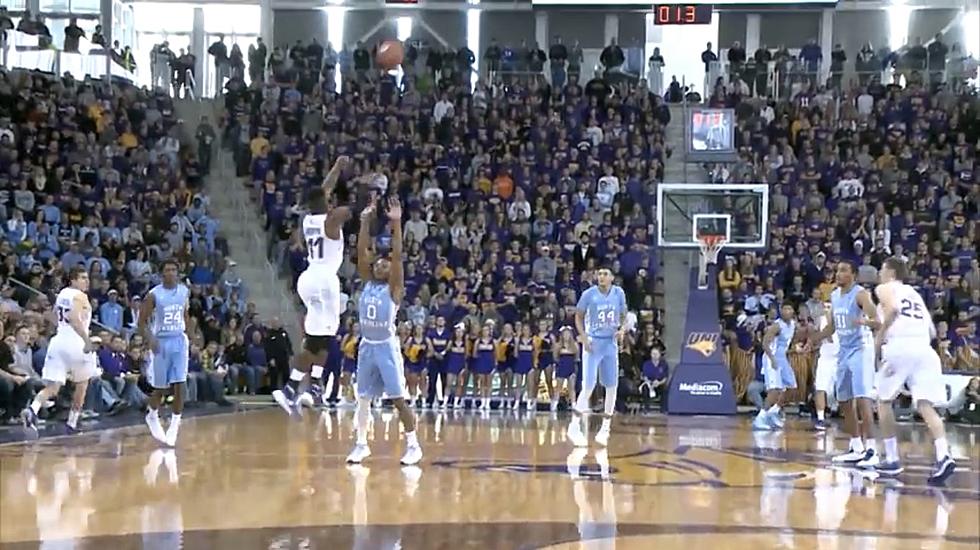 When UNI Pulled a MASSIVE Upset over No. 1 North Carolina in Cedar Falls
UNI Athletics YouTube
Six years ago as of yesterday, the impossible happened right here in the Cedar Valley.
The University of North Carolina, known for its illustrious history in basketball, traveled to the great state of Iowa to take on the Northern Iowa Panthers. In what would typically be considered a strange move by a blue-blood school like UNC, the Tar Heels made the choice to face off with UNI in order for their star, Marcus Paige, a Marion native, to play in his home state before his collegiate career came to a close.
Iowa was too chicken to take on the No. 1 team in the country, and Iowa State wasn't about to take on that challenge, either.
UNI, the supposed "little brother" of the state schools determined they'd take on the Goliath of Division 1 basketball instead.
Unfortunately for the Tar Heels and Paige, he was unable to play due to a fractured metacarpal in his right hand. He did receive a warm greeting from Panther fans, though:
Despite being down their best player, North Carolina was a HEAVY favorite in the packed McLeod Center. Even without Paige, the Tar Heels had future NBA players like Theo Pinson, Brice Johnson, Isaiah Hicks, and Justin Jackson along with a few more notable players like Joel Berry II, Kennedy Meeks, and Luke Maye. This squad from Chapel Hill was absolutely loaded.
No one, and I mean no one, gave the Panthers, a small, Division 1 school in Cedar Falls, Iowa, a shot to take down the number one team in the country.
What wasn't factored in, though: Wes Washpun, Paul Jesperson, Matt Bohannon (who was a teammate of Paige at Linn-Mar), and Jeremy Morgan.
Two in Washpun and Jesperson who were major-Division I program transfers (Washpun from Tennessee and Jesperson from Virginia), and these were four of the best players in the men's basketball program at UNI. They also had experience on arguably the greatest team in UNI history the year prior.
And you can't forget Coach Ben Jacobson -- the all-time leader in wins as a coach at UNI, and the same coach that led the Panthers to their upset over No. 1 Kansas in the NCAA Tournament 2010.
If there was any mid-major level team in the country that could pull something like this off, it was the one hailing from the Cedar Valley.
The Tar Heels, primed for what they believed to be an easy win, jumped out to an early by pounding the ball inside to their big man, Meeks. The Charlotte, North Carolina native scored UNC's first eight points, and UNC made it clear they wanted to expose the size advantage early.
Throughout the first half, the lead was maintained by North Carolina, but the Panthers stayed competitive. They also held Meeks to just two points for the remainder of the contest.
The first half effort was sparked with 9:07 to go before halftime, where Washpun made one of the signature plays of his career, throwing down a thunderous dunk that sent the McLeod Center into a frenzy:
Though North Carolina would build on its lead and put the Panthers in a 12-point hole with just two seconds left in the half, Washpun once again showed some of his magic, drilling a half-court shot before the buzzer to make the lead just nine.
In the second half, the Tar Heels' lead ballooned to 16 with 17:10 to go, making it 50-34. In a moment where UNI could have folded, they stayed resilient. It paid off.
Over the next 12 minutes, Coach Jacobson's team would go on a 29-8 run. The trio of Washpun, Bohannon, and Jesperson would absolutely nuts on the offensive side of the ball. They combined for 23 of those 29 points, and Washpun dished out four of his eight assists.
He said this of their second half run:
We're fighters, man. Coach Jake called a quick timeout there, and just told us we were going to have to fight for this one. 'Go out there and give it everything you've got. Beat them to the loose balls. Block out as hard as you can.' We missed a lot of shots in the first half, and they started to go. We started to get stops and rebounds and the tide just swung.
They took their first lead with 9:21 to go in the half on a Wyatt Lohaus jumper, making the score 56-54. Following a made three by Bohannon with 7:36 left in the half to make it 59-58, the Tar Heels never regained their lead.
Coach Jake had plenty to say regarding his team's second-half run:
They had to play their tails off in that second half. The game was just about over with 15 minutes left. Our guys hung in there enough, made a couple shots.
Over the next five minutes, the Tar Heels made their come back attempt, but UNI stayed composed -- which is much easier said than done -- thanks to their veteran guard and leader. Initiating each possession, giving every effort defensively, and scoring a pivotal bucket with 2:15 to go to give UNI a 68-63 lead, Washpun truly couldn't have been better.
Legendary head coach for UNC, Roy Williams heaped praise on the Panthers for their run, most specifically their point guard:
I thought (Washpun) was pretty doggone good to start with. ... We never could get him stopped.
Wes added thoughts on his performance:
I kind of got into a rhythm where I was taking it to the rim and then finding guys on the outside. It just felt good.
Holding a 70-67 lead with roughly 20 seconds to go, the Tar Heels had one shot to tie things up. After a three-point heave by Joel Berry II and an ill-advised cross-court pass after the offensive rebound. Jeremy Morgan sealed the deal with a steal and a free throw to give the Panthers their second victory over a number one team in the country in program history.
Coach Jacobson wrapped it up well:
I suppose it would go without saying it's one of two or maybe one of three (top games in my career). Thankfully this isn't the first one that's been this big. To have it happen on our home floor like this, with some guys changing roles and having some young guys, it could not be any bigger.
North Carolina went on to be the runner-up in all of college basketball, falling to Villanova in the NCAA Championship game, 77-74.
25 UNI Panthers that Went Pro
Northern Iowa has some of the best athletes and athletic programs in all of mid-major sports. With their consistent placement towards the top of the Missouri Valley Conference, it's no surprise they have a few professional athletes to their name -- here's a few.
Top 10 Fantastic Breweries in the Cedar Valley & Northeast Iowa - List
It's a quote that rings true, "Local Beer is Better". Why? Because you're supporting your friends and neighbors. Heck, you might even personally know the brewmaster of your favorite local beer. How cool is that? The "dive bar" down on the corner might have it's own place in society, but they're quickly being replaced by local breweries with unique themes and spacious taprooms. On top of that, they take the joy of beer to the next level, with some really good (and sometimes award-winning) beer! Scroll down for our virtual brewery tour.