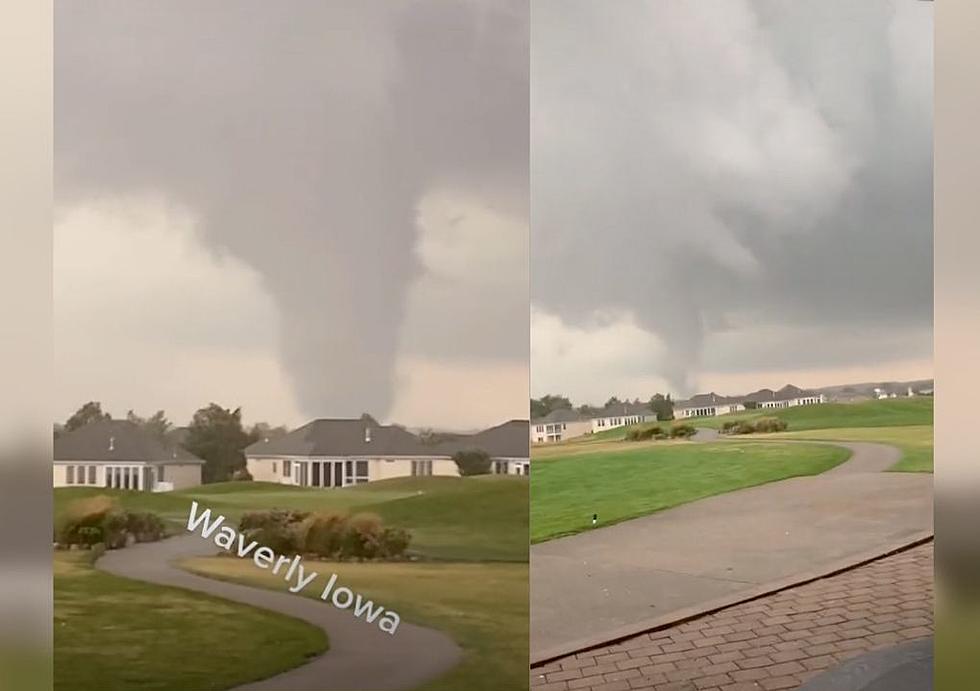 [Watch] Tornado Touches Ground in Waverly Wednesday Evening
Imageful and Kayleigh Helgeson via Tik Tok
On Wednesday evening, a tornado touched ground in Waverly leaving serious damage in its wake. This was only part of the incredible weather event that occurred yesterday in Northeastern Iowa and throughout the Midwest.
This tornado was seen south of Iowa Highway 3, stretching from Shell Rock in Butler County and extending into Bremer County, where it was spotted near Waverly, Readlyn and Denver.
Reports of severe weather damage are popping up all over Northeastern Iowa this morning after the multiple weather events that occurred Wednesday evening. One of the biggest and scariest being the tornado that made its way through part of the Cedar Valley last night. As reported by KWWL, the downed power lines actually trapped a Waverly man inside of his home.
At around 5:30 Wednesday evening, the storm was sighted somewhere between Janesville and Denver Iowa.
According to NOAA's National Weather Service, the damage began around 250th and Willow Avenue in Butler County. Houses and grain bins near and around Shell Rock were damaged. The twister made its way through Shell Rock bringing down power lines and harmed homes.
Soon after this is when the first reports of the storm touching down in Waverly, according to NOAA. Then a sighting of the tornado was reported near the intersection of 240th street and highway 218 making its way east.
Trees and lights took a beating from this storm. Debris was reported being thrown into the air once the twister official hit ground in Waverly. These reports are also saying that one house was unfortunatley completely destroyed.
Our news team will continue looking into the destruction this storm brought. Please stay safe. Many of the reports from this tornado came from social media. There are currently several videos on the video sharing app Tik Tok. You can watch a few of the ones I found right down below.  
The individuals in this video were obviously startled by the storm, so just a warning that this video might not be safe for work with the volume on.
Snake Alley in Burlington, IA
Burlington, IA is just one hundred and fifty miles away from Waterloo and a hundred miles away from Cedar Rapids is one of the most see attractions for tourists. Ripley's Believe It or Not! voted Snake Alley as the #1 Odd Spot in America.
Visit 939 Iowa
Two college sophomores from the University of Nebraska at Omaha are traveling across Iowa with the goal to visit all 939 of the towns in the Hawkeye State. They've already visited twenty towns so far, and they've only been exploring Iowa for a week!
Hilarious Iowa DOT Signs
Anyone else share a sense of humor with a state's Department of Transportation? Just me? Well, every Monday the Iowa Department of Transportation puts up a sometimes hilarious, sometimes straightforward message on their road signs across the state. This is called "message Monday" and Iowa DOT tries to entertain and educate drivers through these signs. Here are just a few of our favorites.