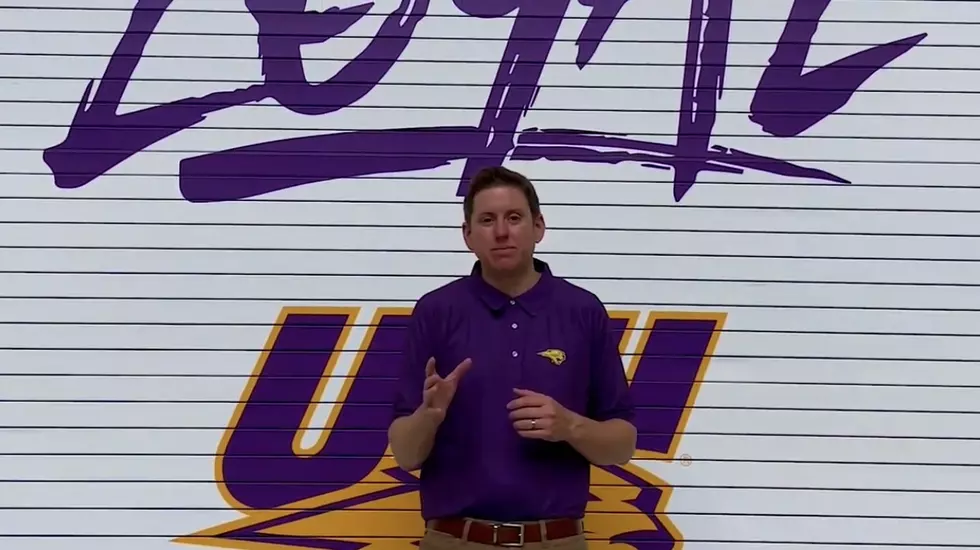 UNI Hires New Play-by-Play Voice for First Time in 29 Years
UNI Athletics YouTube Channel
For the first time in nearly 30 years, the Ever Loyal will hear a new voice when they tune in to listen to their Panthers take the field and court.
As he announced in September of last year, Gary Rima decided he'd be retiring and finishing his illustrious career as the Voice of the Panthers. The Strawberry Point, Iowa native was on the call for a multitude of the greatest moments in Northern Iowa sports history.
That long list includes the upset of the No. 1 North Carolina Tar Heels in the McLeod Center in 2015, Paul Jesperson's half-court heave that defeated Texas in the first round of the NCAA Tournament in 2016, the football team's run to a national runner-up finish in 2005 and much, much more.
After a long search to find someone to take the reigns from the legend that is Rima, UNI Athletics has their man. J.W. Cox will be the new Voice of the Panthers.
Cox has professional experience going all the way back to his start as an anchor and reporter for Newstalk 92.3 KTAR in Phoenix, Arizona, spending the first two years of his career there.
He later went on to do play-by-play for a variety of minor league baseball teams like the Wilmington Sharks, Wisconsin Rapids Rafters, St. Paul Saints, and more.
For the previous six years, he's been the play-by-play man for men's and women's basketball and football at Division II St. Cloud State. He also served as a fill-in for Husky hockey and Minnesota Gophers basketball.
The newest member of the purple and gold has got some experience on TV as an anchor and reporter too, spending time with the Minnesota News Network.
Take a look and get your first listen of Cox here:
25 UNI Panthers that Went Pro
Northern Iowa has some of the best athletes and athletic programs in all of mid-major sports. With their consistent placement towards the top of the Missouri Valley Conference, it's no surprise they have a few professional athletes to their name -- here's a few.
12 Restaurants You Miss in the Cedar Valley
We asked the folks of the Cedar Valley, and they responded! Here's a list of restaurants residents of the area wish they still had.