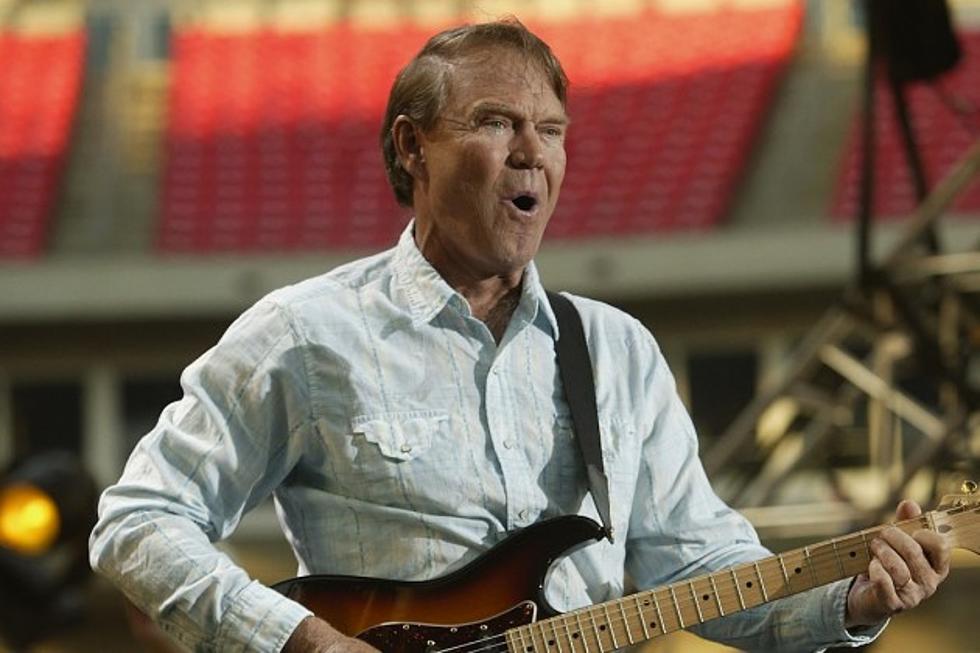 Top 10 Glen Campbell Songs
Rusty Russell, Getty Images
Country Music Hall of Fame artist Glen Campbell was a staple in country music for half a century, with over 70 albums to his name and 45 million sold. He has a discography that's chock full of many country favorites, from Jimmy Webb-penned songs to TV and movie hits, and Grammy-winning tracks.
Campbell's voice has been a constant in the lives of many fans, and his songs have spun a soundtrack that covers decades and will last forever. From a young boy singing in church in Delight, Ark., to a Lifetime Achievement Award winner, Campbell has trekked a journey that many aspire to, but few actually achieve.
Our list of the Top 10 Glen Campbell Songs spans from the very beginning to his most recent recording:
10

"True Grit"

From: 'True Grit Soundtrack' (1969)

The movie True Grit is a standout for a number of reasons: John Wayne won his only Academy Award for his performance in the film, Campbell played a memorable role as La Boeuf, and the title song still lives on today. "True Grit" was sung by Campbell and received nominations for both the Academy Award for Best Song and a Golden Globe. It was one of his several songs featured in film and television.

9

"Galveston"

From: 'Galveston' (1969)

One of Campbell's more upbeat hits, "Galveston" was certified gold in 1969. Since its release, it has become the official anthem of Galveston Island and Galveston, Texas. While the song is certainly uptempo and catchy, the subject matter (written by Webb) is a little less happy: Sung from the point of view of a soldier, a man from Galveston thinks of his love that he's leaving behind in the coastal city, remembering her how her dark eyes glowed even as he prepares for battle.

8

"Wichita Lineman"

From: 'Wichita Lineman' (1968)

Loneliness and longing are stirred up during Campbell's "Wichita Lineman." It's a song written by Jimmy Webb, but performed by the country star, and inspired by exactly what the title describes: a lineman in Wichita. Webb saw a solitary lineman working on top of a pole, and it evoked such an imagery of loneliness in the songwriter that he mentally put himself in the lineman's shoes. He imagined what he himself would say atop the pole, phone in his hand -- and "Wichita Lineman" was birthed from that imagined story. However, Campbell himself has said that Webb drew on his own broken feelings of wanting a woman who married someone else.

7

"Try a Little Kindness"

From 'Try a Little Kindness' (1970)

"Try a Little Kindness" is a perfect example of Campbell's versatility in music. Not only did this song peak at No. 2 on the country chart, it also hit No. 1 on the Hot Adult Contemporary chart and landed on the Billboard Hot 100. Campbell recorded this inspirational number at Capitol Recording Studio in Hollywood, Calif. It has a simple message that everyone of all walks of life can benefit from: "Don't you walk around the down and out / Lend a helping hand instead of doubt / And the kindness that you show every day / Will help someone along their way / You've got to try a little kindness."

6

"By the Time I Get to Phoenix"

From: 'By The Time I Get to Phoenix' (1967)

"By the Time I Get to Phoenix" is one of Campbell's Webb-written hits -- and it truly is a hit, being the third most-performed song from 1940 to 1990. After a heartbreaking breakup, Webb was inspired to write this track, which hinges on fantasy and in the realm of "what might have been," after a man leaves a woman that he's tried to leave time and time again. The lyrics especially hit home when Campbell sings, "And she'll cry, just to think, I'd really leave her / Though time and time I've tried to tell her so / She just didn't know / I would really go."

5

"Country Boy (You Got Your Feet in L.A.)"

From: 'Rhinestone Cowboy' (1975)

The final single from Rhinestone Cowboy, "Country Boy (You Got Your Feet in L.A.)" wasn't penned by Campbell, but this 1975 song almost sounds autobiographical to Campbell's life.  After all, he was raised in a tiny Arkansas community -- a small-town boy at heart -- and turned into a massively successful and recognized celebrity. In this song, he goes back to his roots, acknowledging that while he may have grown business-savvy and successful in the big city of L.A., his heart is still in the country: "Country boy, you got your feet in L.A. / But your mind's on Tennessee / Lookin' back, I can remember the time / When I sang my songs for free / Country boy, you got your feet in L.A. / Take a look at everything you own / But now and then, my heart keeps goin' home."

4

"Rhinestone Cowboy"

From: 'Rhinestone Cowboy' (1975)

"Rhinestone Cowboy" is one of Campbell's signature songs. It has not gone unnoticed that the lyrics, which focus on survival, hustle and smiling through the pain, closely identify with the singer: "Well, I really don't mind the rain / And a smile can hide all the pain / But you're down when you're ridin' the train / That's takin' the long way," he sings. "Rhinestone Cowboy" was written by Larry Weiss, who recorded it in 1974, but didn't gain popularity until Campbell recorded and released it in 1975, and was eventually certified gold.

3

"I'm Not Gonna Miss You"

From: 'Glen Campbell: I'll Be Me' Documentary (2014)

"I'm Not Gonna Miss You" is one of the most poignant and personal songs of Campbell's career. Released in 2014 as a track from his documentary chronicling a personal journey with Alzheimer's, Glen Campbell: I'll Be Me, this song is incredibly honest, realistic and moving. Just as powerful as the video's images, revealing the stark reality of his physical and mental descent are the lyrics that Campbell sings, foreshadowing the loss of his memory: "I'm still here, but yet I'm gone / I don't play guitar or sing my songs / They never defined who I am / The man that loves you 'til the end / You're the last person I will love / You're the last face I will recall / And best of all, I'm not gonna miss you."

2

"Southern Nights"

From 'Southern Nights' (1977)

"Southern Nights" was the first single released from the record of the same name, and fans were immediately taken by the infectious country song, which features a unique guitar lick that Campbell learned from buddy Jerry Reed. It was a No. 1 hit -- his fifth song to land at the top of the country chart and second No. 1 on the pop chart. Written by Allen Tousaint and inspired by his childhood memories of visiting relatives in the Louisiana backwoods, "Southern Nights" struck a personal chord with Campbell, reminding him of his growing-up years in Arkansas.

1

"Gentle on My Mind"

From: 'Gentle on My Mind' (1967)

"Gentle on My Mind" tops our list, and there are too many reasons to name as to why: It was listed in BMI's Top 100 Songs of the Century, and, written by John Hartford, it took over the Grammys in 1967. "Gentle on My Mind" won Best Country & Western Solo Vocal Performance (Male), Best Country & Western Recording, Best Country & Western Song and Best Folk Performance. It has received over 5 million plays on the radio. Plus, legendary musicians such as Elvis Presley, Frank Sinatra, Johnny Cash and others have covered the song, totaling at over 300 covers by different artists -- quite the feat for one song, but Campbell's recording remains the best-known in the U.S.