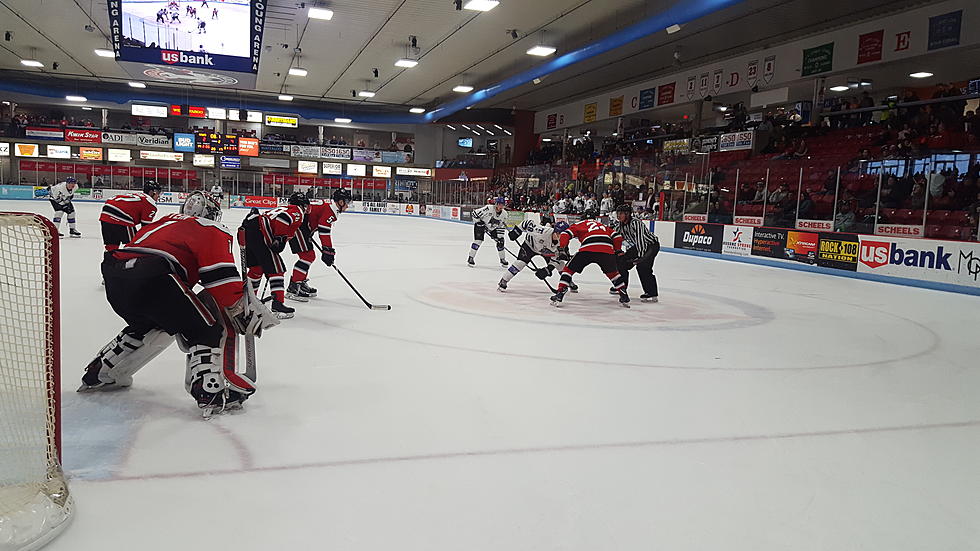 The Storm Hit Young Arena On Tuesday Night
Townsquare Media-Shawn McKenna
Waterloo played Tri-City for the third time in a row, and ended up on the wrong side of another one score game. The Black Hawks beat them 2 out of 3 times, but with the victory, the Storm jumped back up to 2nd place in the USHL Western Conference with 37 points...and 12 points behind the 1st place Black Hawks at 24-7-1 and 49 points.
A string of three consecutive Tri-City Storm goals sent the visitors on their way to a 4-3 win over the Waterloo Black Hawks at Young Arena Tuesday.
Waterloo led 2-1 midway through the second period, when momentum turned on a power play conversion. Colby Ambrosio tied the game with his second goal of the night at 12:10, on a shot that went in off the crossbar. The Storm then went to the lead for the first time on a breakaway goal by Joey Cipollone at 17:04. Tri-City added a crucial insurance tally at 2:15 of the third period when Carter Mazur dropped a pass to trailing defenseman Mitchell Miller. Taking aim from the right circle, Miller beat Gabriel Carriere to the blocker side. Kyle Haskins gave the Hawks a chance to come back by answering at 9:14. Stepping across the top of the crease, Haskins kept the puck away from goalie Todd Scott before lifting his shot under the crossbar.
In the first period, Griffin Ness had scored his third goal in Waterloo's three-game, five-day sequence against the Storm, opening the night's offense at 10:43. Ness got around a defender on the right boards and sped across the blue line. The Hawk captain fired his shot past Scott's blocker from just above the face-off dot. Ambrosio tied it with a chance from the bottom of the left circle at 5:57 of the second. Waterloo went back to the lead less than two minutes later when Dane Montgomery was hooked on a breakaway. He converted the resulting penalty shot, going to his backhand to flip his attempt past Scott.
The Black Hawks go on the road this weekend to meet the Dubuque Fighting Saints on Friday and Saturday. Both games will count toward the Dupaco Cowbell Cup standings