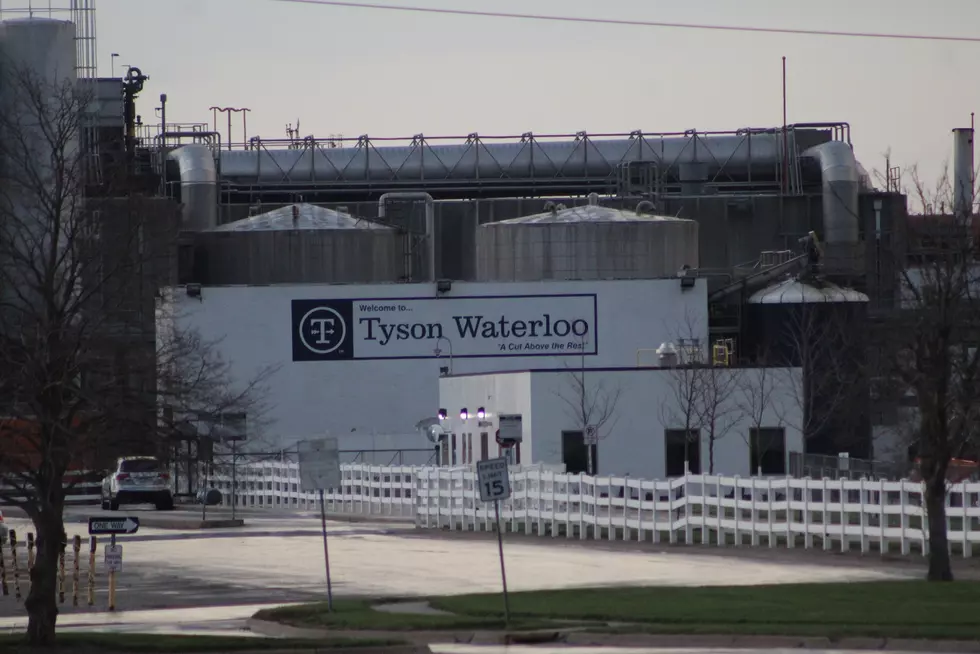 Supervisors Suspended At Waterloo Tyson Plant
Photo By: Elwin Huffman - Townsquare Media
Tyson Foods is investigating complaints that supervisors at the Waterloo plant took bets on how many workers would get COVID-19.
In a statement, the company's President and CEO Dean Banks said Tyson has suspended top officials at the Waterloo plant without pay. The Arkansas-based company has hired former U.S. Attorney General Eric Holder to lead an internal probe into the accusations.
The allegations against Tyson Foods are part of an amended lawsuit filed in April by the family of Isidro Fernandez, one of five Waterloo workers who died of COVID-19 complications after being exposed to the virus at the plant. The lawsuit also alleges that local supervisors order sick workers to stay on the job.
In the company statement released Thursday, Banks said the alleged actions involving leadership at the Waterloo plant do not align with the company's core values.
"We are extremely upset about the accusations involving some of the leadership at our Waterloo plant. Tyson Foods is a family company with 139,000 team members and these allegations do not represent who we are, or our CORE VALUES and Team Behaviors. We expect every team member at Tyson Foods to operate with the utmost integrity and care in everything we do. We have suspended, without pay, the individuals allegedly involved and have retained the law firm Covington & Burling LLP to conduct an independent investigation led by former Attorney General Eric Holder. If these claims are confirmed, we'll take all measures necessary to root out and remove this disturbing behavior from our company."
The Waterloo plant is Tyson's largest pork-processing facility, employing around 2,800 people. In April, nearly 200 of Black Hawk County's 374 cases were linked to an outbreak at the plant.
Tyson idled operations in Waterloo for two weeks in April after local and state officials visited the plant. They successfully pushed for the shutdown to allow employees to be tested and crews to deep clean the facility to combat the outbreak.

Enter your number to get our free mobile app
See Striking Photos of the Tourism Industry During COVID-19