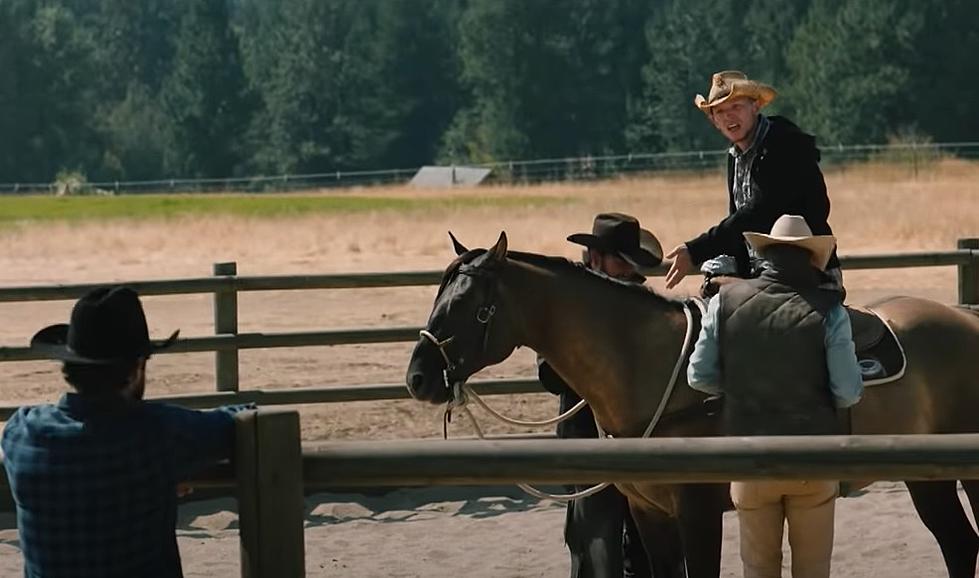 Story Behind Eastern Iowa Native's Role on 'Yellowstone' is an Amazing One
Entertainment Tonight, YouTube
The fourth season of the popular show is now in the books, and the importance of a character played by an eastern Iowa native continues to increase.
A few months ago, we told you the part of Jimmy on 'Yellowstone' is played by Jefferson White, a native of Mount Vernon. As it turns out, White could have ended up with a very different role on the hugely popular Paramount Network show.
During an interview with Entertainment Tonight, White said that he first saw the script for the show back in 2016, when his agent sent it to him. In the interview, he says he was "immediately obsessed with the script." Interestingly enough, the original intent was for White to audition for the part of Kayce Dutton, the son of Kevin Costner on the show.
White realized right away that Kayce Dutton, ultimately played by Luke Grimes, wasn't a good fit for him. However, he loved the script so much he began to look for a part that he thought would work for him. He says he connected with Jimmy and made an audition tape for that role, even though no one even asked him to do it. You can see a brief clip from that audition in the video below.
Obviously, that audition tape did the trick. White has now played Jimmy Hurdstrom on the show for four years. Jimmy spent a portion of the just-completed fourth season of 'Yellowstone', at the Four Sixes Ranch in Texas. It's been confirmed that White will be part of a new spinoff series, '6666', that will be based at the ranch. The Four Sixes Ranch, a real ranch in western Texas, was founded in 1870. It's now made up of nearly 260,000 acres.
Will White's character continue to be part of 'Yellowstone' while work forges ahead on '6666', which doesn't yet have a debut date? That's a question we'll have to wait for an answer on. The bigger questions right now are how many more seasons of 'Yellowstone' there will be and who will survive in the end. The show's creator Taylor Sheridan told the New York Times, "It will go as many years as it takes for me to tell the story, but you're not going to see nine seasons of it."
Personally, I don't think we'll make it four more seasons, which would be eight in total, though I sure hope we do. During last week's 'Yellowstone' aftershow on Paramount Plus, Sheridan said, "If you look at everyone as a chess piece, all the chess pieces are moved to where in season five it is impossible to keep playing the game without taking chess pieces off the board."
10 'Yellowstone' Facts You Probably Didn't Know
How big of a fan of
Yellowstone
are you? These 10 facts about the Paramount Network show are sure to stump even the most dedicated viewers. They're almost all about the cast members and their real-life passions and roles. John's kids? Beth's accent? Rainwater's guitar playing? Tate's spoilers? It's all part of this list of 10 Facts You Probably Didn't Know About Yellowstone.
PICTURES: See Inside 'Yellowstone' Star Hassie Harrison's Stunning $2.5 Million California Villa
Yellowstone star Hassie Harrison has purchased a $2.5 million home in the canyons outside of Los Angeles. Pictures of the 4-bedroom, 4-bathroom, 2,659-square-foot home show a Mediterranean-style villa that offers soaring views of the mountains from every angle.