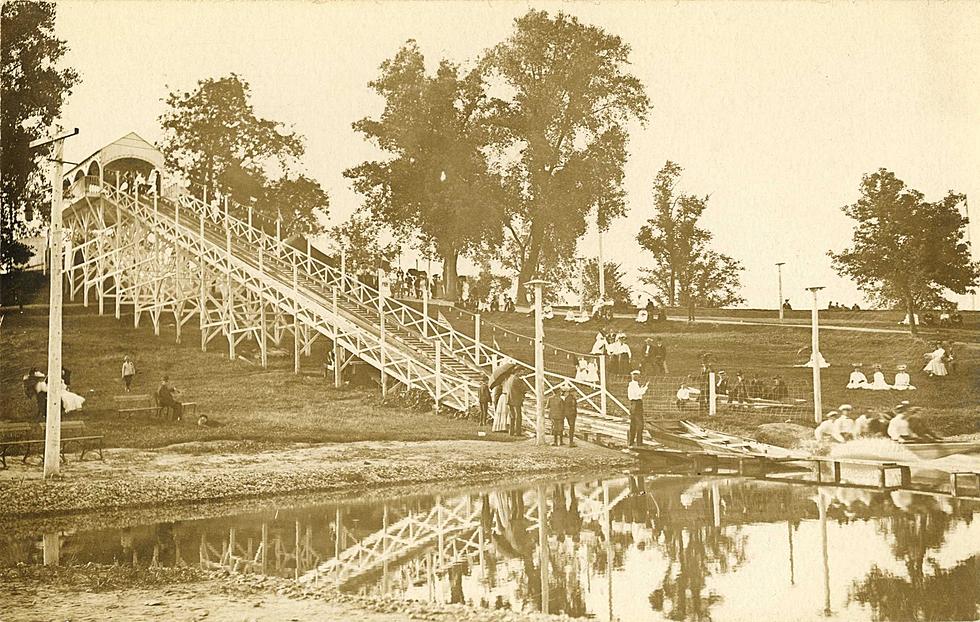 Remembering Cedar Rapids' Three Amusement Parks [PHOTOS]
The History Center
Iowa's most famous amusement park is Adventureland in Altoona but Cedar Rapids has been home to three such places over the years.
The city of Cedar Rapids is sometimes confused with Cedar Point, the massive 364-acre amusement park next to Lake Erie in Sandusky, Ohio. While we're very much a city and not an amusement park, Cedar Rapids has had three of those types of parks in the past. Let's reminisce.
Alamo Park
The first amusement park opened in Cedar Rapids more than 110 years ago. June 11, 1906, is when Alamo Park opened for the first time. Unfortunately, its history wasn't a long one.
Alamo Park was located on 18-acres, where Roosevelt Middle School is today, in the 300 block of 13th Street NW. The book Lost Cedar Rapids reports it had a Ferris wheel that was 100-feet tall. It also included a rink for roller skating, merry-go-round, a 1,550-foot long figure-eight roller coaster, movie theater, hot air balloon rides, and more. Likely the most popular ride of all was Shoot-the-Chutes... the water ride in the photo above.
After the 1913 season, Alamo Park closed. Eight years later, everything left was torn down so that Roosevelt could be built.
An advertisement in the Cedar Rapids Sunday Republican on June 10, 1906. Alamo Park opened the next day:
Riders arrive at the water on the Shoot-the-Chutes ride:
An Alamo Park photo that shows the Shoot-the-Chutes ride, Ferris wheel, and more:
A 1907 postcard:
This postcard shows Alamo Park and the huge white fence that surrounded it.:
Frontier Park
When it was built in the mid-1920s it was called Frontier Park-Iowa's Largest Amusement Park. According to Lost Cedar Rapids, it was never home to rides, except for auto races. Since no "amusements" were part of what today is Hawkeye Downs, I'm not counting it in this list, but felt it was still worth mentioning.
CeMar Acres
A footprint that included both Cedar Rapids and Marion helped in the naming of CeMar Acres, at 5001 First Avenue SE in Cedar Rapids. Lost Cedar Rapids says it first opened as a dirt race track, known as Ce-Mar Bowl, in 1946. After lights were added, it became the first place night races were held in the city. Midwest Racing Archives says,
On Sunday mornings, you went to church. On Sunday evenings, you went to Ce-Mar Bowl to watch the midgets compete. It became such a popular venue in such a short amount of time, that in 1948, (owner Don) McElhinney would have to add more bleachers (2,000 more seats) to accommodate the overflow crowds. When all of the new seating was in place, McElhinney announced that close to 6,000 race fans could enjoy midget racing at Ce-Mar.
In the early 1950s, Cedar Rapids' newest family destination was born with rides for kids, a Ferris wheel, and a roller rink.
By 1954, the miniature train (photo below) opened. It was called 'Hiawatha'. The city had been incorporated just four years earlier, in 1950. It ran on Iowa's largest miniature railroad, more than 1,800 feet of track. It could carry 36 people.
The racetrack closed in 1955, but the amusement park continued to grow. A roller coaster came to CeMar Acres in 1958 and the park also had a Tilt-A-Whirl.
CeMar Acres amusement park closed in 1968.
The CeMar Acres Ferris wheel:
The Hiawatha, Iowa's longest miniature train makes a run at CeMar Acres:
The famous merry-go-round from CeMar Acres featured hand-carved animals with glass eyes and tails made of actual horsehair. It was later restored and put on display at the C.W. Parker Carousel Museum & Gift Shop in Leavenworth, Kansas.:
Chapman Fun World
It all began in 1953 with an 18-hole miniature golf course, a driving range, and batting cages. The business on Williams Blvd. was known as Gene Chapman Sports.
In 1958, it became Chapman's Sports Center with a two-level driving range (anyone else thinking TopGolf?). Lost Cedar Rapids says there were also archery ranges and trampolines would also be included before the decade came to an end.
By the end of the 1960s came an indoor driving range. In 1972, the driving range was taken out in favor of indoor miniature golf.
In the early 1980s, a giant waterslide was added. By the end of that decade, Chapman Fun World no longer had golf but there was a small roller coaster along with other rides, including go-carts.
Chapman Fun World closed for the final time in September of 2001. Its former site in the 3000 block of Williams Blvd SW is now home to a variety of businesses.
Will Cedar Rapids ever see another amusement park? I think it's unlikely that we'll see anything of the scale of the above businesses, especially since Lost Island Theme Park is set to open in Waterloo this summer. The park will be only about 50 minutes from Cedar Rapids.
Cedar Rapids will soon get a new business that will provide plenty of indoor entertainment. Spare Time Cedar Rapids is expected to open very soon.
LOOK: Oldest Disneyland Rides From 1955 to Today
Stacker
, set out to compile a definitive list of every Disneyland attraction you can enjoy today and ranked them by their age. Using real-time data from
Touring Plans
, Disney archives, and historical news releases and reviews, our list starts with exciting recent park additions and stretches back to the oldest opening-day classics. This list focuses on the original Disneyland Park, so you will not see any rides from its neighboring California Adventure located just across the promenade. Read on to discover the oldest Disneyland rides you can still ride today.
LOOK: Stunning vintage photos capture the beauty of America's national parks
Today these parks are located throughout the country in 25 states and the U.S. Virgin Islands. The land encompassing them was either purchased or donated, though much of it had been inhabited by native people for thousands of years before the founding of the United States. These areas are protected and revered as educational resources about the natural world, and as spaces for exploration.
Keep scrolling for 50 vintage photos that show the beauty of America's national parks.