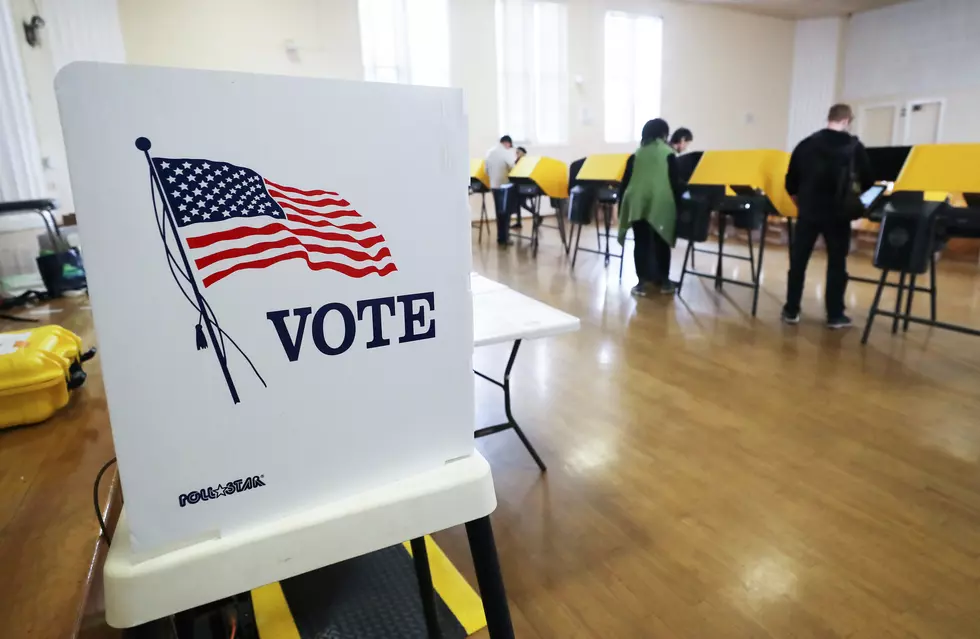 Record Number of Iowa Schools Earn Voter Registration Award
(Photo by Mario Tama/Getty Images)
In an effort to increase voter registration in Iowa, secretary of state Paul Pate created the "Carrie Chapman Catt" award in 2019. It goes to schools in Iowa that have 90 percent of their eligible voters registered, and a record 31 schools were nominated for it this year.
In Iowa, you can register to vote at 17 as long as your 18th birthday (legal voting age) will occur on or before the next Election Day. According to KWWL, there are 31 schools, including several in Eastern Iowa that have reached that 90 percent threshold.
Prairie High School (Cedar Rapids)**
Isaac Newton Christian Academy (Cedar Rapids)***
Valley Lutheran School (Cedar Falls)***
Waterloo Christian High School (Waterloo)
Regina High School (Iowa City)
Lone Tree High School (Lone Tree)***
Hillcrest Academy (Kalona)**
Clayton Ridge High School (Guttenberg)**
Norwalk High School (Norwalk)***
Marquette Catholic High School (Bellevue)**
Rivermont Collegiate (Bettendorf)***
Notre Dame Catholic High School (Burlington)***
Diagonal Community School (Diagonal)
St. Ansgar High School (St. Ansgar0
Ar-We-Va High School (Westside)
Woodward-Granger High School (Woodward)**
Fremont-Mills High School (Tabor)
Riceville High School (Riceville)**
Tripoli High School (Tripoli)
North Union High School (Armstrong)
Ballard High School (Huxley)***
Gladbrook-Reinbeck High School (Reinbeck)
West Marshall High School (State Center)
Mount Ayr High School (Mount Ayr)**
Urbandale High School (Urbandale)***
Newman Catholic High School (Mason City)**
Central Lyon High School (Rock Rapids)**
Collins-Maxwell High School (Maxwell)
Denver High School (Denver)**
Bishop Garrigan High School (Algona)
Schools with asterisks next to their name are achieving the honor for either the second or third time, denoted by the number of asterisks. Pate intends to visit them all to personally deliver the trophy.
Several schools were also given "honorable mention" for achieving at least 50 percent of eligible voter registration and the complete list can be found here.
For his part, Pate says he is "thrilled to see so many young people stepping up and taking the first step in the voting process by getting registered. Great job by the teachers and administrators at these 31 schools by engaging the students in civics. I tell young people all the time, the best way to make your voice heard is by voting, and to do that, you need to get registered."
With so many hot-button issues like student debt, inflation, and more affecting them and their families right now, it's clear Iowa kids are taking a vested interest in making sure they have a voice in the leadership elected to handle these issues.
Carrie Chapman Catt is a noted Iowa State alum, who was a key leader in the women's suffrage movement, helping women gain the right to vote in 1920. Read more about her story here.
Highest Paying Jobs in Iowa in 2021
These are the Top 20 highest-paying jobs in the state.
Did You Know Most Iowa Counties Have Their Own Flag?
We all know the state of Iowa has a flag, but each county? Of Iowa's 99 counties, a majority do in fact have a flag.