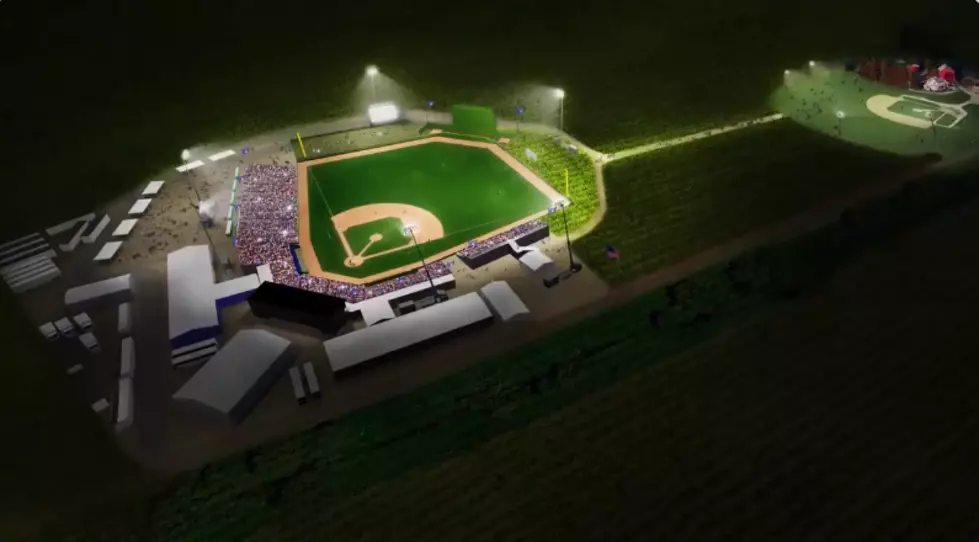 Much More Revealed on White Sox-Yankees Game at Field of Dreams
MLB Communications, Twitter
Thursday's news that Major League Baseball is coming to the Field of Dreams in Dyersville was greeted with MASSIVE excitement. Here are additional details we've learned since yesterday's announcement.
The field being built for the game will be beyond the "northern perimeter of the movie field." Fans will take a path through the cornfield itself to reach the new stadium.
The new ballpark will honor Comiskey Park (in the foreground below), the stadium where the Chicago White Sox played home games from 1910 to 1990. "Shoeless Joe" Jackson, depicted in the Field of Dreams movie, played at the stadium. The photo below is from 1990. The stadium was torn down in 1991. At this point, we still don't know the distances of the outfield fence from home plate in the new stadium at Field of Dreams, but we do know the right-field wall will have windows to allow a view to the cornfield beyond it.
Even though the field was previously announced to be temporary, MLB says it will "stay intact. Go The Distance Baseball, the company that operates the movie site will consider other potential uses for it." Construction on the new stadium begins Tuesday, one year to the day before the game is scheduled to be played.
Everyone has been asking about tickets. Details will be announced in the coming months by Major League Baseball.
Just how BIG is this game? Regular season games on a major television network during the week, in prime time, are almost unheard of. The Chicago White Sox-New York Yankees game will be televised by FOX Thursday, August 13, 2020, at 6 p.m., Iowa time.
This WILL BE the first time Iowa has ever hosted a game that counted in the standings. In 1942, Fort Dodge, Iowa played host to the Cubs and White Sox. The Cubs won the homer-filled game, 16-14. The game itself was part of the dedication of Dodger Stadium in Fort Dodge. People from five different states and 75 of Iowa's 99 counties were on hand... part of the capacity crowd of 8,500. The game in rural Dyersville next year is expected to accomodate approximately 8,000 fans. You can bet every single one of them will be full.