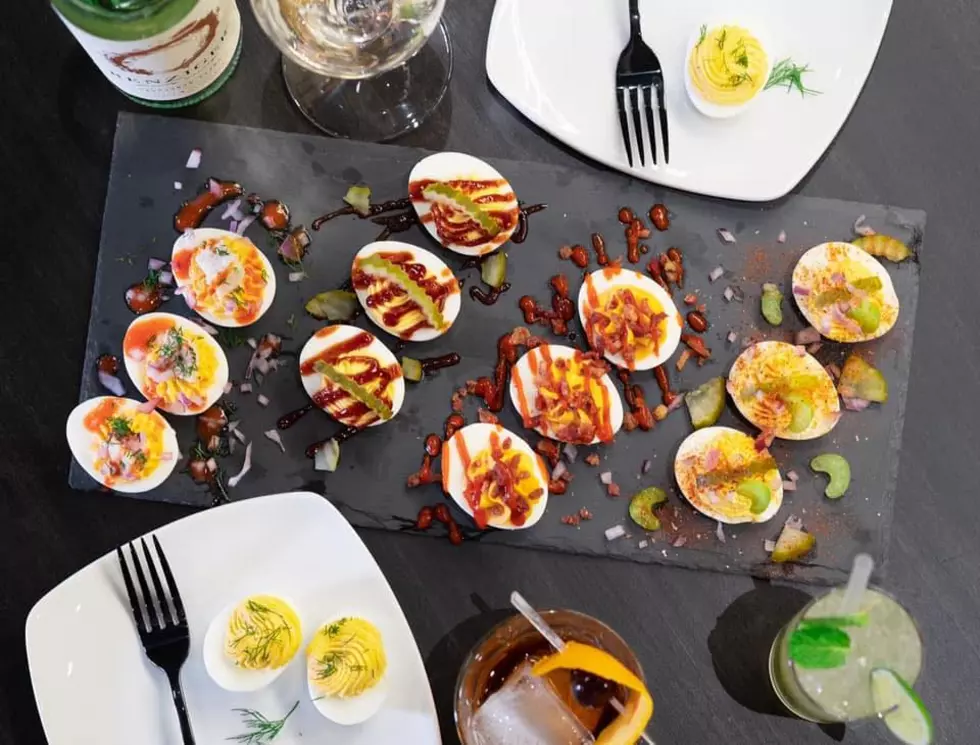 Midwest Restaurant Offers Over 20 Kinds of Deviled Eggs [PHOTOS]
Deviled Egg Co., Facebook
You've never had deviled eggs like this before!
Over the holiday weekend, I came across a photo on Facebook that stopped me dead in my tracks. The post was from a place called Deviled Egg Co. in Omaha, Nebraska, and it featured some of the most unusual deviled eggs I've ever seen! I've only ever had one variety of deviled egg in my life, so I shocked to see flavors like Crab Rangoon, Buffalo Chicken Ranch, and Walking Taco. It's no surprise that the post quickly went viral. It currently has over 30,000 shares!
According to their website, Deviled Egg Co. was founded by Raechel Van Buskirk and is "the first company in world to specialize in gourmet deviled eggs." Raechel's personal favorite is the the Chicken Caesar Salad egg, which is topped with romaine lettuce, parmesan, croutons, dressing, and grilled chicken.
Deviled Egg Co. has their regular menu posted on their website, with other special flavors featured on Facebook. Here are the different deviled eggs available on the website and the ingredients for each one:
Backyard BBQ - pulled pork, BBQ sauce, dill pickle
BLTE - ranch base, tomato, bacon, lettuce
Buffalo Blue - blue cheese, Frank's Buffalo Sauce
Buffalo Chicken Ranch - Frank's Buffalo Sauce, grilled chicken, ranch, onion
Cali Roll - crab mix, cucumber, avocado, eel sauce
Chick-Fil-Egg - grilled chicken, Chick-Fil-A Sauce
Chicken Bacon Ranch - chicken, bacon, shredded cheese, ranch
Chicken Caesar - lettuce, parmesan, croutons, Caesar dressing, grilled chicken
Crab Rangoon - cream cheese, sweet & sour sauce, wontons
Everything - everything bagel seasoning
Miracles Happen - Miracle Whip & yellow mustard
Jalapeno Popper - jalapeno, bacon, chipotle sauce
Reuben - corned beef, sauerkraut, thousand island dressing
Salmon - smoked salmon, cream cheese, capers, dill, red onion
South of the Border - hot sauce, cheddar cheese, jalapeno
Sriracha Bacon - Sriracha sauce, bacon
Traditional - mayo, Dijon mustard
Tuna Salad - tuna, celery, onion, traditional mix
Walking Taco - grilled chicken, refried beans, Mexican filling, sharp cheddar cheese, Nacho Cheese Doritos, onion, lettuce, sour cream
My favorite thing to eat at holiday parties is deviled eggs, so I'm more than willing to try almost all of these flavors! The restaurant has 4.9-stars on Facebook, so clearly people LOVE them. The next time I'm passing through Omaha, I will definitely be making a stop!
Deviled Egg Co. is located at 18111 Q St in Omaha, Nebraska and is open Monday through Thursday from 2 p.m. to 9 p.m., Friday & Saturday from 11 a.m. to 10 p.m., and
Sunday from 11 a.m. to 4 p.m. You can get more info on the restaurant HERE.
10 Great Local Restaurants Courtlin Ate at This Summer
Now that summer is finally coming to a close, I've been looking back at some of my favorite moments from the past few months. As it turns out, a lot of my favorite moments involve food! Here are ten of the best meals I've had from local restaurants during the summer of 2022:
The Top 10 Highest-Rated Restaurants in Iowa City
Using the popular site
Yelp
, we took a look at the top ten highest-rated restaurants in Iowa City. Here are the results!