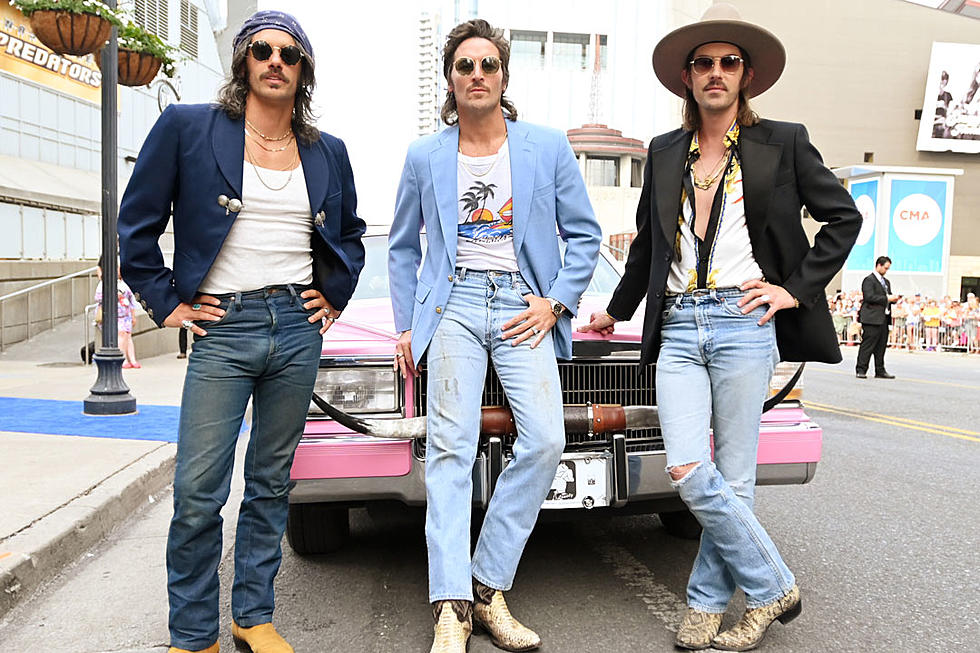 Midland Are Dreaming Up a One-of-a-Kind Show for Their Bud Light Backyard Party
Jason Kempin, Getty Images
In 2020 and 2021, when the world was in the throes of COVID-19 pandemic lockdowns, artists used to fantasize about what they'd do when doors and stages opened back up again: Play more shows, collaborate with more artists, take more chances, get closer to their fans than they ever had before.
Lots of artists dreamed about it, but Midland are doing it. After releasing Greetings From: The Last Resort — their euphoric, jam session-flavored, post-lockdown reunion record — in 2022, the trio is touring harder and more creatively than ever before.
They've kept their road dog bona fides with their own rigorous touring schedule, plus played some dates on Eric Church's Outsiders Revival Tour and even shared a stage with Chris Isaak. They're also prioritizing different kinds of fan experiences: Later this month, they'll swap their usual arena and amphitheater crowds for an intimate, house show-style venue, partnering with the Bud Light Backyard Tour for a special stop in Oklahoma City, Okla.
"Picture you're going over to your buddy's house, right, to a barbecue, and you walk in and there's the best food you can imagine. Enough cold beer to sink a ship. And then all of a sudden your favorite band in the world comes out and starts playing a backyard party," the group tells Taste of Country in a conversation about their upcoming brand partnership. "That's what it's gonna be like."
The band isn't fazed by the the controversy that's surrounded Bud Light and its parent company, Anheuser-Busch, in recent months, stemming from Bud Light's one-off partnership with transgender influencer Dylan Mulvaney. Some stars, like Travis Tritt and Kid Rock, were among those calling for a brand boycott; meanwhile, Garth Brooks has affirmed that Bud Light will remain on the menu in his Nashville bar. (It's worth noting that though Rock condemned Bud Light's decision to work with a trans partner on his personal social media, his own downtown Nashville bar still has multiple varieties of the beer on the menu.)
"Bud Light is an amazing partnership, and it's a great beer that we enjoy," Midland state, shrugging off a question about whether the controversy impacted their decision to partner with the brand. "So that's not really a part of our conversation."
More important to the group is the kind of show they'll be able to put on in the intimate, fan-focused setting of the Bud Light Backyard Tour stop. Smaller shows with diehard fans afford the trio the chance to deviate a little from their usual set list. In addition to playing hits like "Drinkin' Problem" and "Mr. Lonely," they can reach for some deep cuts, some reworked early material and some songs they haven't played in a while.
"We don't generally do requests, but this could be potentially be one of those situations that we would," the group's Mark Wystrach suggests. "And probably play some deep cuts from, like, the Sonic Ranch album, some songs that ... we haven't played in a while. It'll be a good opportunity to get into that."
It's also a strong possibility that they'll be playing some new music. Midland's hefty touring schedule has made it difficult to find time to get in the studio and record their next album, but the music's well on its way, and they can't wait to show fans what's in store.
"I think as songwriters, we're always just curious about going into new corners, trying to book new sessions and find new material to write about," they explain, pegging December as the month they plan to go in and cut their next project.
"But in general, we think it's the strongest stuff we've ever written. There's a song we wrote not long ago when we were all in Nashville, and we all looked at each other when we were in the middle of writing, like, 'Wow, this is maybe the best song we've ever written,'" they continue. "We're feeling really strong. Mentally, physically, spiritually. All of that."
Midland's Bud Light Backyard Tour show will take place in Oklahoma City, Okla. on Aug. 15. Other performers partnering with the brand for 2023 summer shows include OneRepublic, Dashboard Confessional and Bush. Fans who are 21+ can enter to win tickets to the event at BudLightBackyard.com.
Country Songs That Name-Check Budweiser or Bud Light
Long before all the controversy surrounding Bud Light and the Anheuser-Busch brand sparked in spring 2023, the beer was a staple in country music lyrics. Here are some of the best songs that reference Budweiser or Bud Light.