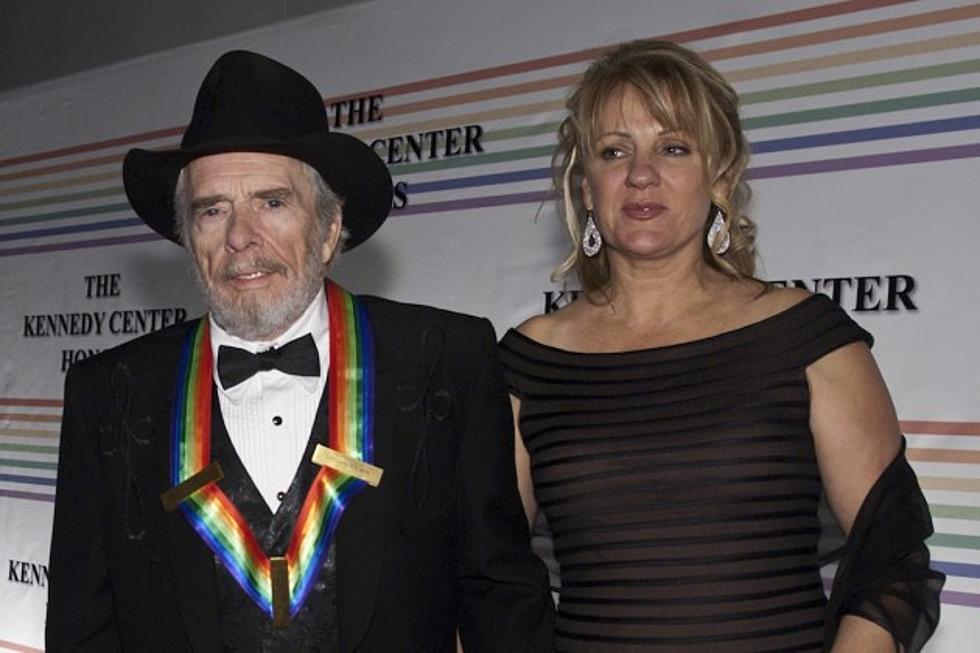 Merle Haggard + Theresa Ann Lane — Country's Greatest Love Stories
Kris Connor, Getty Images
Merle Haggard was married five times, but his widow, Theresa Ann Lane, was a keeper. The couple celebrated their wedding anniversary on Sept. 11, and Haggard called marrying Lane the best decision he's ever made.
Haggard had Lane's mother to thank for their first meeting: Lane was more of a ZZ Top fan before meeting Haggard, but her mother persuaded her to go see the singer perform. That was the start of their love story, though it didn't look that way at first.
After the show, Lane met Haggard's guitarist, Clint Strong. The two were headed back to Strong's room when Haggard -- who liked what he saw -- asked Strong to go to the bus and get a guitar.
"He said, 'I'll take her up to the room, and we'll meet you up there,'" Lane recalls (quote via Rolling Stone).
When Strong returned with the guitar, however, Haggard wouldn't let him in the room.
"There's bangin' on the door, and it's Clint," explains Lane. "And Merle says, 'Get the f--k out of here! She's my woman now. You don't know how to treat a woman. Get the hell out of here, or I'm going to fire your a--.' I went on a month tour with him, and we were pretty much together."
There was a sizable an age gap between Haggard and Lane -- she was in her 30s when they married, while he was in his 50s -- and the country legend admitted that, at first, he didn't understand why his now-wife wanted to be with him.
"She's a very young girl for a guy like me. We met at Lake Shasta, right in the middle of a strange period of my life ... But it was a period in which I was not married, and I ran into this lady out there; she wasn't married either -- and I did everything in the world to run her off, to tell you the truth!" Haggard once said. "I didn't really think there was any reason why she could want to hang around with me, other than the wrong reasons. But she finally convinced me otherwise. And now I have a young family, and it's turned out to be the best decision, probably, that I've ever made."
The couple married on Sept. 11, 1993, and had two children together, Jenessa and Ben. When his son and daughter were younger, because of Haggard's age, he was often mistaken to be their grandfather, not their father.
"When I push my kids through the grocery store, people ask if they're my grandchildren," Haggard told Country Weekly in 1994. "I tell them, 'I beg your pardon, these are mine.'"
While Haggard said "I do" plenty of times, and even once admitted, "I quit countin' a while back," the fifth time was the charm for him!