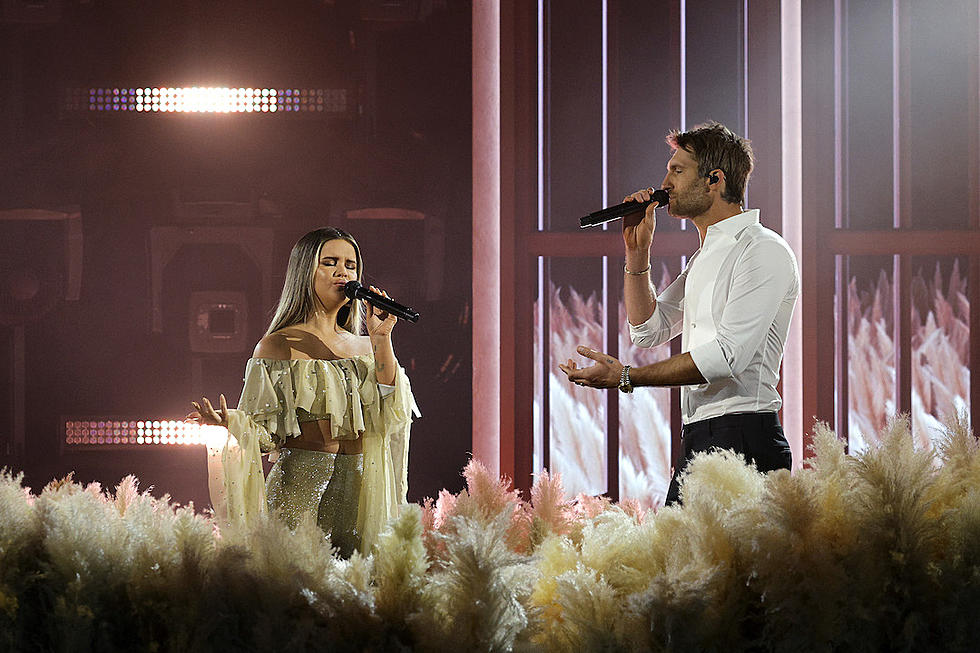 Top 10 Maren Morris Collaborations
Getty Images
Maren Morris has just kicked off the next era of her already accomplished career with the release of her autobiographical single "Circles Around This Town." The 31-year-old Texas native has become a crossover success, charting hits on both the country and pop charts. From a young age, she spent years honing her craft as a songwriter and performer before heading to Nashville to pursue her career. Her 2015 self-titled EP, which included her hit "My Church," found huge success on streaming platforms and led her to a major label deal.
Morris' 2016 album Hero and 2019 followup LP Girl cemented her status as one of the genre's strongest new voices. Her raw talent, outspoken nature and determination to stay true to herself has connected with both fans and fellow artists, leading to a stream of collaborations with artists from an array of genres. For the purposes of this list, we'll focus solely on her solo collaborations outside of The Highwomen, the country supergroup featuring Morris, Brandi Carlile, Natalie Hemby and Amanda Shires that released their self-titled debut record in 2019.
Before this exciting new chapter of Maren Morris' career kicks into high gear, head on to see our ranking of her best collaborations so far.
10

"Seeing Blind"

with Niall Horan

Released in 2018, "Seeing Blind" was featured on former One Direction member Niall Horan's debut album Flicker. With an infectious chorus and sunny harmonies supplied by Morris, the track is an upbeat look at love and the difference from observing it from afar and experiencing it yourself.

9

"You All Over Me"

with Taylor Swift

Originally recorded as a part of Taylor Swift's 2008 record Fearless, "You All Over Me" took on a new life when Swift recruited Morris to join her as a part of her 2021 rerecording of the record. Morris' backing vocals give depth to the track about how a past relationship can leave a long-lasting mark.

8

"I'll Be The Moon"

with Dierks Bentley

Although it wasn't released as a formal single, "I'll Be The Moon" was highlighted as a part of Dierks Bentley's 2018 trilogy of music videos that took viewers through the twists and turns of a torrid relationship.

7

"Way Too Pretty for Prison"

with Miranda Lambert

Featured on Miranda Lambert's acclaimed seventh studio album Wildcard, "Way Too Pretty For Prison" is a playful duet about best friends sticking together when a man breaks his commitment vows, all the while trying to avoid taking their revenge a little too far.

6

Morris found massive solo success with her heartfelt track "The Bones," but her duet version with indie folk artist Hozier adds yet another layer of emotion and heart to its lyrics.

5

"Craving You"

with Thomas Rhett

This energetic and sultry duet from Thomas Rhett and Maren Morris lit up the country charts in 2017. The song, which was featured on Rhett's third studio album Life Changes, was Morris' first No. 1 hit collaboration.

4

"Bigger Man"

with Joy Oladokun

"Bigger Man," the 2021 duet with breakout singer-songwriter Joy Oladokun, is a powerful and moving tale of perseverance when faced with societal roadblocks, discrimination and hate.

3

The 2018 release of "The Middle," a collaboration with EDM artist Zedd and pop duo Grey, marked the moment that Morris became a true crossover success. The song has been streamed over a billion times on Spotify and earned multiple award nominations, including three at the 2019 Grammy Awards.

2

"Chasing After You"

with Ryan Hurd

Country music has a long history of successful husband and wife collaborations, but "Chasing After You" marked the first hit duet for Maren Morris and Ryan Hurd. The romantic track was featured on Hurd's 2021 debut record Pelago and has been certified platinum.

1

"All My Favorite People"

with Brothers Osborne

The anthemic, irresistibly catchy "All My Favorite People" is one of the standout tracks on Morris' celebrated 2019 record Girl. With the help of her longtime friends Brothers Osborne, Morris celebrates the qualities and quirks that give them joy and bring them together.