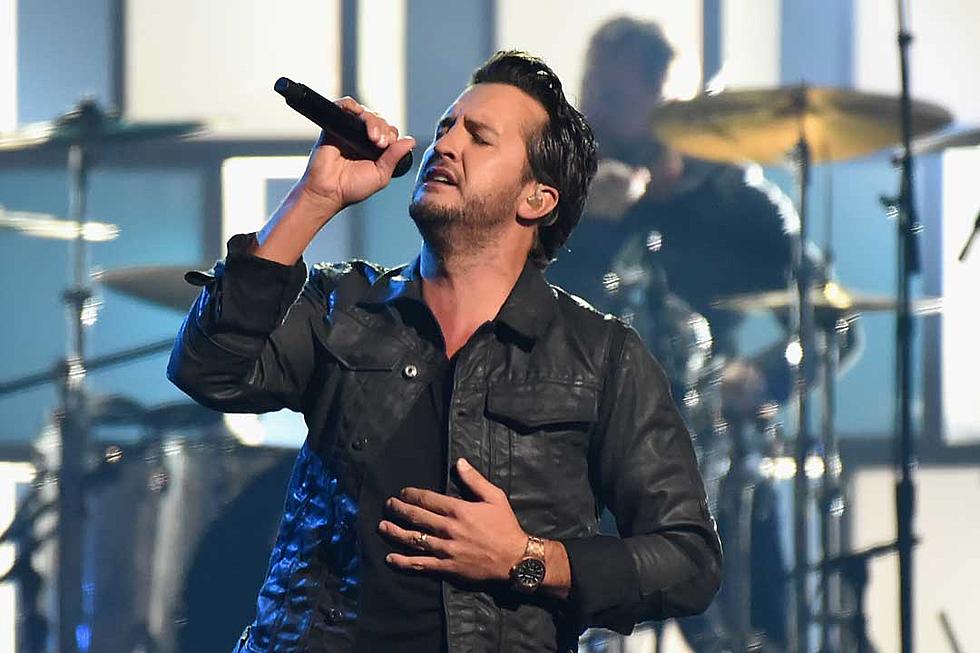 Luke Bryan's 'I'll Stay Me': All of the Songs, Ranked
Rick Diamond, Getty Images
Luke Bryan released his debut album, I'll Stay Me, on Aug. 14, 2007, on Capitol Records. Produced by Jeff Stevens, the record has since been certified gold.
Before releasing I'll Stay Me, however, Bryan had found success as a songwriter: He wrote Billy Currington's hit "Good Directions," which shot straight to the top of the charts in 2006, for example. Clearly, the future superstar had a number of years to craft songs for his own use.
"We started writing close to four years ago, and that's when the magic started happening in my career," Bryan told Songwriter Universe in 2008. "I always tell aspiring writers that the key to success is writing songs that you believe in, about moments you pull from your life. Then get out and perform them if you can, or at least let people hear them. If no one is reacting, then it's not a good song.
"If just one person out there connects to it, then you're onto something," the now-megastar continues. "From there, you can figure out what it is that made him or her connect to it and tap further into whatever that is. If you think you've got a great song, don't hold back. Get it out there. If your hunch is right, people will start responding."
As such, Bryan co-wrote all but one of the songs on his debut project. How do they stack up? Read on to find out:
11

"Tackle Box" is a sentimental track about growing up with Bryan's grandfather and the adventures they shared out on the water. While catching fish, Bryan recalls the stories his grandfather would tell, and how it felt to spend time with him: "And I'd sail with him across the South Pacific / Stand beside him on the bow of that battleship / See him kiss the ground and thank the good Lord Jesus / And watch him run to Grandma, cryin' on the docks / He'd open up, every time he opened up / That old tackle box."

"Tackle Box" was written by Bryan alongside Joe Doyle.

10

A far cry from Bryan's rump-shaking songs, "Pray About Everything" is all about putting faith in the man upstairs. Throughout the song, Bryan sings about the troubles of life that we cant control -- like the weather or excessive pressures at work -- but instead of sweating things out, Bryan sings about trusting in God: "Don't worry 'bout nothing / Let it go, see what tomorrow brings / Don't worry 'bout nothing / Pray about everything, yeah, pray about everything."

"Pray About Everything" was written by Jeff Stevens and Bob Regan. It's the only song on I'll Stay Me that Bryan did not co-write.

9

Perhaps the first hint of Bryan's swoon-inducing ways came in the song "Baby's on the Way." The lyrics talk about falling for a girl and, because of that, doing things a country boy wouldn't typically find himself doing: "I ain't been doing to right / Since I met her last night / Some kinda burning-breakfast / Lost-at-work state of mind / We're meeting here because / She mentioned that she loves / This kind of sushi, veggie, raw and edgy, natural stuff / But I'm feeling out of place / But baby's on the way."

Bryan penned "Baby's on the Way" with Jeff Stevens.

8

When you think "Luke Bryan," you don't necessarily first of tear-jerking songs that hit your right in the feels. There's "Drink a Beer," sure, but many of Bryan's songs focus on good times. "The Car in Front of Me," however, packs a powerful emotional punch. The song, which Bryan co-wrote with Jim McBride, is about love lost and the harsh realities of dealing with death.

7

Bryan's "You Make Me Want To" is a fun song about falling in love and wanting to settle down. Bryan sings, "Well, I never met a girl like you / That's got me thinking like I do / To hang up my hat and kick off my boots / But you make me want to / You make me want to." Amber and Phillip B. White wrote "You Make Me Want To" with Bryan.

6

In "Over the River," Bryan tells a story about letting loose after a week of putting in hard work. The title comes from the location of the boot-stomping party, way past where the streetlights stop and across the river. Bryan co-wrote the track with Jay Knowles.

5

"First Love Song" is a cute tale of a man realizing the power behind his first love song. Before his partner pointed out a romantic song that reminded her of the two of them, Bryan admits to not carrying about that type of music: "Up 'til then, all I'd ever listened to / Was a little "Sweet Home," "Tuesday's Gone" /And "Workin' Man Blues," he sings, name-checking country and Southern rock classics in the lyrics he co-penned with Jeff Stevens.

4

Bryan calls it like it is in the title track of his debut album. Instead of wanting to outgrow his hometown or go live a luxurious life, he says he'll never change. Bryan and Jeff Stevens co-wrote the song.

3

"We Rode in Trucks," a Top 40 single for Bryan, pays homage to growing up in rural America with lyrics such as, "It was huntin' and fishin' and football games / Then it was girls, and everything changed in our lives / Fallin' in and out of love, we rode in trucks." Throughout the song, Bryan reflects on poignant memories of growing up in the country: picking cotton, pig wrestling, the Flint River, red Georgia dirt, hauling hay in the field, heading into town and more. He co-wrote the fan favorite with Jim McCormick and Roger Murrah.

2

I'll Stay Me's third single, "Country Man" peaked in the Top 10 on the country charts. The classic country track, co-written by Bryan, Galen Griffin and Patrick Jason Matthews, features fiddles, guitar ... and Bryan's iconic swagger.

1

The uptempo lead single from I'll Stay Me, "All My Friends Say" hit country radio in January of 2007 -- and it became a Top 5 hit. The song spent more than 30 weeks on the chart, kicking Bryan's career off with a bang.

Bryan wrote "All My Friends Say" with Lonnie Wilson and Jeff Stevens.