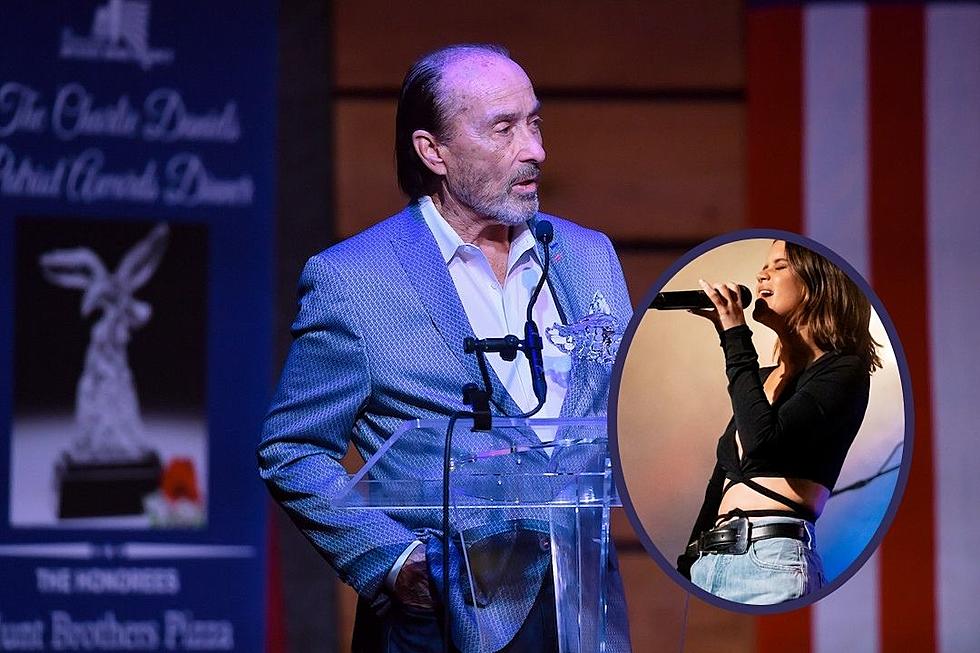 Lee Greenwood Thinks Maren Morris Got One Thing Wrong About Country Music
Jason Davis, Natasha Moustache, Getty Images
In an open letter published on FoxNews.com, Lee Greenwood shares his perspective on Maren Morris' recent departure from country music — and what he thinks she misunderstands about the genre.
Morris announced her intention to leave the country genre in mid-September, saying at the time that she felt "very, very distanced" from the increasingly combative political divides of the genre.
Morris herself as been at the center of some of those arguments: Last year, she went toe-to-toe with Jason Aldean's wife Brittany over a transphobic sentiment that Brittany shared in an Instagram Reels post. The "My Church" hitmaker was also at the forefront of those country artists condemning Morgan Wallen's actions after his 2021 racist slur scandal, and she's consistently and loudly advocated for causes like Black Lives Matter and LGBTQ+ rights.
The singer has said that she never set out to become an advocate, but as her career progressed, she felt called to criticize the genre that she loved in the name of making progress. However, those chasmic politic divides have grown more and more caustic over the past few years, and finally, Morris decided to sever ties.
But in his open letter, Greenwood criticized Morris for "blast[ing]" country music on her way out the door, explaining that, from his point of view, she's criticizing the genre's patriotism.
"To suggest that country music is 'too patriotic' is to not understand country music at all. It's in our very name: Country music," Greenwood points out. "Our music is written for love of our country, our heart for America."
It's worth noting that Morris has never voiced direct objection to the genre's patriotism per se, though in a mid-2023 Billboard panel conversation on anti-LGBTQ+ and drag laws, she and a panel of drag queens did voice their beliefs that Texas legislators were pushing fearmongering in the name of "patriotism." She's also pointed to the Trump administration as being a catalyst for ever-deepening political divides, and the fuse that brought some people's racism and bigotry to the forefront of their political opinions.
However, it seems like what's most problematic to Greenwood is that Morris has outright condemned some of her fellow country artists' speech and actions — citing racism, homophobia, sexism or transphobia — instead of accepting those behaviors as free speech, one of the most dearly-held tenants of the U.S.
"It's not that politics has infiltrated country music, it's quite the opposite — music ends up reflecting the very conversations happening across the country today," he opines, citing Aldean's polarizing "Try That in a Small Town" as a kind of barometer of the issues listeners care about, such as "the defunding of police, and the mass looting that soon followed and has become commonplace in towns across America today."
After recounting the cultural moments that inspired his own anthem "God Bless the USA" — namely, his experience of watching U.S. farms suffer due to a grain embargo imposed against the Soviet Union by the Carter administration following its 1979 invasion of Afghanistan — Greenwood concludes that specific political issues may ebb and flow, but the prominence of patriotism and politics will always be key to the country music genre's identity.
Greenwood concludes his letter with his wish that Morris had chosen to stay in the genre and continue being a part of that essential conversation.
"Morris would be wiser to stay in country music, where she could continue the conversation and present her interpretation of what it means to be an American today," he writes, but adds that she should steer clear of calling for the "cancellation" of other artists who disagree with her viewpoints.
In fact, doing so would be "a slippery slope to censorship, free expression, and is out of line with the values of hard work, freedom and grit that have made country music so great to this day," Greenwood says as he ends his open letter.
Morris put out two new songs, "The Tree" and "Get the Hell Out of Here," as a kind of transition between her body of work in the country genre and the chapter that lies ahead. Collectively, those two song are a mini-EP called The Bridge.
25 Modern Female Trailblazers Who Changed Country Music
Following in the footsteps of game-changing legends like
Dolly Parton
,
Reba McEntire
and
Loretta Lynn
, these 25 modern-day country acts continue to push boundaries and shape the country music landscape. Whether they're experimenting with musical style and sound, fighting for equality in the genre or broadening the path for the women coming to country music after them, these trailblazers are downright inspiring.
Gallery Credit: Carena Liptak