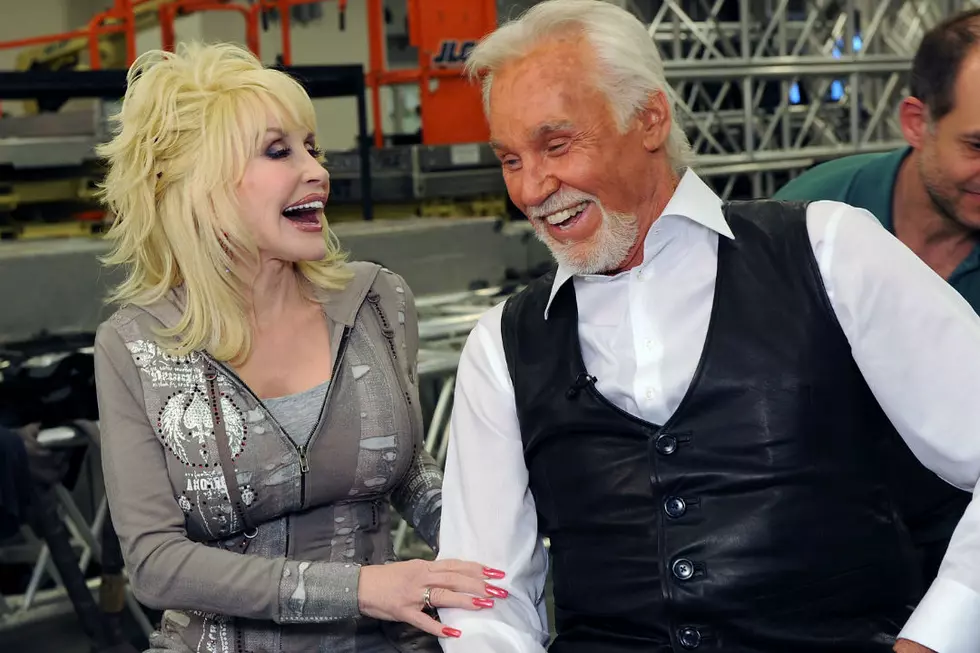 13 Incredible Moments From Kenny Rogers' 2017 'All in for the Gambler' Tribute Concert
Rick Diamond, Getty Images
That's exactly what happened in 2017, at the Kenny Rogers: All in for the Gambler tribute concert. The event brought out artists from all different genres, many of whom were hand-picked by Rogers, to celebrate Rogers' illustrious career and bid him well as he prepared to retire.
"The great thing about country music is, your friendship lasts," Rogers shared with The Boot and other reporters prior to the concert. "I look at people who are here tonight -- I haven't seen them in years. It's so exciting to see them. It means a lot to me that they would take a night out of their career and come to do this for me."
Gushed Parton, who walked the red carpet prior to the show with her dear friend, "He's a wonderful man, and he's a wonderful singer and wonderful duet partner. My heart will always be with Kenny. He's only retiring from show business ... We're still going to be buddies. We're still going to visit. And we'll get to sing every once in a while."
All in for the Gambler was replete with incredible performances and special moments. In memory of Rogers, who died on Friday (March 20) at the age of 81, here's a look back at a few of our favorites.
A perhaps surprising highlight of the show, Moore took this slightly irreverent classic and sang his heart out. If anyone's ever questioned whether or not Moore has the vocal abilities to have longevity like Rogers has need not wonder any more.
Davis, who toured with Rogers, and her daughter, Lady Antebellum's Scott, reminded concertgoers just how incredible family harmonies can be. But it was Scott's recollection of an event that took place many years ago that evoked the most laughs, both from Rogers and the crowd.
"Steve Glassmeyer has been Kenny Rogers' band leader for so many years. His daughter and I have been best friends since elementary school, and so Kenny was kind enough to let us come to his house outside of Atlanta," Scott shared, recalling one of her favorite childhood memories. "I hear that you think that I wrecked one of your golf carts. I was not driving, nor a passenger, but I did hang out with the alpacas."
Reba McEntire Took on "Reuben James"
A Top 30 hit for the First Edition, Rogers' group before he started his solo career, this wordy song would be a challenge for almost anyone -- except McEntire. Sporting a classic Rogers concert tee, the consummate performer slayed the song.
Jamey Johnson Slayed "Sweet Music Man" and "Just Dropped In (to See What Condition My Condition Was In)"
Johnson shines when he is paying tribute to other artists, especially when the artist in question is a legend such as Rogers. His performance of these two songs, both different in style, was no exception. Just as Johnson shined at the 2017 Country Music Hall of Fame inductions on, he shined here.
Lady Antebellum Shared Sweet "She Believes in Me"
We wholeheartedly believed Lady A's rendition of "She Believes in Me," and we also believed the sweet sentiment they shared with Rogers before their performance.
"You've been one of the artists who has inspired us to continue to travel the world with our music, and we're so grateful for the opportunity to get to do that," Hillary Scott said. "You've been a trailblazer for all of us in country music, to take it all over the world."
Little Big Town Harmonized on "Through the Years"
Karen Fairchild and Phillip Sweet traded lead vocals on "Through the Years," but it was Little Big Town's lush harmonies that made this song one of the stand-out performances of the night. Sometimes less is more.
Henley and Glenn Frey wrote and recorded "Desperado," the title track of the Eagles' sophomore album. But four years later, Rogers also cut it, for his Daytime Friends album. So it was only fitting that Henley joined Rogers onstage on to sing the classic hit in his honor.
Before joining together with Kelley, Broadway star Menzel first sang "You Decorated My Life," showing off her vocal chops as only she can. But when the two performed "We've Got Tonight" together, the pair of powerhouses brought chemistry and passion to the stage. It was an incredibly smart matchup that allowed both skilled singers to shine.
Lionel Richie Crooned "Lady"
Richie wrote "Lady," which appears on Rogers' 1980 Greatest Hits album, for the country icon; it became one of the biggest hits of his career. Richie also recorded the song for his own Time album almost 20 years later. Singing the track as both the songwriter and an artist, Richie deservedly earned one of the biggest standing ovations of the night for his take on the beloved hit.
As the evening moved toward its end, when Rogers and Dolly Parton would perform together, Rogers' biggest hit still hadn't been sung. So when Stapleton took the stage, it surprised no one -- but thrilled everyone -- when he fearlessly took on the iconic hit. If anyone could sing it, and sing it well, it was Stapleton -- and he did.
Dolly Parton Offered a Tender Tribute
More than 50 years of friendship played out onstage as Parton and Rogers talked ahead of their final performance together.
"I just wanted to say that I'm really, really proud of you," Parton shared. "I just hope that, many, many years from now, when I'm older, that I'll know when to hold 'em and when to fold 'em.
"We've been accused of it all through the years," Parton quipped, referencing the (false) rumors of her and Rogers' romance, then joked, "You are retiring. You want to hold 'em now?"
Getting serious, Parton added, "I don't think anybody in the history of music has ever had a better ear for a hit song, nor could they sing them better than you."
Parton also sang her beloved song "I Will Always Love You," with her arm around Rogers.
"I know I'm artificial, but I like to think my heart is real," Parton said. "I have a spot for you that's never, ever going to be touched by anybody else."
Dolly and Kenny Sang a Few Final Duets ...
At the end of the night, Rogers and Parton sang their 2013 hit "You Can't Make Old Friends," and Rogers shared his favorite memory involving the song.
"It was a very touching song for us, because it was written about our relationship," he said. "We had already been hours in the studio, just singing my heart out. I looked over, and Dolly wasn't in her microphone. She came walking around, and she came into my studio, put her arms around my neck, and she said, 'Kenny, I want you to know something. I can never sing at your funeral.'"
Their final performance of the night, of course, was "Islands in the Stream," their first duet together. Naturally, they nailed it, making the moment bittersweet.
... Then, They Dropped the Mic
After their final performance, just as the crowd was about to exit, Parton said, "Kenny, how about we go out like rock stars?" before they both held their arms out and, together, dropped their microphones onto the stage.
10 Things You Probably Didn't Know About Kenny Rogers