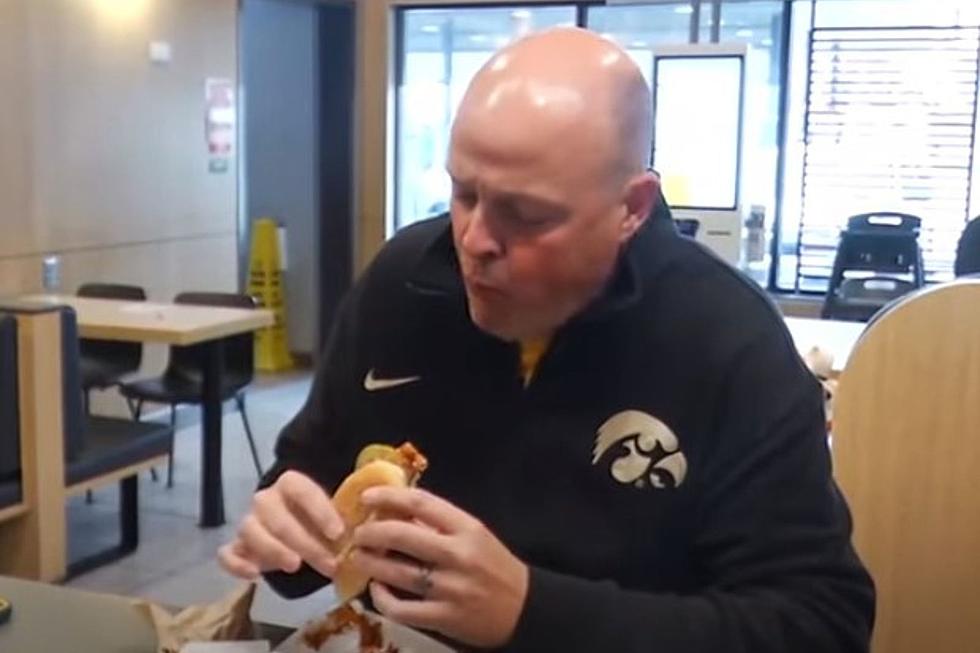 Iowa Man Trying to Eat a McRib Every Single Day
KCRG - TV9 via YouTube
If you're someone who likes visiting the same restaurants from time to time, do you like sticking to your favorite meals? Are you walking into McDonalds and playing the hits on repeat or do you like to switch it up and get something different each time you visit?
I'd probably be somewhere in between. If I happen to stop at a McDonalds, I'll order a different style of burger most of the time but I'm almost always grabbing some chicken nuggets, like any regular 32-year-old adult. I'm not sure why but it's always nice to have a 6 piece when you've finished your burger and fries.
If you're someone who orders close to the same thing every time you visit McDonalds, you have something in common with this Iowa man from Hardin County. When he goes to McDonalds, he knows exactly what he's ordering.
Iowa McRib Connoisseur
BJ Hoffman believes he's had "thousands" of McDonald's McRib sandwiches in his lifetime. KCRG spoke to Hoffman about his love of the McRib and his love of the sandwich has quite a history.
I'm a connoisseur of the McRib, with quite a long history. I would buy three or four of them, especially if we were on vacation. Just heat and serve later. They make a great midnight snack, chop them up, and put them on nacho chips, in the morning serve them with eggs over easy.
Not every McDonald's carries the McRib however the McDonalds in Center Point had to put it on the menu, due to the amount of pork the state of Iowa produces. Supposedly Hoffmans McRib love began in 1982 and he loves the sauce. According to KCRG, his love began in 1982 when he would visit his grandmother in Florida.

Hoffman is able to keep track of which McDonald's locations have the McRib on the menu through an app. He told KCRG
When it gets announced, there will be a mass announcement from the McRib finder website. It will say it knows people had seen them loading them on trucks.
I've never been a McRib lover myself. I'll eat one once in a while but it's not my favorite. That's no hate to Hoffman! He's allowed to enjoy eating whatever he wants from McDonalds. I will say, he did give me an idea when learning about his story.
Cutting them up and using the meat mixed in with some breakfast eggs sounds pretty good. I might have to give that a try soon!
Is there a food item you believe you've had thousands of times?
25 Eastern Iowa Restaurants We Want on 'Diners, Drive-Ins & Dives'
The Food Network show 'Diners, Drive-Ins and Dives' hasn't made very many stops in Iowa, so we wanted to give them a few ideas for their next visit! Our list contains diners, hole-in-the-walls, small town staples, places that have stood the test of time, and restaurants that just have that perfect dive-y vibe. Most of our picks come from the Cedar Rapids/Iowa City areas, but we did include a few favorites that are a bit of a drive! Here are 25 of the places we'd love to see on 'Diners, Drive-Ins and Dives' someday:
Gallery Credit: Courtlin
Detour Dining: Off-the-Beaten-Path Restaurants You Must Try in South Dakota, Minnesota and Iowa
Beyond the well-traveled tourist paths, there's a whole different world of food exploration throughout South Dakota, Iowa and Minnesota. From tiny restaurants in historic towns serving up generations-old recipes to small town dive bars that not only have cheap, cold beer, but unique and unexpected homemade dishes.
We've created an exploration of off-the-beaten path restaurants nestled in the charming landscapes of the tri-state area. Take a detour from the ordinary and discover the extraordinary flavors as you travel the roads not-so-often traveled.
Gallery Credit: Karla Brown / Townsquare Media