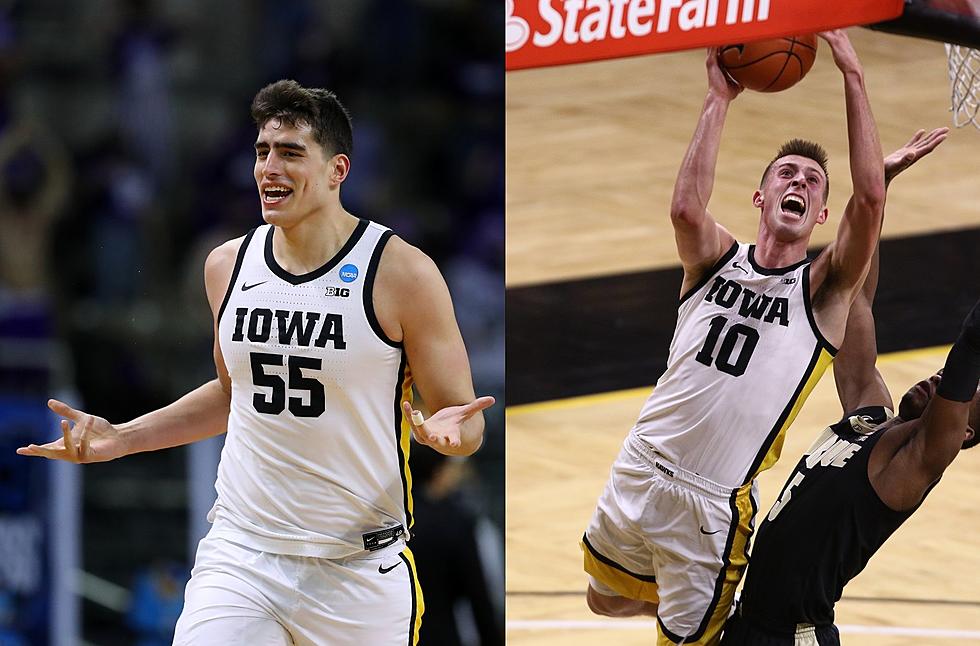 Luka Garza & Joe Wieskamp Realize Dream: Both Chosen in NBA Draft
Getty Images
It had been nearly a quarter of a century since two Iowa Hawkeyes were taken in the same NBA draft. That's how historic Thursday night's NBA Draft was in the state of Iowa.
As was widely speculated, Iowa guard Joe Wieskamp, who decided to forgo his senior season to declare for the NBA Draft, was chosen before the two-time NCAA Player of the Year, Luka Garza.
Wieskamp, a native of Muscatine, Iowa, was taken in the second round. He was the 41st overall pick and was selected by the San Antonio Spurs. As you can imagine, they were pretty proud back home:
According to the University of Iowa Sports Information Department, Wieskamp is the highest draft selection of a Hawkeye since 1998 when Ricky Davis was taken with the #21 pick overall. Wieskamp was the only Division 1 player in America that scored 400 points, grabbed 200 rebounds, put in 70 3-pointers, and thieved 25 steals last season. He's also the first Hawkeye in history to score 1,250 points (1283), 550 rebounds (567), 175 3-pointers (239), 100 assists (141), and 75 steals (92) through his junior campaign.
Luka Garza, Iowa's all-time leading scorer, was taken 11 spots after Wieskamp, at #52, by the Detroit Pistons. Garza, who also is second on Iowa's all-time rebound list, is the only player in the history of Big Ten Men's Basketball to score at least 2,250 points (2,306) and pulled down at least 900 rebounds (931).
The 2021 NBA Draft is just the third time that two Hawkeyes have been taken in the first two rounds. The other years were 1998 (Ricky Davis and Ryan Bowen) and 1989 (B.J. Armstrong, Roy Marble, and Ed Horton).
The third and 4th Hawkeyes to be drafted under current coach Fran McCaffery (Roy Devyn Marble in 2014 and Aaron White in 2015), Wieskamp and Garza are the 54th and 55th Iowa Hawkeyes drafted, all-time. The complete list is below, with 1st Round choices in bold.
1947: Herb Wilkinson (3rd Round-27th overall)
1947: Dick Ives (5th Round-41st overall)
1948: Murray Wier (5th Round-56th overall)
1951: Frank Clasbeek (6th Round-54th overall)
1952: Chuck Darling (1st Round-9th overall)
1952: Bob Clifton (5th Round-43rd overall)
1956: Bill Logan (5th Round-37th overall)
1956: Carl Cain (7th Round-48th overall)
1959: Dave Gunther (8th Round-55th overall)
1960: Americas John-Lewis (10th Round-74th overall)
1962: Don Nelson (3rd Round-17th overall)
1966: George Peeples (4th Round-35th overall)
1966: Chris Pervall (17th Round-110th overall)
1967: Gary Jones (13th Round-137th overall)
1968: Samuel Williams (3rd Round-35th overall)
1969: Ben McGilmer (6th Round-74th overall)
1970: Joe Johnson (1st Round-7th overall) 
1970: Glen Vidnovic (4th Round-60th overall)
1970: Chad Calabria (14th Round-210th overall)
1971: Fred Brown (1st Round-6th overall)
1973: Kevin Kunnert (1st Round-12th overall)
1973: Rick Williams (14th Round-193rd overall)
1976: Scott Thompson (4th Round-55th overall)
1976: Dan Frost (4th Round-59th overall)
1977: Bruce King (4th Round-80th overall)
1980: Ronnie Lester (1st Round-10th overall)
1981: Steve Krafscisin (5th Round-98th overall)
1981: Vince Brookins (6th Round-117th overall)
1981: Steve Waite (6th Round-137th overall)
1982: Ken Arnold (5th Round-96th overall)
1982: Kevin Boyle (6th Round-137th overall)
1983: Bobby Hansen (3rd Round-54th overall)
1983: Mark Gannon (8th Round-166th overall)
1984: Steve Carfino (6th Round-139th overall)
1985: Greg Stokes (2nd Round-33rd overall)
1985: Michael Payne (3rd Round-57th overall)
1986: Andre Banks (5th Round-112th overall)
1987: Brad Lohaus (2nd Round-45th overall)
1987: Kevin Gamle (3rd Round-63th overall)
1987: Gerry Wright (5th Round-11th overall)
1988: Jeff Moe (2nd Round-42nd overall)
1989: B.J. Armstrong (1st Round-18th overall)
1989: Roy Marble (1st Round-23rd overall)
1989: Ed Horton (2nd Round-39th overall)
1990: Les Jepsen (2nd Round-28th overall)
1993: Acie Earl (1st Round-19th overall)
1996: Russ Millard (2nd Round-39th overall)
1998: Ricky Davis (1st Round-21st overall)
1998: Ryan Bowen (2nd Round-55th overall)
1999: J.R. Koch (2nd Round-46th overall)
2007: Adam Haluska (2nd Round-43rd overall)
2014: Devyn Marble (2nd Round-56th overall)
2015: Aaron White (2nd Round-49th overall)
2021: Joe Wieskamp (2nd Round-41st overall)
2021: Luka Garza (2nd Round-52nd overall)
LOOK: 50 images of winning moments from sports history
Sometimes images are the best way to honor the figures we've lost. When tragedy swiftly reminds us that sports are far from the most consequential thing in life, we can still look back on an athlete's winning moment that felt larger than life, remaining grateful for their sacrifice on the court and bringing joy to millions.
Read on to explore the full collection of 50 images Stacker compiled showcasing various iconic winning moments in sports history. Covering achievements from a multitude of sports, these images represent stunning personal achievements, team championships, and athletic perseverance.
CHECK IT OUT: 100 sports records and the stories behind them