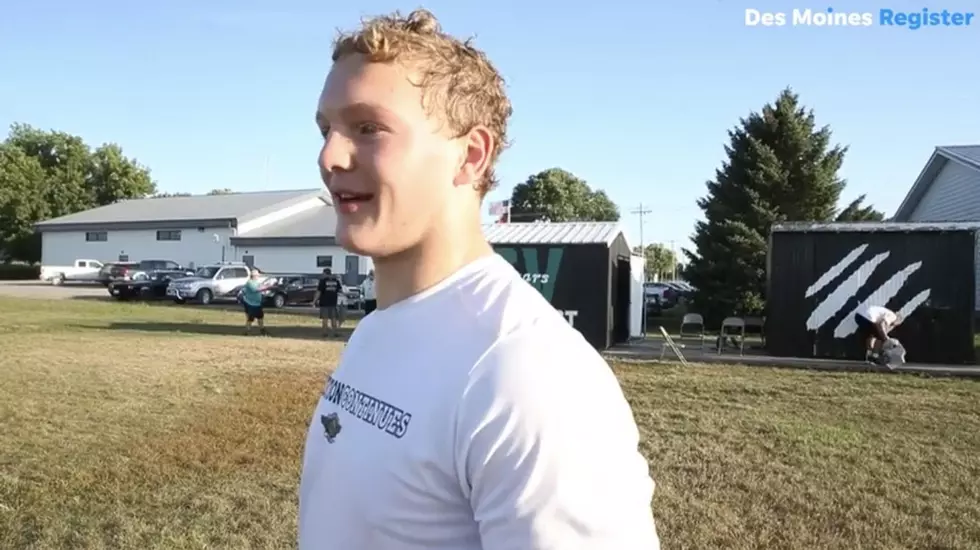 Iowa Hawkeye Recruit Earns National Athlete of the Year Honors
Hawk Central YouTube Channel
Aaron Graves committed to play for Kirk Ferentz and the Iowa Hawkeyes before his sophomore year of high school even started. That didn't stop him from taking full advantage of his high school experience and doing every activity and sport he could.
Because of all of his accomplishments on the football field, basketball court, track, and wrestling mat, Graves was named 2021-22 MaxPreps Male National Athlete of the Year today.
This last year on the gridiron, the Southeast Valley senior was named to the Adidas All-America, Elite All-State team, and earned Gatorade Player of the Year honors in Iowa. He earned first-team all-state and all-district honors, along with being named district defensive MVP and Class 2A Hog of the Game in the 2A state championship game when the Jaguars defeated West Lyon, 30 to 13.
Graves finished his basketball career as the school's leading scorer with 1,356 career points and averaged 22 points and 8.2 rebounds per contest as a senior. He also wrestled for the first time ever when he reached the high school level -- he placed fourth at heavyweight as a junior and senior. The four-star football talent finished with a 28-3 record his last season.
On February 17 of this year, Graves pinned his opponent at the state wrestling tournament and proceeded to score 33 points in a basketball playoff game.
Yeah. He's quite the athlete.
Oh -- I almost forgot. He also placed fifth in the state in the shot put at the state track and field meet.
Graves is the first athlete from Iowa to win the award, and more than likely from the smallest school ever, too. Southeast Valley has an enrollment of 302 students.
The stud athlete wasn't expecting to win the honor either, according to the MaxPreps story:
When I heard I won I was like 'What in the world?,' You never think a kid from Dayton (Iowa), population 800, would be in the running for an award like this, let alone win it. I'm very humbled to even be considered.
Previous winners of the award are as follows:
2007-08 — Terrelle Pryor, Jeannette (Pa.)
2008-09 — Garrett Gilbert, Lake Travis (Austin, Texas)
2009-10 — Dorial Green-Beckham, Hillcrest (Springfield, Mo.)
2010-11 — Kasen Williams, Skyline (Sammamish, Wash.)
2011-12 — Anthony Alford, Petal (Miss.)
2012-13 — Derrick Henry, Yulee (Fla.)
2013-14 — Patrick Mahomes, Whitehouse (Texas)
2014-15 — Kyler Murray, Allen (Texas)
2015-16 — Lonzo Ball, Chino Hills (Calif.)
2016-17 — Tim Tawa, West Linn (Ore.)
2017-18 — Jordyn Adams, Green Hope (Cary, N.C.)
2018-19 — Joe Girard III, Glen Falls (N.Y.)
2019-20 — Jalen Suggs, Minnehaha Academy (Minneapolis, Minn.)
2020-21 — Lebbeus Overton, Milton (Ga.)
Iowa, Iowa State, and UNI Football Players Headed to the NFL
Young men from all three state schools are getting their opportunities to play at the next level, whether they were drafted or picked up as free agents. Here's where they landed!
Lock Up! These are the Top 10 Most Stolen Cars In Iowa
Iowans have a type. We really like trucks. Turns out, so do car thieves!