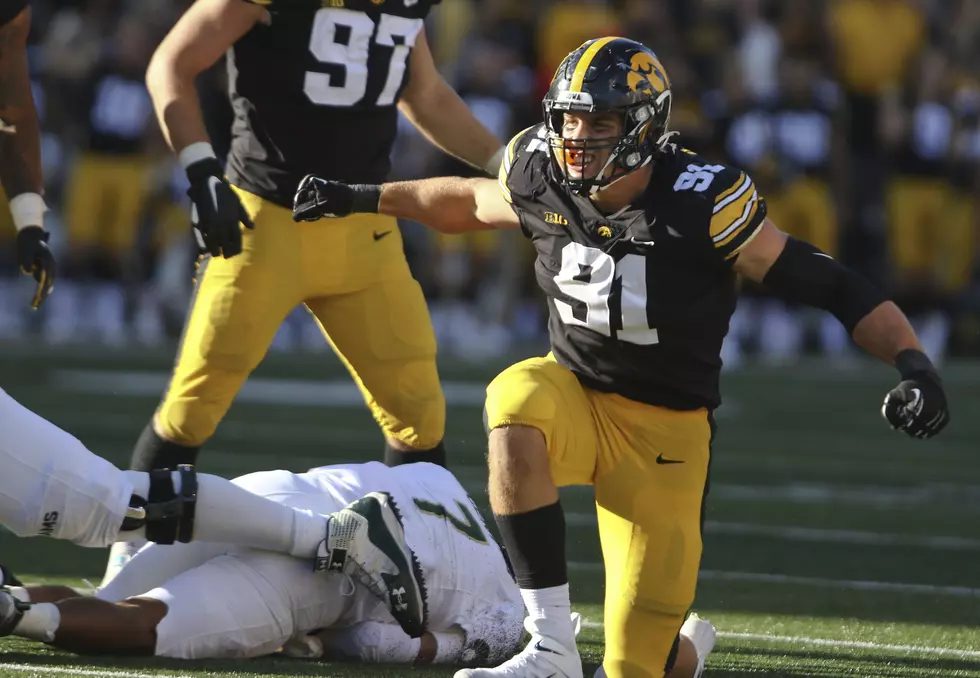 Iowa Defensive Lineman Leaving Early For NFL Draft
Getty Images
It won't just be some of the amazing Iowa seniors leaving the Hawkeye football program. A star defensive lineman has decided to leave Iowa City early and declare for the NFL Draft.
The Cedar Rapids Gazette reports that Lukas Van Ness will forgo his remaining eligibility at Iowa and enter this spring's NFL Draft. Van Ness is a redshirt sophomore for the Hawkeyes. ESPN NFL Draft experts have him ranked as the third-best defensive lineman in this year's draft, being drafted somewhere in the first round of the draft.
The Gazette reports that after a redshirt year, Van Ness was a star on Iowa's defensive line in 2021 and 2022 despite playing a second-team role on the depth chart. He was tied last year for the team lead in sacks with seven. This year, Van Ness was second on the Hawkeyes in sacks with six, trailing only Deontae Craig. Van Ness also led the team in tackles for loss this season with 10.5. according to the Gazette.
Losing Van Ness hurts, but Iowa has plenty of firepower returning next season. Deontae Craig had 6.5 sacks and 10 tackles for loss this year as a second-team defensive end. And Aaron Graves had 5.5 tackles for loss and 2.5 sacks for the Hawkeyes despite playing half as many snaps as the starting defensive lineman according to the Gazette.
Best of luck to Lukas Van Ness and his future in the NFL! I'm sure he'll be another former Hawkeye that makes us all proud to watch on Sundays!
Most Memorable Moments of the 2022 Iowa Football Season
Iowa finished the season 8-5, including a 21-0 shutout win over Kentucky in the Music City Bowl. The 2022 season will be remembered as one that was carried by the defense while its offense struggled mightily throughout the season.
Field of Dreams Game Featuring the Cedar Rapids Kernels
Cedar Rapids was the Bunnies for the day as they played the Quad Cities River Bandits, who were the Davenport Blue Sox. Both were an ode to team names of the individual cities nearly a century ago. Played on Tuesday, August 9, 2022, it was the first minor league baseball game ever played at the Field of Dreams in Dyersville, Iowa.