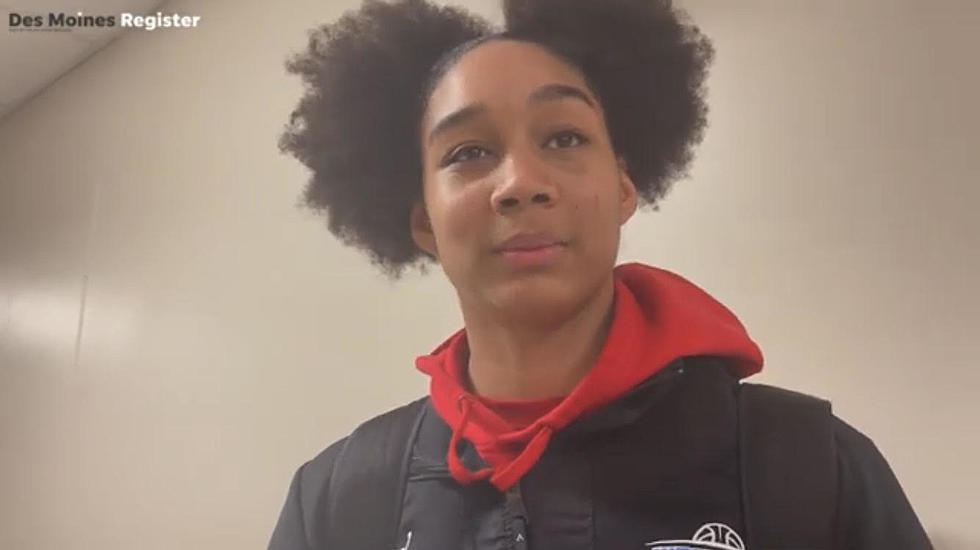 Hawkeye-Signee and Cedar Rapids Star is Miss Iowa Basketball
Hawk Central YouTube Channel
Cedar Rapids Washington's Hannah Stuelke is Iowa's Miss Basketball 2022.
Selected during all-state voting on Saturday by the Iowa Print Sports Writers Association, Stuelke made it a pretty easy choice with the gaudy numbers she put up this season for the Warriors.
The senior averaged 29.1 points per game to lead the state in scoring and hauled in 10.3 rebounds per contest, as the Warriors went 16-7.
Despite the statistics she racked up this season, Stuelke wasn't sure if she'd win the award, as she told The Cedar Rapids Gazette:
This was one of my goals, but since we didn't make it to state, I didn't know.
She had the track record to stay on notice with voters though, finishing her career with 1,793 points and 853 rebounds. Washington posted a 55-28 record over her tenure as a Warrior.
A 6-foot-2 forward and member of the All-Iowa Attack AAU team, she is the first winner of the award from the Cedar Rapids area since Linn-Mar's Kiah Stokes won it in 2011.
Though she accomplished this goal, she's ready to prove herself when she joins the Iowa Hawkeye women's basketball team this year, as she told The Gazette.
They're looking really good, and they don't lose many players. I'm going to stay in shape. Ball handling, that's a big part of what I'm going to work on. The girls are going to be faster, stronger, and smarter at that level.
A significant group of other eastern Iowa girls basketball players earned All-State honors as well:
Class 5A
FIRST TEAM
Hannah Stuelke, sr. Cedar Rapids Washington (Miss Iowa Basketball)
Sahara Williams, jr., Waterloo West
Halli Poock, jr., Waterloo West
Kelsey Joens, jr., Iowa City High
Halle Vice, jr., Pleasant Valley
SECOND TEAM
Journey Houston, fr., Davenport North
Jasmine Barney, jr., Iowa City Liberty
Meena Tate, jr., Iowa City West
Kaliyah Sain, jr., Cedar Rapids Kennedy
THIRD TEAM
Eviyon Richardson, sr., Iowa City High
Lillie Petersen, jr., Bettendorf
Brooklynn Smith, sr., Waterloo West
Class 4A
FIRST TEAM
Allie Meadows, sr., DeWitt Central
Callie Levin, soph., Solon
Taylor Veach, sr., DeWitt Central
Libby Fandel, fr., Cedar Rapids Xavier
SECOND TEAM
Abby Wolter, sr., Keokuk
Jenna Twedt, jr., Benton Community
Malarie Ross, sr., Fort Madison
THIRD TEAM
Kyla Mason, jr., Cedar Rapids Xavier
Bryar Duwe, jr., Decorah
Andrea Lopreato, jr., Mount Pleasant
Ava Locklear, soph., Clear Creek Amana
Lauren Golinghorst, jr., North Scott
Class 3A
FIRST TEAM
Macy Daufeldt, sr., West Liberty
Ryley Goebel, sr., Center Point-Urbana
SECOND TEAM
Finley Hall, jr., West Liberty
Abbey Bence, jr., West Burlington
Carlee Rochford, jr., New Hampton
Emma Donovan, jr., Dubuque Wahlert
THIRD TEAM
Ava Schubert, jr., Davenport Assumption
Liz Dougherty, sr., Mount Vernon
Maddie Nonnenmann, sr., Mid-Prairie
Avery Hanson, sr., Hampton-Dumont/CAL
Class 2A
FIRST TEAM
Kelsey Drake, sr., Wilton
Payton Petersen, soph., Dike-New Hartford
Morgan Brandt, sr., Sumner-Fredericksburg
Kaylee Corbin, sr., Louisa-Muscatine
SECOND TEAM
Reese Johnson, sr., Denver
Hallie Mohr, sr., Mediapolis
Ally Hoffman, sr., Cascade
Ellary Knock, sr., Dike-New Hartford
Delaynie Luneckas, sr., West Branch
THIRD TEAM
Lainy Thoren, sr., Grundy Center
Claudia Aschenbrenner, jr., Osage
Grace Hennessy, jr., Denver
Riley Moreland, sr., MFL MarMac
Class 1A
FIRST TEAM
Lauren Wilson, sr., Springville
Kamryn Kurt, soph., North Linn
Marcy Emgarten, sr., Exira-EHK
Layla Hargis, sr., North Mahaska
SECOND TEAM
Quinn Grubbs, jr., Exira-EHK
Macy Boge, soph., North Linn
Lauren Donlea, sr., East Buchanan
Sara Reid, sr., Central City
THIRD TEAM
Megan Harrell, sr., Burlington Notre Dame
Morgan Nachazel, sr., Springville
Allison Engle, sr., Conrad BCLUW
Bradie Buffington, jr., Winfield-Mount Union
Iowa Born Sports Stars
What do each of these stellar athletes have in common? They all hail from the Hawkeye State.
How Would You Like To Live in a $1 Million Condo?
Listed on Zillow/Cedar Rapids, this condo in the Newbo district is a mere $1,000,000. 2 bed.3 bath on the 5th floor with a 6th-floor mezzanine. Annual taxes of $14,371 is chump change!