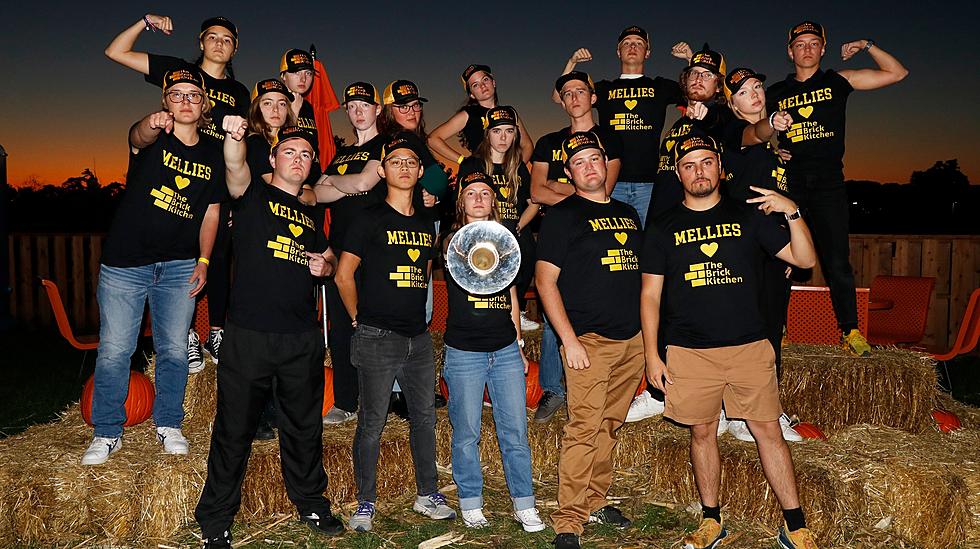 Entire Section of Iowa Hawkeye Marching Band Signs NIL Deal
The Brick Kitchen
You've gotta love it when the University of Iowa, and an eastern Iowa business, can combine to create a first in the nation.
The entire mellophone section of the University of Iowa Hawkeye Marching Band has signed a Name-Image-Likeness (NIL) deal. The mellophone section consists of 18 members and is the first full instrument section in an NCAA Marching Band to sign an NIL deal. It's also "the first time in history members of the Hawkeye Marching Band have been compensated for use of their Name, Image, or Likeness for advertising and marketing purposes." I love that.
The business behind the signing is The Brick Kitchen, an Independence, Iowa company that "features cookware, bakeware, kitchen cutlery, cooking tools and infused olive oils and balsamic vinegars." The Brick Kitchen opened in the spring of 2021 and is located in King's Hall, a former opera house that was built in 1876. It's located in downtown Independence.
The Brick Kitchen owner Shelly Whited said, "Most people don't realize the amount of effort Marching Band students put into their performances. Many of these students are also trying to maintain part-time jobs, so it can be stressful. This is a great way for us to provide a little financial help and have a lot of fun while doing it."
The mellophone section members of the University of Iowa Hawkeye Marching Band will appear in advertising and social media campaigns for The Brick Kitchen. They'll receive financial compensation, and will also receive products from The Brick Kitchen.
Iowa Marching Band member Nick Feingold said, "This could be the first step towards business both small and large investing in collegiate music across the country. Maybe one day it will be just as common for a band to get NIL deals as athletes!"
The Hawkeye Marching Band has received a ton of recognition this year, due to their creatively choreographed performances at Iowa home football games. That includes their performance on September 16 when the band recreated 'Caitlin Clark' making a shot. You can watch it below. They reprised that performance on Sunday, October 16, during halftime of the Iowa women's basketball team's exhibition at Kinnick Stadium.
Iowans Show Off Their Most Beautiful Photos of the State
Gallery Credit: Courtlin
10 of the Most Unique Places to Stay in the State of Iowa
Gallery Credit: Courtlin
Photos That Show the Beauty of Iowa
Gallery Credit: Courtlin