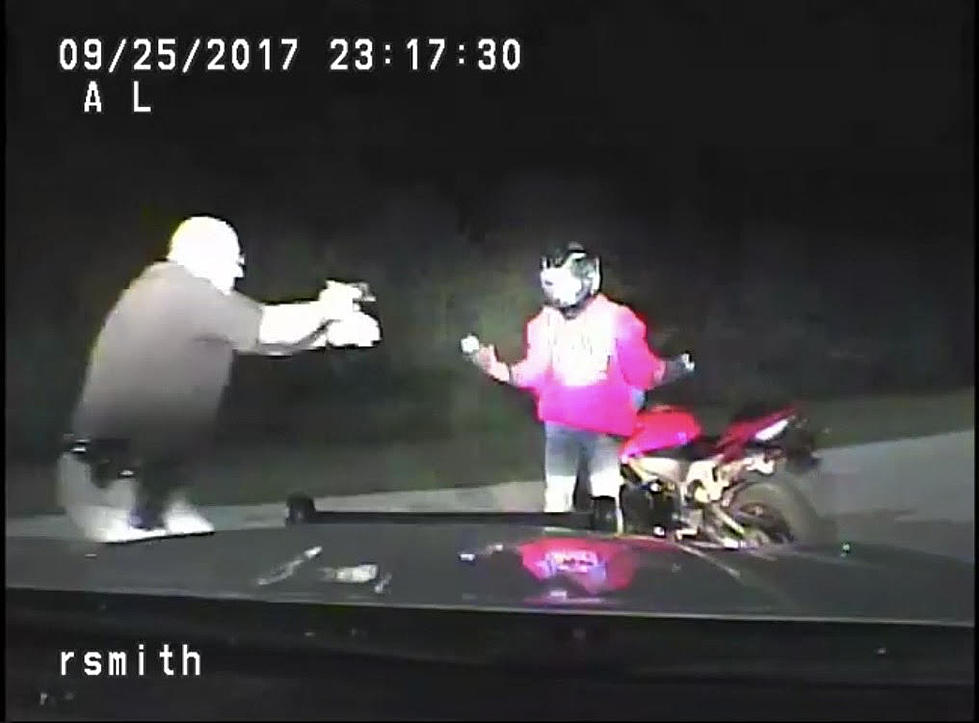 Former Iowa State Trooper Facing Federal Charges Over Excessive Force
Quad-City Times YouTube
Robert James Smith has allegedly been involved in several excessive force violations in his career as an Iowa State Trooper.
According to cbs2iowa.com after one of these instances was caught on camera in 2017,
A federal grand jury charged Smith with violating the motorcyclist's civil rights by using unreasonable force.
That motorcyclist, Bryce Yakish, was pulled over for speeding at a gas station near West Liberty, about 15 miles away from Iowa City. What appeared to be a routine stop quickly turned sour.
Exiting his vehicle, the state trooper immediately drew his firearm, pointing it directly at Yakish, who had his hands in the air. Smith promptly swatted the then 20-year-old in the face shield of his helmet, sending Yakish backwards, falling onto his motorcycle and then to the ground.
You can watch the point of contention between Smith and Yakish here.
The full extent of the video:
As the former trooper put the young man's hands behind his back, Yakish can be heard saying the following:
I would have went on the ground nicely if you asked.
The site adds the following as to how the remainder of the interaction ensued:
Smith briefly put his knee on Yakish's neck while handcuffing him. Yakish can be repeatedly heard in the video complaining of neck pain.

Smith falsely accused Yakish of trying to flee and charged him with eluding law enforcement, even though Yakish stopped immediately after Smith activated his patrol car's lights and siren. That charge was dropped after a prosecutor reviewed the video and concluded it was baseless.

Yakish lost his license because of the arrest, his motorcycle was impounded and he spent the night in jail.
Following the incident, the Iowa State Patrol allowed Smith to quietly retire in 2018 after serving 30 years on the force.
He went on to take a police job in the small town of Durant, where he was once again accused of using excessive force on a woman during an arrest.
Iowa News Now adds this:
Smith's use of force during the 2017 traffic stop only became public in 2019 after The Associated Press published video of the incident obtained from Cedar County Sheriff Warren Wethington.

...

Wethington said the federal indictment comes after two prosecutors in Iowa — the Cedar County Attorney and the former Muscatine County Attorney — reviewed the stop and determined that state charges weren't warranted.

'I think it's really important that the taxpayers know that this was overlooked by two local county attorneys,' he said.
After a lawsuit was put forth by those representing Yakish, a state panel agreed to pay him $225,000 from the state budget to settle the case. Read more about that here.
Smith is scheduled to make his first appearance on Tuesday of next week at the federal courthouse in Cedar Rapids. Given Yakish's bodily injury during the incident, he is facing up to ten years in prison.
Cedar Rapids Firehouse is Now an AirBNB
Located in the NewBo district the Bohemian Firehouse is now available to be an Airbnb.
$4.45 Million Home is 2nd-Most Expensive For Sale in Iowa
Located in Johnston, Iowa it has 4 bedrooms, 6 baths, is more than 3,800 square feet, and has garage space for a dozen vehicles. Oh, and it's only three years old.