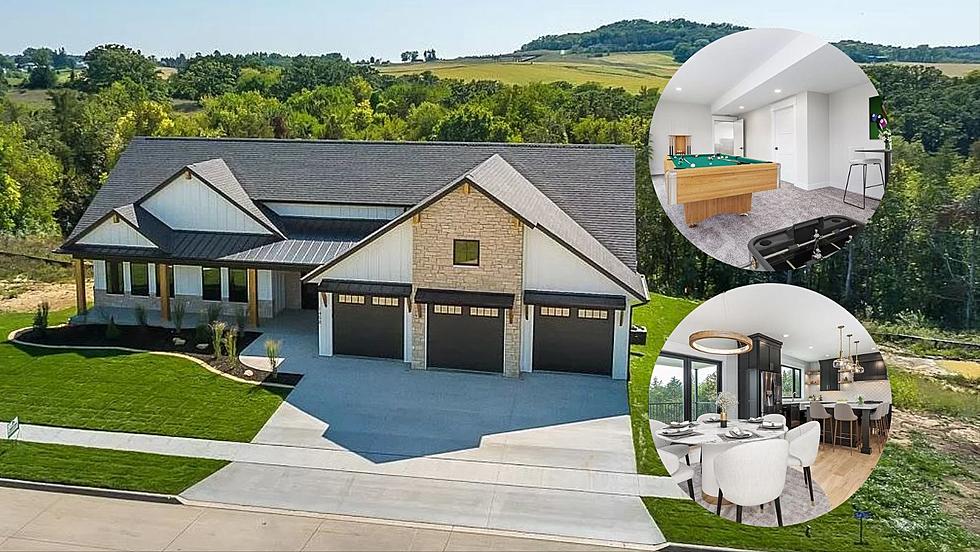 Dubuque's Newest Million Dollar Home is for Sale (Photos)
Credit: Aaron Healey / Ruhl & Ruhl Realtors / Zillow
Mansions. Yachts. Lamborghini's. Whatever luxury item you're in the market for, housing is always a tale of have and have nots. Now, Dubuque's latest home fetching a Million-dollar price tag is officially on the market. Join me for a looky-loo on this exquisite, new, $1,095,000 home.
Nestled on a tranquil lot over half an acre in size in the South Pointe community of Dubuque, is brand-new farmhouse. A true masterpiece of modern luxury and rustic charm. Built by Cedar Ridge Construction, this 5-bedroom, 3-bathroom home boasts a 7-car garage, in a testament to practicality and extravagance.
Designed for the future, the house features a state-of-the-art Brilliant Smart Home System, offering seamless control over lighting, audio, thermostat, and more all from the convenience of your smartphone. The interior seamlessly combines modern sophistication with farmhouse warmth. Check out the wooden ceiling beams, sleek black windows, and gas fireplace with rustic mantle. Cozy and elegant!
The heart of the home is the luxurious eat-in kitchen, equipped with top-of-the-line stainless steel appliances, a farmhouse sink, and a huge, concealed pantry. The master suite is a private oasis, complete with a tiled walk-in shower and ample storage. Outside, a covered deck provides the perfect spot to appreciate the beautiful, wooded area.
The property's numerous upgrades include landscaping, sodded yard, irrigation system, and a capped stoop, potentially transformed into a wine cellar. With South Pointe amenities at your doorstep and a comprehensive Brilliant Smart Home System, this farmhouse is a haven of comfort and convenience. Contact Aaron Healey at Ruhl & Ruhl Realtors to turn this modern farmhouse into your forever home.
Look Inside a Dubuque Mansion That Sold for $1.275 Million!
This mansion is located on Dubuque's coveted Creek Wood Drive.
Gallery Credit: Steve Pulaski
Checking Out a Cozy $1 Million Platteville Cabin
This 4,000+ square foot cabin just came up for sale in the area.
Gallery Credit: Steve Pulaski
Look Inside a Sleek, $1 Million Dubuque Luxury Home
Take a look at this modern marvel located on Alea Lane, just southwest of Dubuque's Key West neighborhood!
Gallery Credit: Steve Pulaski