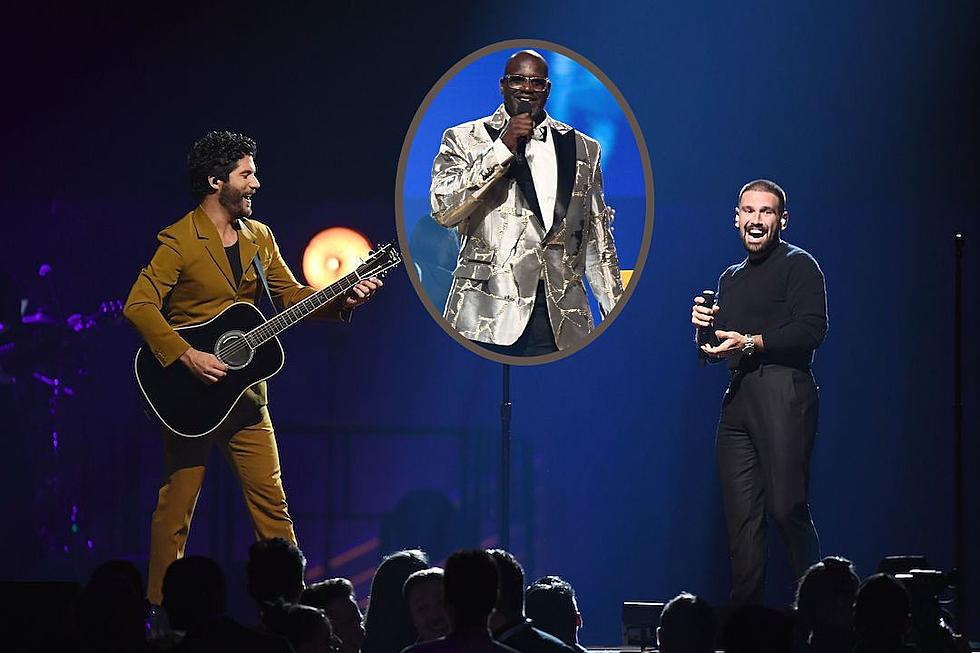 Shay Mooney Is 'Pretty Sure' He Once Mistakenly Got Shaquille O'Neal's Dry Cleaning
Bryan Steffy (2), Getty Images
A mysterious order of dry cleaning, a swanky Los Angeles hotel and an NBA legend: It's all there in the hilarious anecdote Dan + Shay's Shay Mooney told as the duo was performing at Shaquille O'Neal's The Event charity fundraiser on Saturday night (Oct. 7).
According to People, Mooney told the story from the stage. As he was walking into an L.A. hotel one day, staff let him know that his dry cleaning was ready. He didn't remember ordering it, but he explained that it wasn't too out of the ordinary for something like that to slip his mind.
"I get into the room and I find this bag and I open it up and I see what I think is a black shirt that I have left," Mooney says, but adds that he quickly realized that it wasn't a shirt at all -- it was a pair of boxer shorts made for a very tall person.
"Me, Dan [Smyers] and several of our friends could have fit inside of [the boxers]," Mooney jokes. As he continued to look through the bag, he pulled out clothing item after clothing item that was several sizes too large for him. But he soon realized that there was someone else at the hotel whose they could be -- and that this particular person stands 7'1.
"I realized that my name, Shay, is just one letter away from being another gentleman's name. He's about 17 times my size," Mooney said, referring to Shaquille O'Neal.
"I did what any man would do: I took a bunch of photos and sent them to my friends," the singer continues. "I did FaceTime Dan. You can just imagine my entire body being clothed in a t-shirt that looks like a woman's dress.
"It was beautiful, it was stunning, and I'm pretty sure it was Shaquille O'Neal's," he sums up.
Dan + Shay's calendar has been jam-packed in recent weeks, with the release of their latest album, Bigger Houses. The duo are currently gearing up for their 2024 Heartbreak on the Map Tour, which will launch in late February.
Pictures: See Dan + Shay Through the Years
Dan + Shay
celebrated 10 years making great country music in 2022. Here are photos of Dan Smyers and Shay Mooney from throughout their career together.
Gallery Credit: Billy Dukes