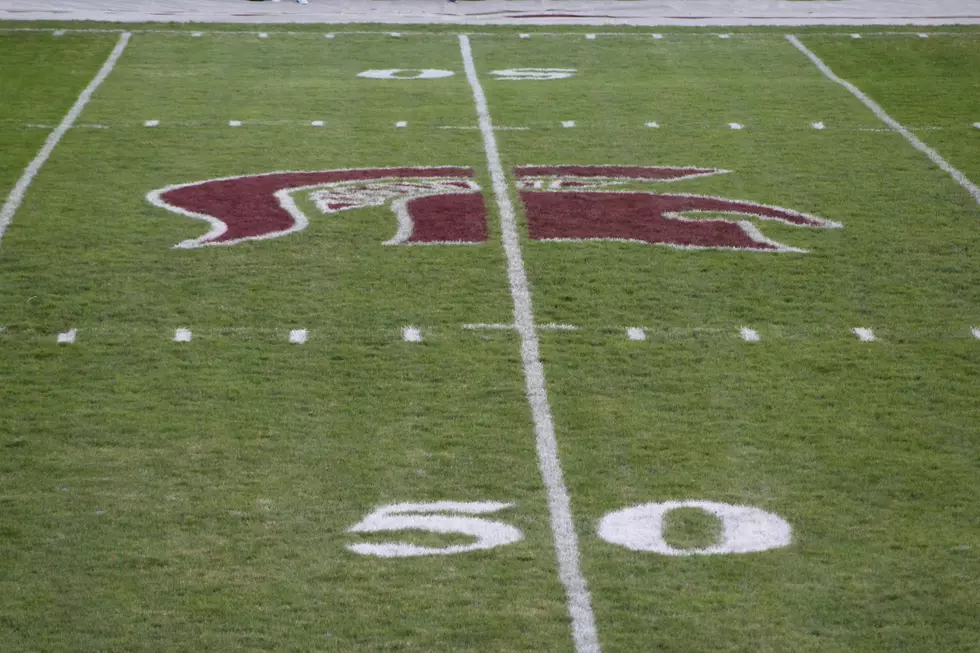 Iowa High School Football 2020 Week 7 Area Schedule
Photo By: Elwin Huffman - Townsquare Media
The pandemic-shortened Iowa high school football regular season comes to an end Friday night with some teams battling for district championships and the possibility of a first-round bye in the playoffs.
One of this week's marquee match-ups is in Grundy Center (6-0, 4-0), where the top-ranked Spartans host Belle Plaine (5-1, 4-0) for the Class A District 7 title. The game is a rematch of last year's first-round playoff game, which Grundy Center won 28-14 on the road after trailing at halftime. The Spartans also beat the Plainsmen in the 2019 season opener and are seeking their fifth-straight win in a 14-game series that dates back to 1998.
Another showdown Friday evening takes in Denver, where the Cyclones (4-2, 4-0) host Waterloo Columbus Catholic (5-1, 4-0). The winner claims the Class 1A District 4 crown. Both teams have won four-straight games.
The week seven schedule began Thursday night with Marshalltown beating Sioux City North, 38-18, on the road. The Bobcats (3-4) scored on all three second-quarter possessions to build a 21-6 halftime lead, after the Stars (3-4) scored their only points of the first-half on a short touchdown run three minutes into the game. Marshalltown ended the night with 253 rushing yards.
For the first time, every team across the state of Iowa will be going to the playoffs. The Iowa High School Athletic Association plans to use a pod system to determine assignments for first- and second-round games in all classes. Geography and district placement will be key factors in determining the pairings.
According to IHSAA officials, pods will be assigned two other times during the six-week tournament – ahead of the third-round games and again before the semifinals at the UNI-Dome in Cedar Falls.
Playoff pairings for next week's games are expected to be announced Saturday around noon.
---
Here's the entire list of this week's games involving teams from the Cedar Valley and northeast Iowa:
Thursday, Oct. 8, 2020:
Marshalltown 38, Sioux City, North 18
Highlights: The Bobcats (3-4) rushed for 253 yards. They scored on all three second-quarter possessions to build a 21-6 halftime lead.
Friday, Oct. 9, 2020:
North Tama, Traer @ BCLUW, Conrad
East Buchanan, Winthrop @ Bellevue
Linn-Mar, Marion @ Cedar Falls
Solon @ Center Point-Urbana
**West Central, Maynard @ Central City
Waverly-Shell Rock @ Charles City
**Tripoli @ Clarksville
Wapsie Valley, Fairbank @ Clayton Ridge, Guttenberg
Columbus Catholic, Waterloo @ Denver
East Marshall, LeGrand @ Dike-New Hartford
**Kee, Lansing @ (8P, #1) Don Bosco, Gilbertville
**Easton Valley @ Dunkerton
Maquoketa Valley, Delhi @ Edgewood-Colesburg
**GMG, Garwin @ (8P, #8) Gladbrook-Reinbeck
Belle Plaine @ (A, #1) Grundy Center
South Hardin @ Hudson
West Marshall, State Center @ Iowa Falls-Alden
**Rockford @ Janesville
Independence @ New Hampton
(2A, #5) Waukon @ North Fayette Valley
**Central, Elkader @ Northwood-Kensett
Crestwood, Cresco @ Oelwein
MFL-Mar-Mac @ Postville
**AGWSR, Ackley @ Riceville
Aplington-Parkersburg @ South Hamilton, Jewell
Starmont @ South Winneshiek, Calmar
Jesup @ Sumner-Fredericksburg
Union, La Porte City @ Vinton-Shellsburg
(4A, #7) Dubuque, Hempstead @ Waterloo, West
Waterloo, East @ (3A, #8) West Delaware, Manchester
North Butler @ West Fork, Sheffield

Enter your number to get our free mobile app