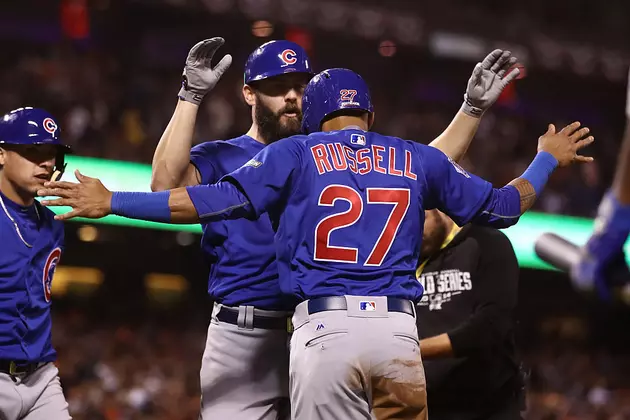 Chicago Cubs 2017 MLB Division Series Schedule, TV Assignments
Getty Images
The Chicago Cubs begin their defense of their 2016 World Series victory tonight (10/06/2017) in Washington D.C. Here is the 'Best-of-5' division series schedule including TV assignments.
The 'Best-of-5' Division Series featuring the Chicago Cubs and the Washington Nationals starts tonight in our nation's capitol. Kyle Hendricks (7-5) gets the start for the Cubs. Stephen Strasburg (15-4) will take the mound for the Nationals.
Chicago has set their starting pitchers for four of the five games. Jon Lester is slated to start Game 2 followed by Jose Quintana and Jake Arrieta. Game 5 has yet to be determined.
The Nationals have only announced tonight's starter.
2017 DIVISION SERIES: Cubs versus Nationals
Gm 1: FRI, OCT 6 (6:30 PM)  Cubs @ Nationals on TBS
Gm 2: SAT, OCT 7 (4:30 PM) Cubs @ Nationals on TBS
Gm 3: MON, OCT 9 (TBD) Nationals @ Cubs on TBS
GM 4: TUE, OCT 10 (TBD) Nationals @ Cubs on TBS (if needed)
GM 5: THU, OCT 12 (TBD) Cubs @ Nationals on TBS (if needed)