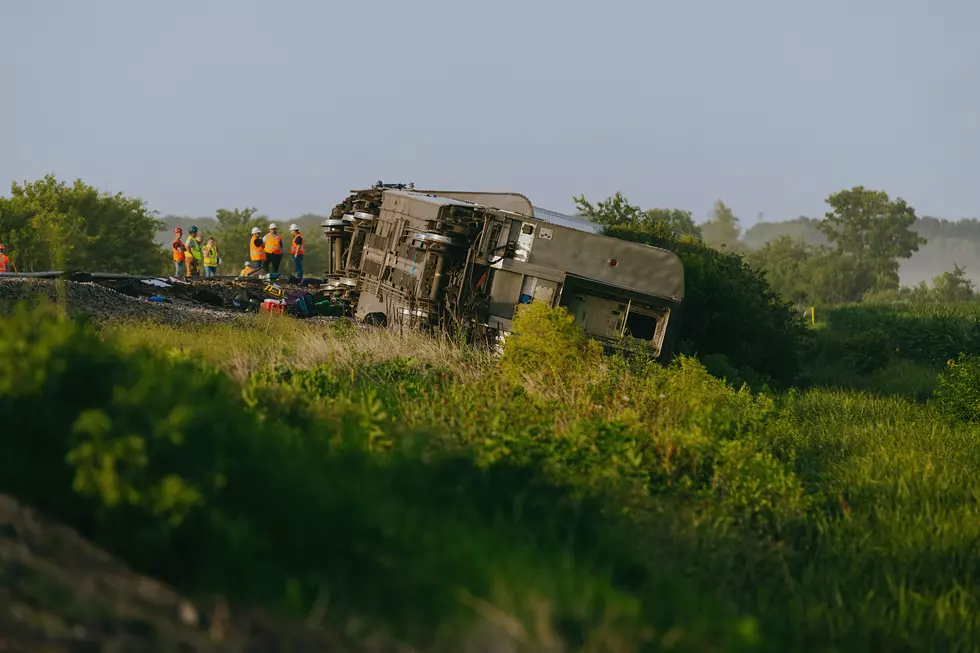 Multiple Victims Confirmed, Identified in Iowa-Bound Amtrak Crash
Getty Images
[UPDATE, 6/29/22, 8:00 p.m.]
According to KMBC, the Missouri State Highway Patrol on Wednesday confirmed a total of 4 fatalities and identified the victims in this week's Amtrak crash in Mendon, Missouri.
The victims were Billy Barton II, 53, who was driving the dump truck; and train passengers Rochelle Cook, 57 (DeSoto, Kansas) ; Kim Holsapple, 56 (DeSoto, Kansas); and Binh Pham, 82 (Kansas City, Missouri), the Missouri State Highway Patrol (MSHP) said. All but Pham were pronounced dead on the scene
[ORIGINAL STORY, 6/27/22, 4:38 p.m.]
KMBC and the Missouri State Patrol, now confirm at least three deaths, and an unknown number of multiple injuries in an Amtrak train that crashed with a dump truck on its way to Iowa.
Amtrak officials say the collision took place in Mendon, Missouri on Monday with about 243 people on board. The three confirmed deaths included 2 on the train and one in the dump truck that was struck. The train started in Los Angeles and was reportedly on its way to a final destination in Chicago. It was to make a stop in Ft. Madison as well. The return trip to L.A. tonight has been canceled.
Multiple passengers on the train and reporters on the scene took to Twitter with photos and details of the accident.
For its part, Amtrak provided this statement, as published by WeAreIowa.
On June 27, several cars derailed on train 4 traveling from Los Angeles to Chicago after striking a dump truck at a public crossing in Mendon, Missouri at 1:42 pm. There are approximately 243 passengers onboard with early reports of injuries. Local authorities are currently assisting customers and we have deployed Amtrak resources to assist. Additional details will be provided as available
Newsweek learned via Amtrak that the train hit a truck that was "obstructing a public crossing."
Amtrak stated that individuals who believe they may have been connected to someone on the train could call 800-523-9101.
As further reports are made available, we will keep you updated on this developing story.
LOOK: What are the odds that these 50 totally random events will happen to you?
Stacker
took the guesswork out of 50 random events to determine just how likely they are to actually happen. They sourced their information from government statistics, scientific articles, and other primary documents. Keep reading to find out why expectant parents shouldn't count on due dates -- and why you should be more worried about dying on your birthday than living to 100 years old.
Cedar Rapids 1916 Authentic Bohemian Firehouse Airbnb
Photos of original 1916 Authentic Firehouse in NewBo