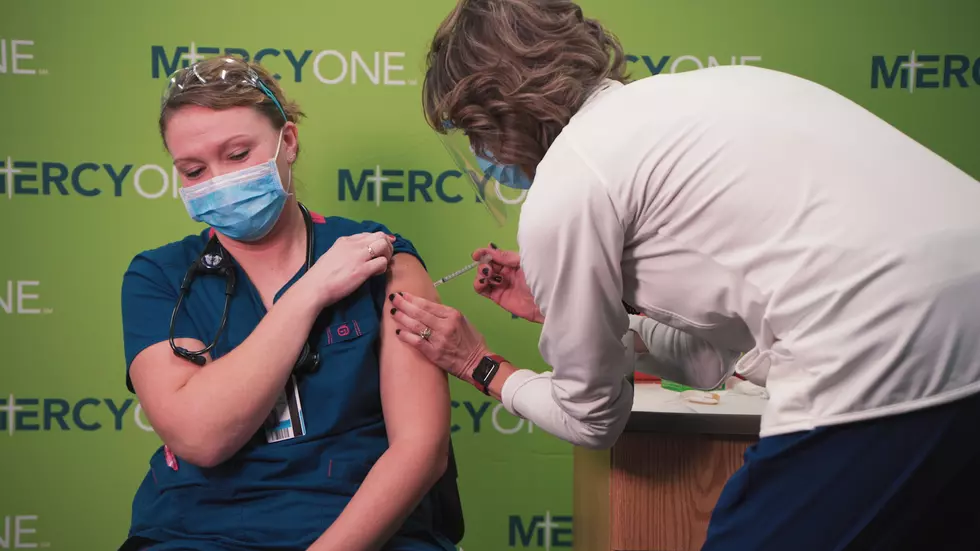 COVID Vaccines Begin at MercyOne
MercyOne
The Pfizer made COVID-19 vaccine, approved just one week ago, is entering the arms of healthcare workers across the state of Iowa. Close to home, it's being administered at MercyOne. The first of these recipients, Janel Clark, an RT, received her first of two shots earlier today, December 18.
IN a press release sent to this radio station, Dr. Stuart Feldman, the medical director of MercyOne Waterloo Medical Center's Emergency Department said,
This vaccine has been long awaited. We're incredibly excited it's here. I would encourage anyone who is offered the vaccine to take it. It will be the main way we get control of this pandemic.
MercyOne urges everyone to continue to follow current safety measures. It is crucial we all remain vigilant with avoiding crowds, practicing physical distancing, mask wearing and hand hygiene. We must continue upholding our personal safe living and decision-making responsibilities until the vaccine is more broadly available. The COVID-19 vaccine is not currently available to the general public.
Information and photos courtesy of Adam Amdor Coordinator, Public Relations & Marketing.
Enter your number to get our free mobile app
LOOK: Just some of the photos that capture the historic year that was 2020