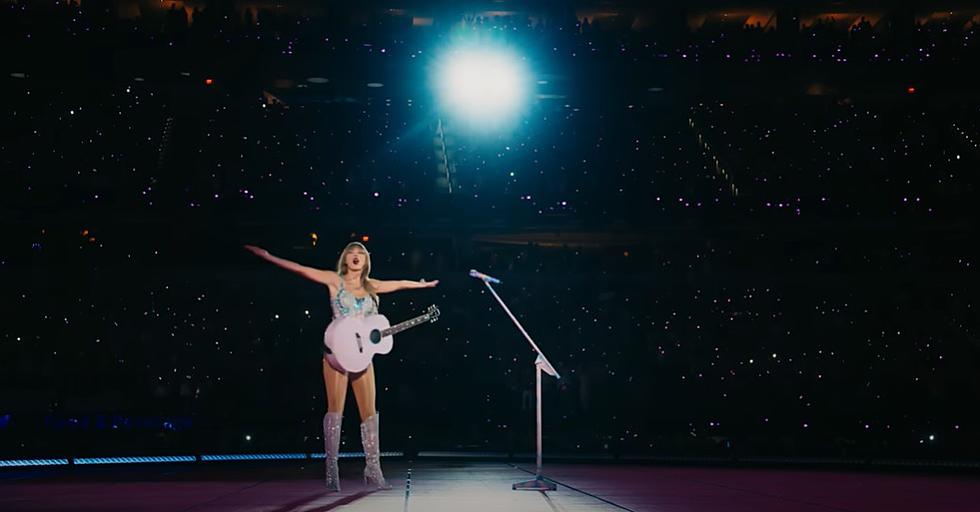 Cedar Rapids Theaters Will Also Show 'Eras Tour' Movie [WATCH]
YouTube via Taylor Swift
Last week Swifties everywhere, including in my house went nuts when Taylor Swift announced that her record-breaking 'Eras Tour' would be coming to movie theaters as a concert film event. When the film was announced, the movie would only be shown in AMC movie theaters across the country. I was back waiting in a queue for Taylor Swift tickets. I was able to secure tickets at an AMC theater in Dubuque, Iowa for October 13th. It turns out I should have waited a bit longer and we could have driven to see Taylor at a Cedar Rapids theater!
While AMC theaters might have had the exclusive at the announcement of the Eras Tour movie, other theater chains are being allowed to show the film. Why wouldn't you want this film in your theaters? Swifties are going to pack theaters on opening weekend and probably see it multiple times! Joining in on the fun are two Cedar Rapids movie theaters. My daughter shared this post from Collins Road Theatres over the weekend.

According to the Collins Road Theatres website, the Eras Tour will be shown at that theater on October 13, 14, 15, 19, 20, and the 21st.  Can I sell my Dubuque tickets and save the gas? And then the other big theaters in town, Marcus Theaters Cedar Rapids Cinema also confirmed that Taylor Swift will be coming to that chain on October 13th as well. According to their Facebook page, the Eras Tour movie will include show times for October 13, 14, 15, 19, 20, 21, 22, 26, 27, 28, 29, and the 31st, along with November 2, 3, 4, and 5th.
You can pre-order your tickets now for shows at any theater showing the Eras Tour on the big screen. Get yours soon so my daughter can't ask for more tickets!
Where to Eat if You're Going to a Concert in Downtown Cedar Rapids
The next time you're headed to a concert in Downtown Cedar Rapids, leave a little earlier so you can enjoy one of the awesome local restaurants nearby! Here are the places within walking distance of the Alliant Energy Powerhouse Arena, Theatre Cedar Rapids, and the Paramount Theatre (restaurants near the McGrath Amphitheatre are at the end):
Iowans Share Their Favorite 2023 Summer Memories
We asked Iowans to share their favorite moments from the summer of 2023! Here are some of the exciting stories: