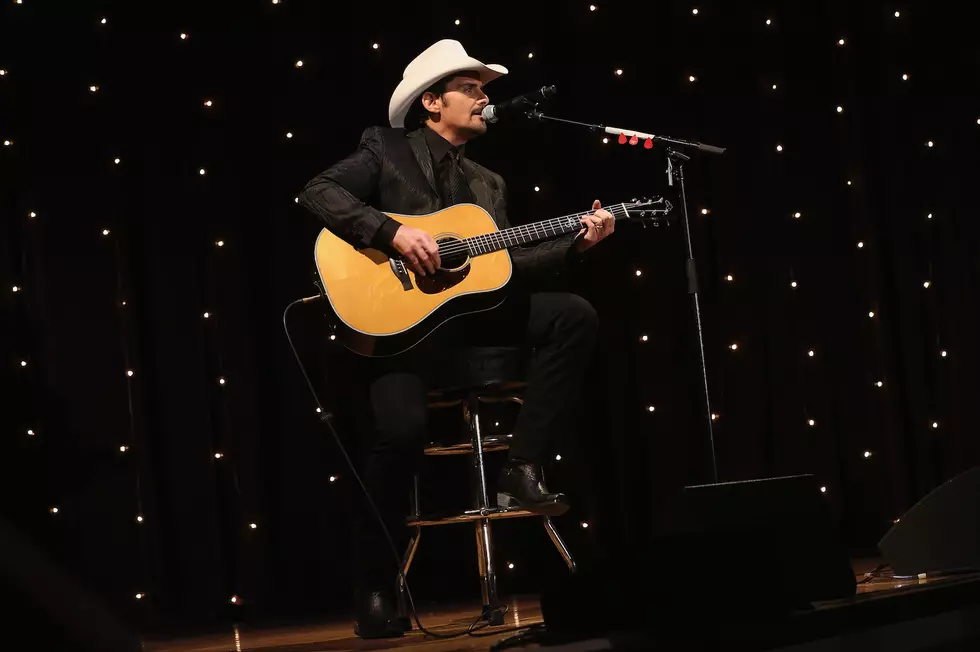 Brad Paisley's 'Who Needs Pictures': All of the Songs, Ranked
Cindy Ord, Getty Images
Twenty-two years ago, singer, songwriter, guitarist, awards show host and insurance pitchman Brad Paisley was a 26-year-old dreamer with hopes that his debut album, Who Needs Pictures (released June 1, 1999), might someday launch him into the same stratosphere as such quirky, multi-talented heroes as Roger Miller and Little Jimmy Dickens.
Paisley entered country music's family circle as its newest guitar-slinging jokester in short order, in part because of a stellar debut album that's more indebted to the classics than some might assume. Read on to see how the tracks on Who Needs Pictures -- an album featuring 12 Paisley co-writes and an earnest and powerful rendition of a gospel standard -- stack up against each other:
13

Just as country's earliest radio and television stars often ended programs with hymns and songs of praise, Paisley capped off his first album with this familiar spiritual. The song dates to 1912 and previously appeared on albums by Elvis Presley, Willie Nelson and Glen Campbell.

12

Paisley writes a letter to a former flame from his oceanfront property in this song, which is marked by beachy vibes and palpable sorrow over lost love. It's a fine song, but something from an album featuring 12 Paisley co-writes must come in next-to-last.

11

Even naysayers typically give Paisley credit for his guitar-picking skills. He puts his lightning fingers to work on this three-and-a-half-minute race to the finish that could easily win an electrified battle of the bands.

10

This one's a solid country ballad, but it doesn't stick out thematically quite like some of the other serious material on this album. That said, it's an excellent showcase of Paisley's immense talent as a vocalist and song interpreter.

9

Paisley's wit livens up a country love song -- and white-hot fiddle tune -- with a comparable message to Don Gibson's "I Can't Stop Loving You" and other classics about a stubborn partner with the patience to work through a spat.

8

"Sleepin' on the Foldout"

Paisley strikes oil more than once on this album with songs about knucklehead boyfriends and husbands and the predicaments they cause for themselves. In this instance, he's more miserable than Hank Williams' character in "Move It on Over."

7

"It Never Would've Worked Out Anyway"

One of the funniest offerings, and most traditional-sounding country songs, from Paisley's early career tells of a jealous ex's extreme attempts to sabotage a woman's love life. It's the sort of novelty song that could've made a pretty penny for Paisley's late friend Little Jimmy Dickens.

6

You don't have to be a backslidden Christian to understand this hilarious tune about how long sermons separate churchgoers from the lake and the all-you-can-eat buffet. After all, you don't want friends and neighbors from another denomination to get first crack at either Sunday afternoon hotspot.

5

Frequent Paisley collaborator Chris DuBois co-wrote this moving and vivid lament for a struggling farmer in West Texas with nothing going for him aside from his faith and work ethic. Although it ranks below the album's four singles, it's the true lyrical masterpiece from Paisley's early career.

4

Paisley handles rejection during a night on the town in stride, playing dumb after a potential dance partner turns down his advances. The Top 20 single reveals Paisley's sense of humor while flaunting the guitarist and his backing band's combined talents.

3

The single that started it all avoids other singles' sense of levity in favor of a sentimental tune that could've been a hit for Randy Travis, George Strait or numerous others. It sums up the bittersweet memories of the good times that precede a breakup.

2

Only Garth Brooks and Lee Ann Womack have recorded a song with "dance" or "danced" in the title that's sweeter than Paisley's second chart-topping hit. This song tells how a purse left at a bar led to after-hours love for a woman and a tenderhearted bartender.

1

For his first No. 1 hit, Paisley shares the perspective of a single mother's son as he grows to admire his future stepfather. By the song's end, Paisley's narrator becomes a father himself, with the goal of becoming "at least half the dad" that his stepfather "didn't have to be."