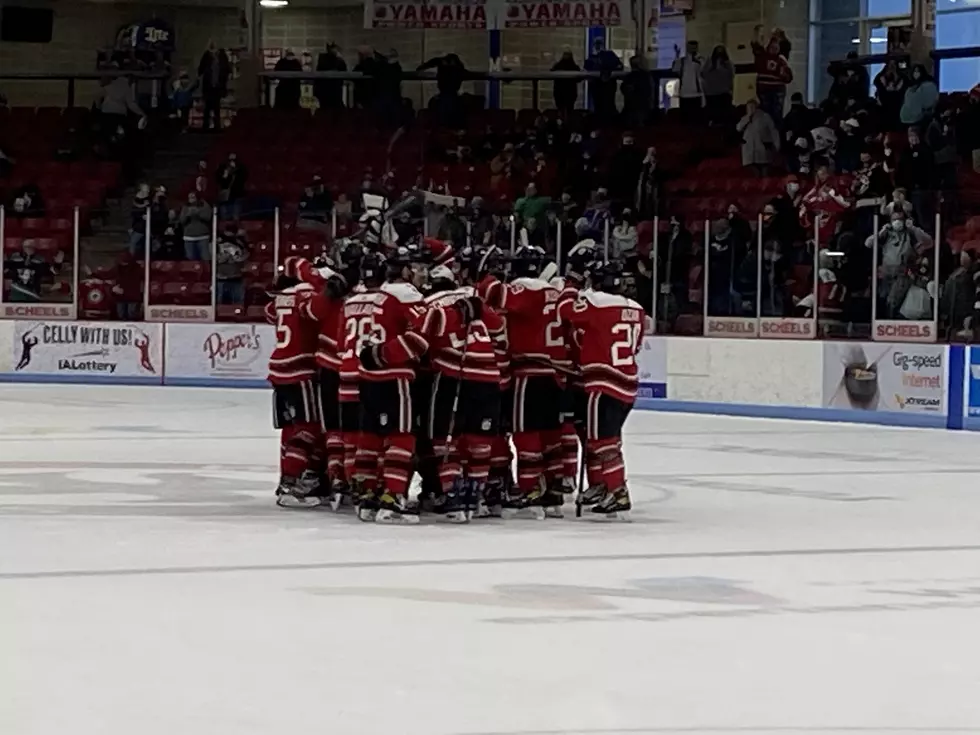 Black Hawks Finish 3 Game Weekend With a Shoot Out Win Over Omaha
Black Hawks celebrate their shoot-out victory over Omaha 2/21/21 - Townsquare Media - Shawn McKenna
It was a wild weekend for the Black Hawks with three games covering every edge of the emotional spectrum. From a heart-breaking loss on Friday night at Omaha, to a crazy game at Des Moines Saturday night where over 120 minutes in penalties were called, followed by an exhilarating shoot-out victory over the Lancers on Sunday afternoon in Party Town.
SUNDAY VS OMAHA
Former Omaha Lancer, Alex Gaffney started and finished a 4-3 shootout victory versus his ex-team, pushing the Black Hawks past the Lancers Sunday at Young Arena. In a thrilling finish, Gaffney snuck the puck past the Omaha goalie on a back-hander to bring Black Hawks fans to their feet in celebration (see the video below).
According to a team game re-cap, in the first shootout of the season for either club, Black Hawks goalie Emmett Croteau stopped Ayrton Martino's initial attempt, and Wyatt Schingoethe converted Waterloo's corresponding try with a shot that glanced off the goalie. Croteau then pushed away Michael Posma's chance, setting up Gaffney's game clincher. Waterloo also saw scores from Gaffney in the first period, Dane Montgomery in the second, and Ethan Szmagaj late in the third.
SATURDAY AT DES MOINES
The game got out-of-hand in more ways than one Saturday night in the capitol city. Des Moines skated past Waterloo by a score of 8-1 at Buccaneer Arena. The game included at least 121 penalty minutes. To put that in perspective, in a game between the two most penalized teams in the USHL, you might expect around 39 combined penalty minutes. This game had more than three times that amount of penalty time handed out. The 75 penalty minutes given to Waterloo Saturday was the second-highest total for one team on one night this season.
Des Moines' Alex Laferriere recorded a hat trick. Teddy Lagerback produced the lone Black Hawk goal tipping in a shot by Ethan Szmagaj. Turns out that Elton John was correct when he sang, "Saturday Night's Alright For Fightin"...no less than four Black Hawks ended the game in the dressing room. Max Sasson was the first to leave the ice after a second period fight. Matt Argentina joined him after a third period scuffle. Mason Reiners and Teddy Lagerback were also sent to the locker room after 10 minute game misconducts with under 10 minutes remaining.
FRIDAY AT OMAHA
A season-high three first period goals were not enough to propel the Black Hawks to a victory Friday night, as Omaha rallied for a 5-4 decision at Ralston Arena. Waterloo jumped ahead just 30 second into the game with a goal by Ryan O'Hara. Owen Ozar added to the lead six minutes later. After the Lancers scored, Wyatt Schingoethe extended Waterloo's lead again when he let go of a quick shot from inside the right dot. The Lancers made it a 3-2 game at intermission. The Lancers then tied the game in the second period, followed by the Black Hawks' Michael LaStarza sent a shot under the crossbar. However, Omaha tied it back up at a 4-4 score. The only goal of the third proved to be the game-winner, when Omaha's Nolan Renwick tipped in a Matt Basgall shot past Charlie Glockner to break the tie.
NEXT WEEKEND'S SCHEDULE
The Black Hawks and Lancers meet for the third time in eight days this Friday at Ralston Arena, followed by a Saturday night match-up vs. the USHL's Eastern Conference leading, Chicago Steel in their lone appearance at Young Arena this season. Tickets are on sale now and available by clicking here.
CHECK IT OUT: Former Black Hawks Currently In The NHL-Then & Now Photos