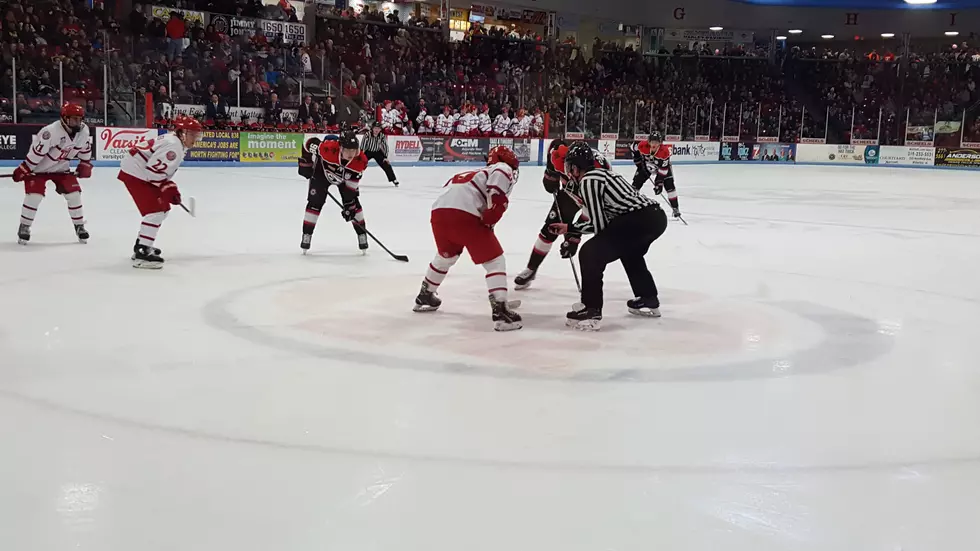 Black Hawks Fall Twice On The Road-Back At Home Tues. Night
Townsquare Media - Shawn McKenna
Waterloo's longest road trip of the season, a sequence of five consecutive road games, ended with the Black Hawks going 1-4-0. Now, due partially to some make-up games being re-scheduled, Waterloo plays seven straight home games at Young Arena beginning with a Tuesday night matchup versus the Omaha Lancers.
SATURDAY NIGHT AT CHICAGO
The "Steel" scored five 2nd period goals to defeat the Black Hawks 5-1 at Fox Valley Ice Arena in Geneva, Illinois on Saturday night. According to a team game re-cap, Waterloo finished the opening period, up 1-0. The lone goal came from Wyatt Schingoethe when he fired it past the Steel's goalie. On a high note, Waterloo denied Chicago's league-leading power play unit all seven times the Black Hawks were shorthanded. Then the net opened up and the rest of Chicago's offense came in the final seven minutes of the period piling on 4 goals in final seven minutes of the period. Both team spent a lot of time in the penalty box, stacking up 64 minutes, including four misconducts in the third period.
FRIDAY NIGHT AT DUBUQUE
The Dubuque Fighting Saints pulled to a 5-0 lead Friday at Mystique Ice Center before holding back Waterloo's comeback hopes in a 7-4 win. The Black Hawks would never cut the Fight Saints lead to less than two goals the entire night. Dubuque jumped on Waterloo with a four-goal 1st period. The Black Hawks' David Gucciardi cued a Black Hawks rally as he fired in a power play chance on Wyatt Schingoethe's assist. Just 14 seconds later, Michael LaStarza scored from just outside the crease, putting a shot under the crossbar. Jonah Copre did his best to help fuel a comeback, with a goal in the 2nd period, but it was to no avail. Kyler Kleven delivered Waterloo's final goal during a power play in the third period, but Waterloo would fall short in game where they fought hard to make a comeback.
BACK IN PARTYTOWN ON TUESDAY NIGHT AND THIS WEEKEND
Waterloo will be in action for the very first time in 2021 when Omaha visits Young Arena on Tuesday night. A limited number of single game tickets are on sale now (online only)here. The weekend home games are against the Sioux City Musketeers. Friday's contest starts at 7:05 p.m. and Saturday's game begins at 6:05 p.m. Face masks are required at all times with the exception of when you are actively eating or drinking. Doors open at 6:05 p.m. Season ticket holders will need to re-download their tickets as the seating map has been updated for 2021.
Enter your number to get our free mobile app
CHECK IT OUT: Ten Iowa Trivia Questions