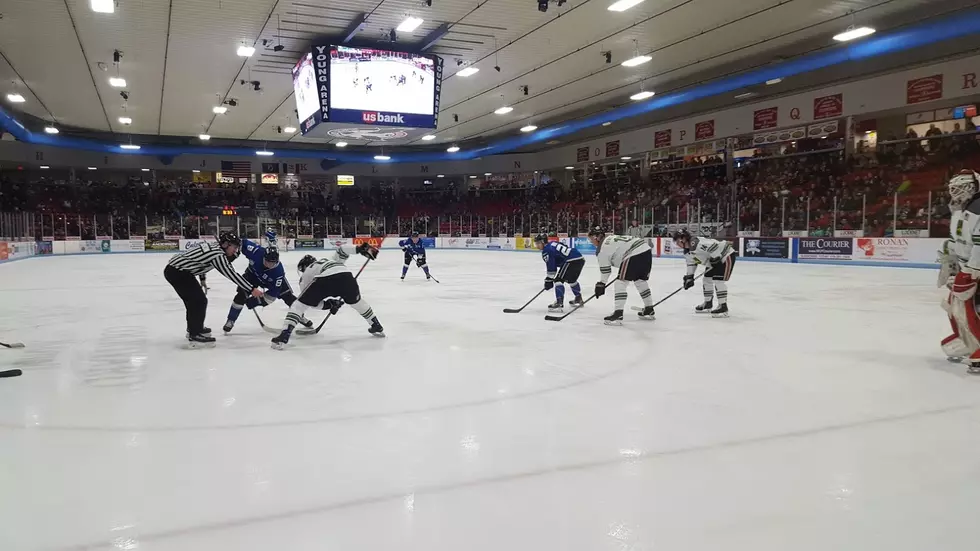 Black Hawks Fall In Fargo On Thurs. Night-Next Up At Sioux Falls
Townsquare Media - Shawn McKenna
The "force" was not with Waterloo, as they needed to harness that power to be able to out-skate, the Western Conference leading, Fargo Force as they came up on the short side of the lightsaber on Thursday night.
Fargo scored twice late in the first period, then added two more goals in the third, to skate past the Black Hawks 4-2 at Scheels Arena in Fargo. The game was scoreless through 15 minutes, but defensive zone miscues provided the Force with their chance to jump ahead 2-0. Ryan O'Hara struck for the first Black Hawks goal in the second period. The Force built their lead to 4-1 in the third, when the Black Hawks converted a power play to stay within striking distance during the closing minutes. Owen Ozar slipped behind the Force defense to tuck one in the net.
The Force allowed only four shots on goal in the third period. Fargo's Andrew Miller made 24 total saves in the win.
Glockner-Goaltender of the Week Honors
According to a team press release, Black Hawks' goaltender Charlie Glockner made three appearances in the final days of 2020 that contributed to the United States Hockey League naming him "Goaltender of the Week". In those games, the native of Minnetonka, Minnesota, went 2-1-0. On December 28th, Glockner stopped 24 of 26 against the Lincoln Stars shots during a 5-2 win. In Des Moines two nights later, Glockner turned aside 24 of 27 opposing chances in a 3-2 loss. Then on New Year's eve, Glockner had 24 saves in a 3-1 win over the Buccaneers.
This is the second time since Christmas a Black Hawk has won a USHL Weekly Award. On December 30th, Max Sasson was named the league's "Forward of the Week".
Waterloo continues their three game road trip at Sioux Falls tonight and tomorrow night (Jan 8th and 9th). Keep up to date with the Black Hawks all season long, on this station's app, by clicking on CV Sports.
Enter your number to get our free mobile app
KEEP READING: Most Popular Chinese Restaurants in the Cedar Valley Area