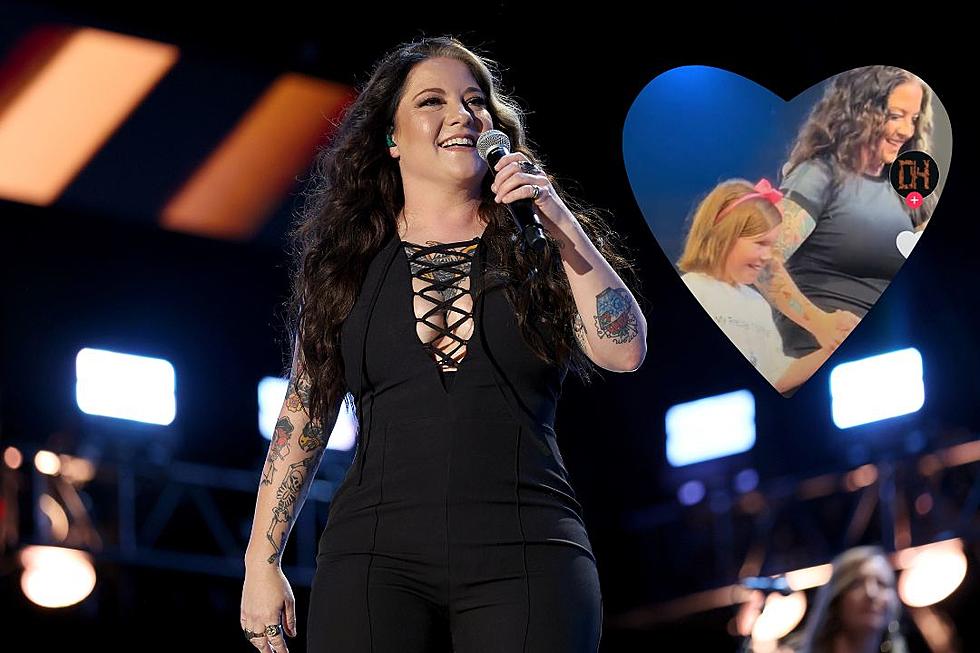 Ashley McBryde Uses Her New ASL Skills to Make a Young Fan's Night [Watch]
Jason Kempin, Getty Images
@deserthoneyssweettee, TikTok
Ashley McBryde is on a roll as of late. She was just nominated for three CMA Awards, she's on tour, and her latest single, "Light on in the Kitchen" is climbing up the charts. Still, the country music singer has time for learning American Sign Language, which she put to good use at a recent show in a moment that's been going viral.
McBryde tells Taste of Country Nights that she spends a lot of her off time learning sign language.
"I love to learn as much as I can, but I can only learn so much, retain and practice so much because there's not people to practice with," she explains.
McBryde got to practice and flash those ASL skills at a recent show of hers. McBryde brought a young fan named Charlee on stage, who was in the crowd and wanted to meet the singer. Charlee is hearing abled, but McBryde used this opportunity to sign to Charlee's mother and ask if it was okay to put Charlee on the microphone and ask her some questions.
Fans of McBryde were quick to comment on the video, with nothing but praise for what McBryde did. One fan writes, "I love that she asked the mom if it was ok that she come up." Another fan points out, "That fact she knows ASL is amazing!"
McBryde elaborated more on her love for ASL, telling Taste of Country Nights:
"If you have video capability, wouldn't it be lovely if I could tell our ASL audience myself that I am happy you are here right now with me to see me."
McBryde would like to make signing a larger part of her shows moving forward as she learns and retains more and more of the language. She has and will always continue to strive to make each and every one of her shows inclusive for everyone.
McBryde is currently on tour all across America, with dates scheduled through January of 2024.
Evan Paul is the host of Taste of Country Nights, a syndicated radio show heard on more than 120 country radio stations nationwide, every night from 7PM to midnight. He plays the best new country music and interviews today's top stars, like Luke Combs, Miranda Lambert, Dan + Shay, Keith Urban, Carrie Underwood, Luke Bryan, Chris Stapleton, Lady A, Morgan Wallen, + more! 
2023 CMA Awards Nominations Snubs, Ranked
The nine snubs found on this reaction to Thursday's (Sept. 7)
2023 CMA Awards nominations
announcement range from "Drat!" to "Aww, come on!" to "You've gotta be freaking
kidding
!"
Typically we include snubs
and
surprises, but there was really only one CMA nomination surprise:
Lainey Wilson
for Entertainer of the Year. Her nine nominations surely exceed her wildest dreams for the November 8 ABC broadcast. This is her year!
As for the group listed below? Well some (we see you,
Kane Brown
) are used to it, while others got a goose egg with no warning. The last three snubs on this ranked list are particularly egregious. Each one highlights a space where logic should live, but does not.
Pictures: 2023 CMA Fest, Days 1-4
See pictures from Day 1 of CMA Fest 2023. The 50th annual CMA Fest in Nashville featured Nissan Stadium performances from Luke Combs, Carly Pearce, Dan + Shay, Tyler Hubbard and more. Plus pictures of Lainey Wilson with Lauren Alaina and Lukas Nelson.
Day 2 features highlights from Tanya Tucker, Lainey Wilson, Cody Johnson, Miranda Lambert, Jelly Roll, Keith Urban and Hardy.
Day 3 includes photo highlights from Tracy Lawrence, Jason Aldean, Little Big Town, Old Dominion, Jon Pardi and Eric Church.
Day 4 featured performances by Josh Turner, Ashley McBryde, Dierks Bentley, Tim McGraw and Luke Bryan. Plus, Alabama received the CMA Pinnacle Award.
26 Country Songs Inspired By An Artist's Child
Country music is all about the most important parts of life -- love, heartbreak, faith and hard work -- so it's no surprise that parenthood is a source of inspiration for a whole lot of country songs. Full of parental advice and heartfelt messages of unconditional love, these songs are priceless gifts to the children who inspire them. But it's not just the kids that benefit: The country fans who love these songs can relate with their own experiences of parenthood, and even share them with their own beloved children.