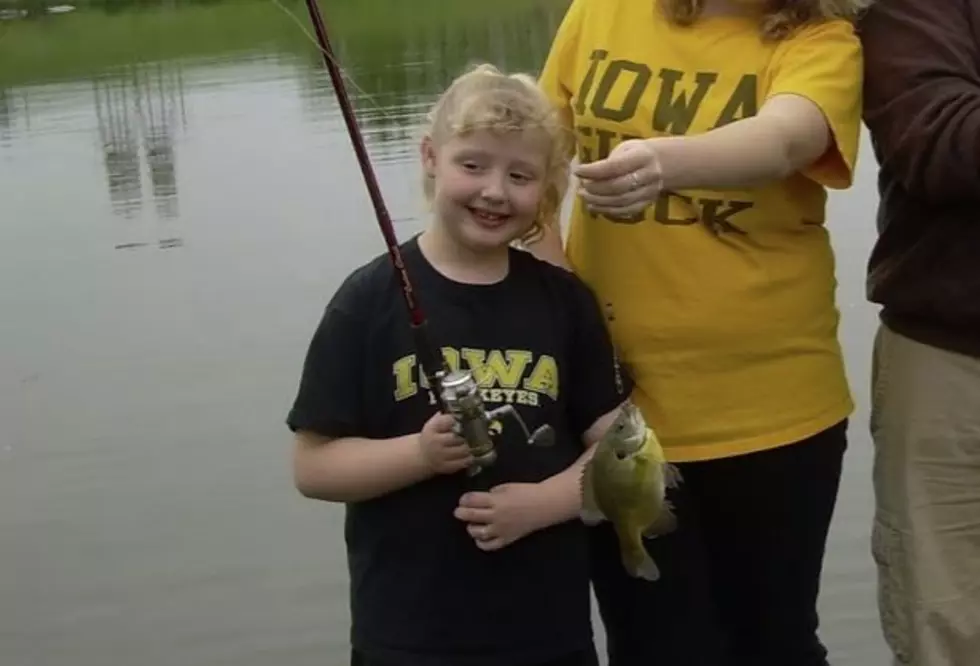 Annual Free Fishing Weekend In Iowa-This Fri., Sat. & Sun.
Townsquare Media -Shawn McKenna
Some of my best memories from my two daughters growing up were taking them fishing. The look on their faces when there was a tug on their pole as the bobber sinks into the water, followed by excited screams of "Daddy, look, I caught a fish!" = Priceless.
Take a kid fishing this weekend
This Friday, Saturday, and Sunday, June 4th through the 6th is Iowa's annual free fishing weekend. This weekend only, Iowa residents do not need a fishing license (or trout privilege to fish for trout), but all other regulations apply. To download a summary of the rules and regulations to fish in Iowa click here.
Get out on the water and drown some worms
As the Iowa Department of Natural Resources website says, "Fish local, outdoor fun is five minutes away". You'll "find dozens of easy-to-get-to stocked lakes and ponds in parks and along trails." And of course, many rivers and streams. Check out this interactive map and find your new favorite fishing spot.
On Radio Iowa.com, Joe Larscheid, chief of the Iowa DNR's Fisheries Bureau said:
"Last year during the COVID crisis, we had an all-time record high of fishing license sales and this year is right behind that, so we've had two solid years in a row of increases in fishing participation,"

 
For everything from how to catch & release properly to common fishing mistakes, check out the Iowa DNR's "Fishing Tips & How To's". Then take a kid fishing...because before you know it, they're all grown-up and taking their own catch off the hook...but they still won't touch the worms and bait their own hook. So, I guess they'll always need their Daddy.
SIGN UP TODAY: Summer Iowa Games - Register for One of These Fun Events - Photos
Registration is now open for many of the over 50 sports offered during the Summer Iowa Games. Most of the competitions will be held from July 10 - August 1. The majority of the sporting events and competitions will take place in the Ames community, Iowa State University campus and in the Des Moines area. Check out the full list of events
here
. Most events will have an early, middle and final deadline. Check your favorite sport for details and deadline dates. If you get signed-up early, you'll save on registration fees.
Farmers Markets in the Cedar Valley & NE Iowa - List
There's a Farmers Market in Waterloo, Cedar Falls or in the surrounding area almost every day of the week! Check 'em out and support your friends and neighbors. Buy Fresh - Buy Local