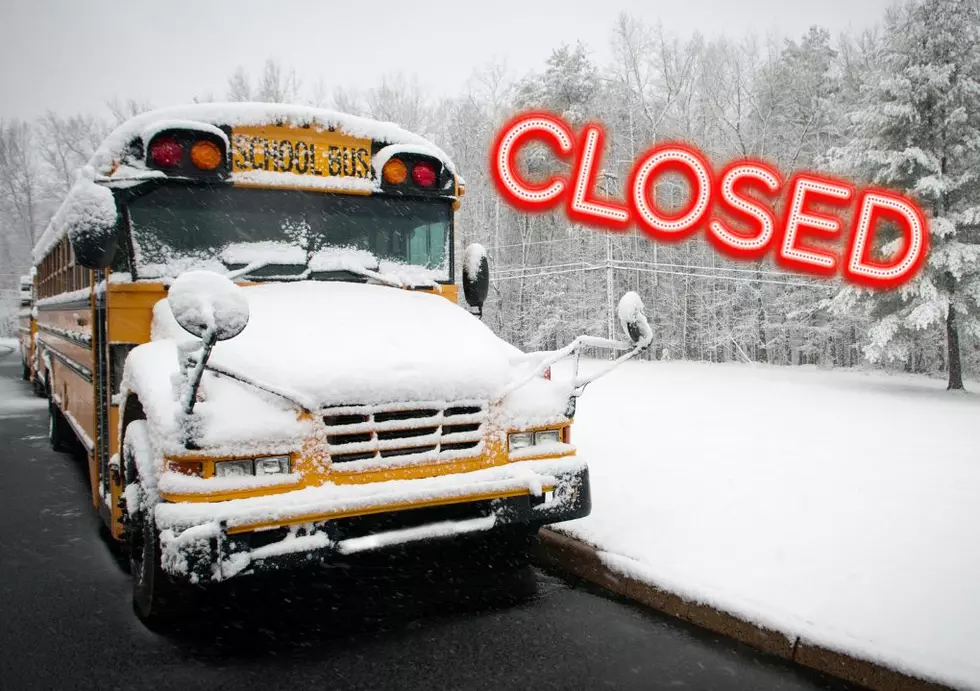 Northeastern Iowa School Delays and Closures (1/19/23)
KM/Canva
Weather in Eastern Iowa has been a bit all over the place over the past few weeks.

On the afternoon of Wednesday, January 18th a winter storm system moved into Eastern Iowa. It really hit our neck of the woods at around 6PM yesterday.
Some parts of Northeastern Iowa received several inches of snow. A listener in Butler County confirmed that there was approximately 7 inches of snow in that region.
Our weather partners at KCRG confirmed that Eastern Iowa will see scattered snow and pockets of drizzle to continue this morning. They also said that our area will see little to no accumulation, but slick roads may affect your morning drive.
Here are the school closings and delays for Northeastern Iowa. If there is a school that we missed, please make sure to shoot us a message on the station app. We will quickly make that edit.
Ackley-Geneva-Wellsburg-Steamboat-Rock:
Closed
Gladbrook-Reinbeck:
Closed
Grundy Center Community School District:
Closed
Hawkeye Community College:
Opening at 10AM
Howard-Winneshiek Community School District:
Closed
Independence Community School District (Including St. John's Catholic School):
Closed
Janseville Community School District:
Closed
North Tama Community Schools:
2 Hour Delay
Postville:
Closed
Sumner-Fredericksburg CSD:
Closed
Union Community School District:
2 Hour Delay
Upper Iowa Fayette:
Classes will not meet in person on January 19 at Upper Iowa's Fayette campus. Students should move to online/virtual. Employees are encouraged to work remotely.
Waterloo Schools:
2 Hour Delay, no AM pre-K
Waverly-Shell Rock Community School District:
Stay up to date with all of the school delays and closings by downloading the free station app. Get up to the minute coverage on the weather by following the station across all social media platforms.
Bridegerton-Esque Cabin Mansion In Waterloo
You can live like you're living in your own English regency drama in this Waterloo Cabin Mansion. This is the diamond of the season in the real estate world.
Strangest Rental Properties In Iowa
Here are just some of my favorite strange and cool rental properties that you can check out in Iowa!