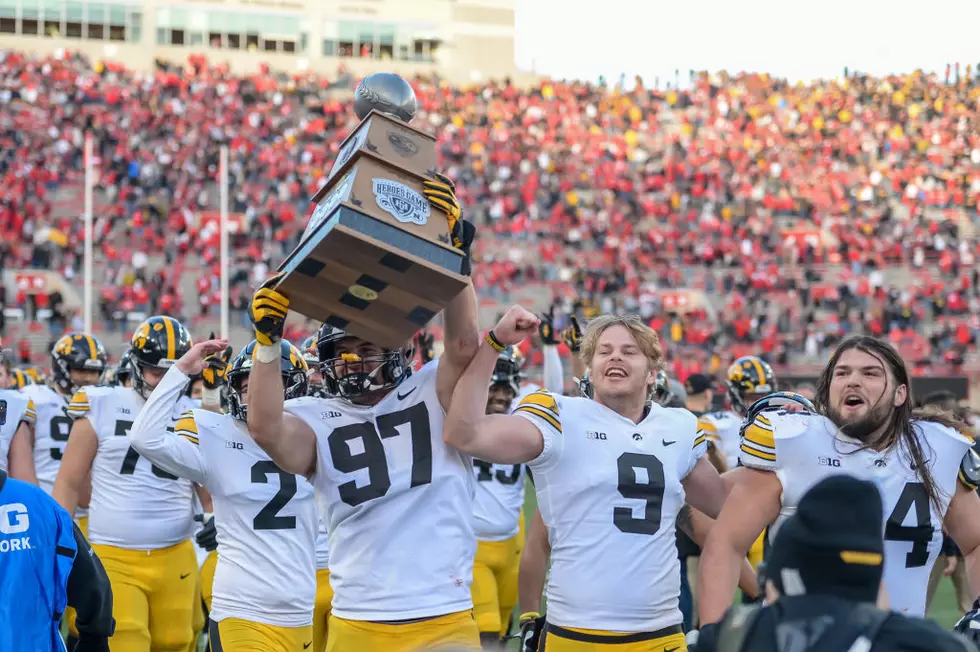 Iowa Hawkeyes "MVP" Finally Got To Play In Front of His Parents
Getty Images
Will Tory Taylor end up being the Hawkeye football team's MVP? Only time will tell. Hawkeye fans sure love him. When he takes the field to punt the ball to the other team, Kinnick Stadium roars with MVP chants. It would be pretty awesome to see a punter win a team MVP award.
It's possible the Hawkeyes have the most popular punter in college football. Normally in football, when a team has their punter run onto the field, you hear grumblings from the fans as the team didn't pick up the first down and has to give the ball back to the other team. Last Saturday, the Australian punter received a little boost on the field as he got to experience something for the first time in his college career. That was playing in front of his family.
Tory's Dad, Stuart Taylor, talked to KCRG about how incredible it was to see their son on the field for the first time in person and how thankful he was to Iowans for the visit.
To see (him) play in the flesh was sensational, obviously, we came a long way to do this. The Iowans had been sensational with the hospitality.
Tory's family does everything they can to be able to watch Hawkeye games and cheer on Tory and the rest of the team. Even if that means waking up really early and watching the games on the internet. The Melbourne family is regularly up at 3 a.m. to cheer on the Hawkeyes. Stuart told KCRG
We watch every game when we can. We're up at 3,4,5 a.m Australian time. We are there rooting for the Hawks.
It turns out Tory might have some competition in the family when it comes to kicking and punting a football. His 11-year-old younger brother Ashton was in attendance last Saturday and wanted to let everyone know he's actually the best punter in the family. He told KCRG he's proud of his older brother but he's just as skilled.
I can punt a lot like my brother. He's not that skilled I'm the better one.
Maybe the Hawkeyes will have another Taylor kicking for the team in the future. While it is going to be hard for Tory when the family heads back to Australia he's just happy they were able to visit Iowa and see him play in person. He told KCRG
It's gonna be really sad when they leave. But that is the way things work and I'm really grateful for them being here.
Other than former Colts punter and now Sports Talk Show host, Pat McAfee, Tory Taylor has to be one of the most popular Kickers/Punters in the United States. Very rarely do teams gameplan for kickers and punters but other teams have no choice when facing the Hawkeyes. His ability to constantly put opposing teams inside their 10-yard line can make for a very long game for opposing offenses.
As one of the best punters in college football, Tory might have the chance to play in the NFL one day. If that is in the cards for Tory, his family plans on being back in the U.S on a regular basis. His dad told KCRG with a smile
If he makes the NFL, we'll keep our fingers crossed. We will certainly be regular visitors that's for sure.
All NFL scouts need to do is watch highlights of Tory's game vs Penn State last year and I have a feeling they'll come calling.
Iowa Born Sports Stars
What do each of these stellar athletes have in common? They all hail from the Hawkeye State.
Largest Skatepark In America is in Iowa
A work in progress for several years, last spring saw the opening of Lauridsen Skatepark in Des Moines. Measuring up at 88,000 feet long, this is the largest skatepark in the entire country.