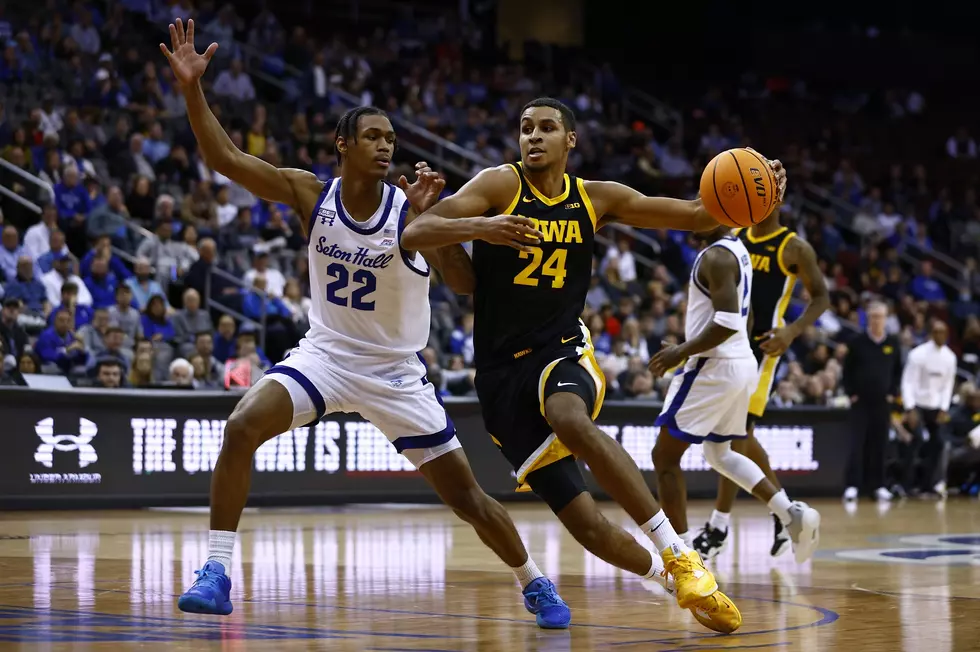 Iowa's Kris Murray Has Had Unworldly Start to the Season [PHOTOS]
Getty Images
Kris Murray's start to the 2022-23 men's basketball season for the Iowa Hawkeyes could easily be mistaken for a dream, had we not seen it firsthand. What Murray's accomplished in a four-game stretch hasn't been done in a very long time, anywhere in the nation.
Monday night against Omaha, the Hawkeyes started slow scoring only two points in the game's first 2 1/2 plus minutes on free throws by Patrick McCaffery. Then, Kris Murray took over.
Murray poured in a 3-point shot with 17:13 to go in the first half to give Iowa its first lead.
From there, he just kept scoring. In the 13:06 stretch that Murray was on the floor following that first made bucket, he scored 22 more points. Murray's 25 first-half points were only three less than the 28 Omaha scored as a team. Iowa led 49-28 at the break.
Murray made 11 of his 13 shot attempts in the first 20 minutes of action, grabbed three rebounds, dished out an assist, and blocked a pair of Omaha shots.
Murray scored every which way, including in traffic in the paint.
Above the rim, after a great assist by guard Ahron Ulis (#1), who was making his first career start due to a thigh injury that kept Tony Perkins out of the lineup.
Murray ended the night with 30 points, a new career high, as Iowa won its 4th straight, 100-64.
According to OptaSTATS, Kris Murray's stat line through the first four games of the season hasn't been equaled by any Division 1 player during any four-game stretch over the last 25 years. Here's the categories and what Murray has done:
Scored more than 95 or more points (Murray has 95)
30+ rebounds (Murray has 32)
5 or Fewer Turnovers (Murray has 5)
Shot 60% (Murray is shooting .625%)
Not Missed a Free Throw (Murray is 14-14)
Kris Murray's twin brother Keegan was an NBA lottery pick by the Sacramento Kings earlier this year. He's averaging more than 12 points per game during his rookie season. Across Iowa this fall, Hawkeye fans are wondering if they're seeing another lottery pick blossom right before their eyes.
Up next for the 4-0 and 25th-ranked Hawkeyes is a 6 p.m. tip-off Friday night, November 25, against Clemson. The game, part of the Emerald Classic, will be played in Florida and televised by CBS Sports Network.
The Top 10 Highest-Rated Restaurants in Iowa City
Using the popular site
Yelp
, we took a look at the top ten highest-rated restaurants in Iowa City. Here are the results!
A Look Inside Iowa City's New Hotel Across from Kinnick Stadium