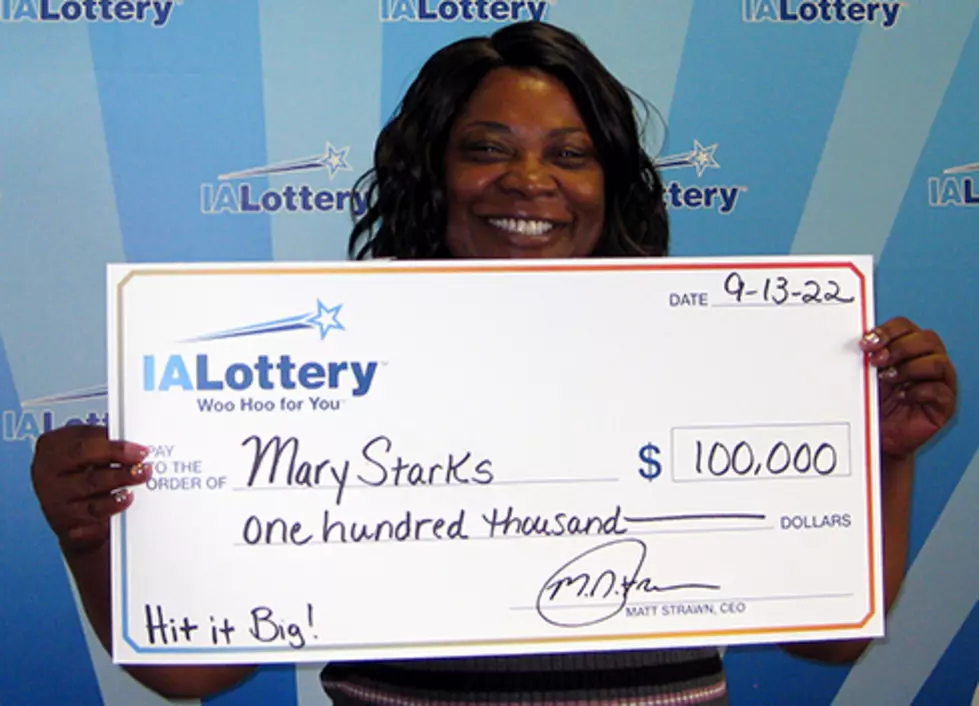 Eastern Iowa Woman Hits It Big AGAIN with Iowa Lottery
Iowa Lottery
This eastern Iowa woman has a magical touch when it comes to the Iowa Lottery.
Earlier this week, Mary Starks of Davenport claimed another lottery prize. Another BIG prize from a scratch ticket.
In March 2020, just as the COVID-19 pandemic was beginning, Starks won $100,000 from an Iowa Lottery scratch game. Due to what we were all dealing with then, there's no picture of Mary's beautiful smile as she received a check, in person. We got it this time, though.
Tuesday, Starks went to the Iowa Lottery regional office in Cedar Rapids with a $100,000 winning ticket from the perfectly-named scratch game, Hit It Big!
It wasn't lost on Starks just how incredible her luck was. She told the Iowa Lottery, "It was exciting and kind of scary and unbelievable. Really unbelievable to have it happen twice."
Starks went on to say she hoped to win a little bit of money when she purchased the ticket. Needless to say, she was thrilled at what she uncovered: "And then when you scratch it off and get that amount of money? I don't know, it's exciting." I suspect it was just as exciting for Startks this time as it was back in March of 2020.
What will Starks do with her second $100,000 haul? She says be paying off debt and might even start her own business.
Starks was the first person to win the top prize in the Hit It Big! scratch game. There are still nine other $100,000 winning tickets to be claimed in the $10 scratch game.
New Restaurants That Opened in Eastern Iowa in 2022
So far this year, there have been a ton of restaurant openings here in Eastern Iowa! Here are over 30 places that have opened or reopened as of September of 2022!
The ABCs of Iowa
I know Iowa may not be the most popular state to visit, but we still have plenty to offer! Using countless article, websites, lists, and maps, we put together a list of some of Iowa's best and biggest events, venues, and attractions using every letter of the alphabet (which wasn't easy)! Unfortunately, we couldn't include EVERY awesome place in the state (there aren't enough letters!), but here are our Iowa ABCs: