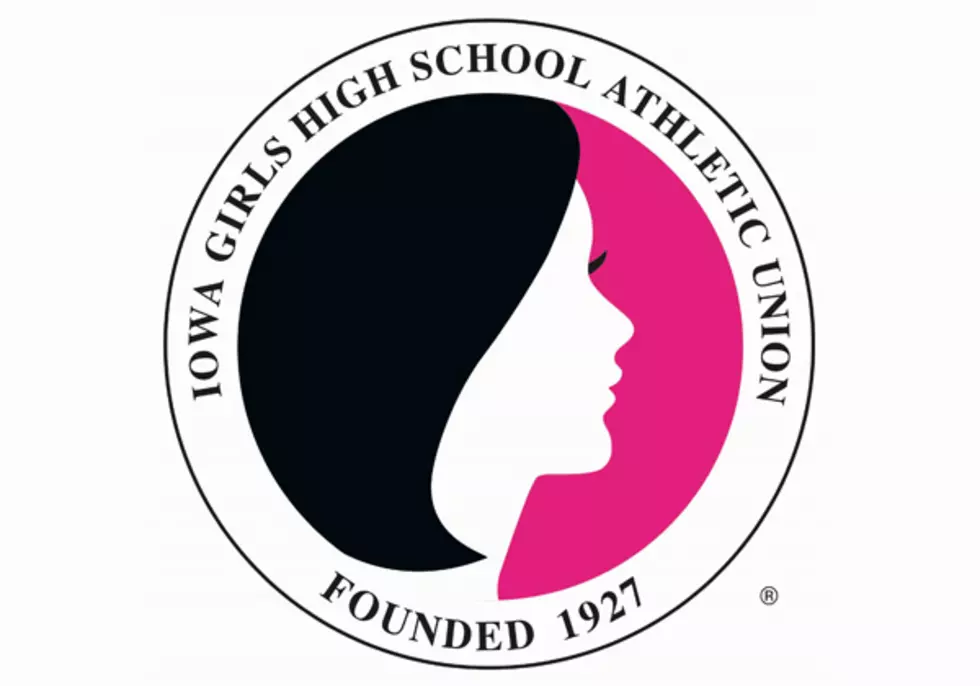 2020 Iowa High School Volleyball Rankings – Poll 3
Source: Iowa Girls High School Athletic Union
The latest high school volleyball rankings feature 17 teams from the Cedar Valley and northeast Iowa, including 12 rated among the top 10 in their respective classes.
Cedar Falls has jumped to the top of the Class 5A survey. The Tigers (8-0) climbed from No. 3 to No. 1 this week, following a loss by West Des Moines Valley.
Dike-New Hartford moved a step closer to No. 1 in Class 2A. The Wolverines (8-1) rose to No. 2 and are one of 11 squads from the 15-team North Iowa Cedar League ranked in this week's poll. Among the others feature in the 2A survey are: Denver (10-0), Sumner-Fredericksburg (5-2), Jesup (6-2), South Hardin (8-2) and Grundy Center (6-5) -- ranked No. 8 through No. 13 in consecutive order.
South Hardin debuted in the poll this week following a historic 3-1 victory Tuesday night. The Tigers snapped Grundy Center's 71-match NICL-West Division winning streak, while recording their first-ever victory over the Spartans.
Three NICL teams are ranked in Class 1A. They include Wapsie Valley at No. 2, Gladbrook-Reinbeck at No. 11 and BCLUW at No. 15. Two other area squads are also ranked in the poll -- Janesville at No. 4 and Edgewood-Colesburg at No. 9.
La Porte City Union is the other rated team from the North Iowa Cedar League. The Knights are ranked No. 5 in Class 3A, five spots ahead of No. 10 Independence.
This week's survey also features West Delaware and Waverly-Shell Rock, which are ranked 8th and 9th in Class 4A.
The latest poll was released by the Iowa Girls High School Athletic Union (IGHSAU) late Thursday afternoon.
---
| | | | |
| --- | --- | --- | --- |
| | School | Record | LW |
| 1 | Holy Trinity Catholic | 3-3 | 1 |
| 2 | Wapsie Valley | 3-0 | 2 |
| 3 | New London | 4-0 | 3 |
| 4 | Janesville | 8-1 | 4 |
| 5 | Springville | 7-1 | 6 |
| 6 | Council Bluffs St. Albert | 2-7 | 5 |
| 7 | Coon Rapids-Bayard | 4-1 | 7 |
| 8 | Gehlen Catholic | 3-2 | 8 |
| 9 | Edgewood-Colesburg | 3-1 | 9 |
| 10 | Belle Plaine | 6-4 | 10 |
| 11 | Gladbrook-Reinbeck | 6-1 | 11 |
| 12 | Grand View Christian | 6-4 | 12 |
| 13 | Newell-Fonda | 3-1 | 13 |
| 14 | Southeast Warren | 6-0 | NR |
| 15 | BCLUW | 8-4 | 15 |
Dropped Out: Saint Ansgar (14)
| | | | |
| --- | --- | --- | --- |
| | School | Record | LW |
| 1 | Western Christian | 5-3 | 1 |
| 2 | Dike-New Hartford | 8-1 | 3 |
| 3 | Wilton | 8-0 | 4 |
| 4 | Boyden-Hull | 6-0 | 5 |
| 5 | Beckman Catholic | 7-4 | 2 |
| 6 | Underwood | 7-2 | 6 |
| 7 | East Sac County | 9-0 | 7 |
| 8 | Denver | 10-0 | 11 |
| 9 | Sumner-Fredericksburg | 5-2 | 12 |
| 10 | Jesup | 6-2 | 10 |
| 11 | South Hardin | 8-2 | NR |
| 12 | Grundy Center | 6-5 | 8 |
| 13 | Hudson | 11-2 | 9 |
| 14 | West Branch | 5-2 | 14 |
| 15 | Lake Mills | 8-1 | 13 |
Dropped Out: Nodaway Valley (15)
| | | | |
| --- | --- | --- | --- |
| | School | Record | LW |
| 1 | Mount Vernon | 10-0 | 1 |
| 2 | Osage | 3-0 | 2 |
| 3 | Clarion-Goldfield-Dows | 6-0 | 3 |
| 4 | Unity Christian | 2-0 | 4 |
| 5 | Union | 5-0 | 5 |
| 6 | Davenport Assumption | 3-0 | 6 |
| 7 | West Liberty | 9-0 | 8 |
| 8 | Nevada | 8-6 | 7 |
| 9 | MOC-Floyd Valley | 7-0 | 9 |
| 10 | Independence | 5-2 | 10 |
| 11 | Roland-Story | 8-1 | 11 |
| 12 | Sioux Center | 8-1 | 12 |
| 13 | Red Oak | 5-3 | 15 |
| 14 | Des Moines Christian | 7-2 | 13 |
| 15 | Humboldt | 9-0 | NR |
Dropped Out: Kuemper Catholic (14)

| | | | |
| --- | --- | --- | --- |
| | | | |
| | Cedar Rapids Xavier | | 1 |
| | Western Dubuque | 9-2 | 2 |
| | Marion | | 4 |
| | Sergeant Bluff-Luton | 5-1 | 5 |
| | Glenwood | 10-1 | 3 |
| | North Scott | 8-0 | 7 |
| | Clear Creek-Amana | 5-1 | 9 |
| | West Delaware | | 6 |
| | Waverly-Shell Rock | 11-3 | 8 |
| | Gilbert | 12-3 | 10 |
| | Bondurant-Farrar | 6-2 | 11 |
| | Pella | 7-2 | |
| | Harlan | 7-1 | 15 |
| | Lewis Central | 3-0 | NR |
| | Dallas Center-Grimes | 3-3 | NR |
Dropped Out: Winterset (13), Wahlert Catholic (14)
| | | | |
| --- | --- | --- | --- |
| | | | |
| | Cedar Falls | | 3 |
| | Ankeny Centennial | 5-0 | 4 |
| | Dowling Catholic | 8-1 | 5 |
| | Ankeny | 6-2 | 8 |
| | West Des Moines Valley | 2-2 | 1 |
| | Pleasant Valley | 1-0 | 6 |
| | Iowa City Liberty | 1-1 | 2 |
| | Waukee | 3-3 | 7 |
| | Dubuque Hempstead | 7-0 | 9 |
| | Urbandale | | |
| | Cedar Rapids Prairie | 5-3 | 12 |
| | Bettendorf | 4-1 | 13 |
| | Des Moines Roosevelt | 7-4 | 14 |
| | Ottumwa | 4-4 | 11 |
| | Council Bluffs Abraham Lincoln | 1-5 | 15 |
Enter your number to get our free mobile app