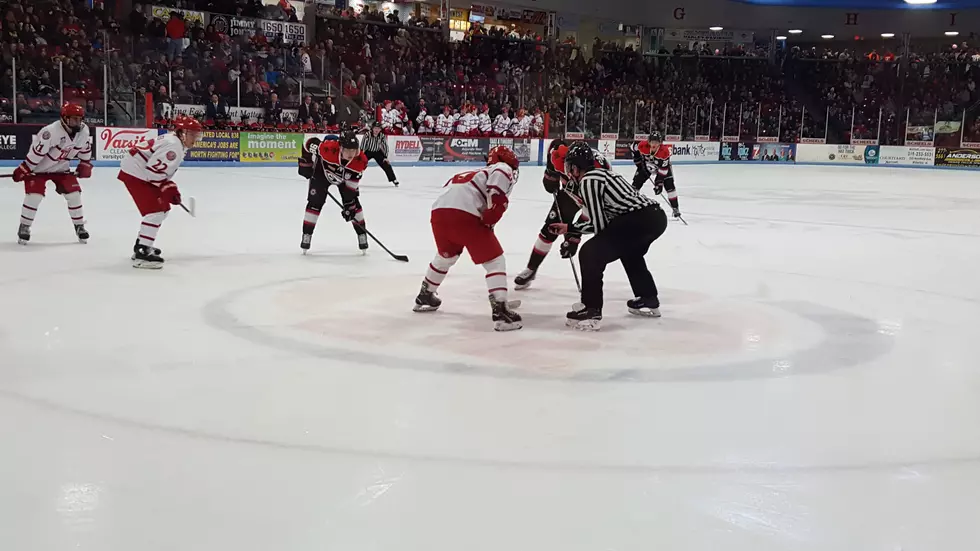 Black Hawks Host Fighting Saints Tonight In Party Town!
Townsquare Media - Shawn McKenna
The Black Hawks have a busy week ahead, but they will be staying close to home for all three of their games. Tuesday and Friday, Waterloo hosts Dubuque and the Cedar Rapids RoughRiders respectively. Saturday, the Black Hawks will complete the sequence by visiting Cedar Rapids. All three games begin at 7:05 p.m. Waterloo is 2-3-0 versus the Fighting Saints this winter; Dubuque won the most recent game, 4-1 on January 18th at Mystique Ice Center.
The Black Hawks currently lead the Dupaco Cowbell Cup standings with 12 points, but a regulation win by the Fighting Saints would tie things up, so they need your help to pack Party Town! Save big on concession prices with $2.00 specials on hot dogs, nachos and soft drinks all game long. It's also College Night, students can get any seat for just $9.00 with ID. Hawkeye Community College will be well represented on Hawkeye Community College Night as well, with $8 tickets for HCC students!
Carriere Cashes in on Strong Weekend
A pair of winning efforts over the weekend by Gabriel Carriere helped the Black Hawks add to their lead in the USHL Western Conference and contributed to the 19-year-old being named the USHL Goaltender of the Week on Tuesday.
The Hawks swept the Fargo Force during a weekend series at Young Arena. Waterloo prevailed 2-1 in overtime on Friday, then celebrated a 5-2 decision the following night. Carriere made timely saves throughout Friday's game, including a pair of overtime stops, before Ryder Rolston scored the game-winner for Waterloo at the four-minute mark. Carriere ended the night with 18 saves.
The Vermont recruit was nearly twice as active on Saturday during the rematch, turning away at least 10 shots in each period as the Force out-chanced Waterloo 35-29. Fargo did not score at even-strength against Carriere on Saturday, as he made a four-goal Hawks second period stand up for the win.
Carriere now has a 16-4-2 record in 2019/20. He is one of just three USHL goalies with at least 16 wins.